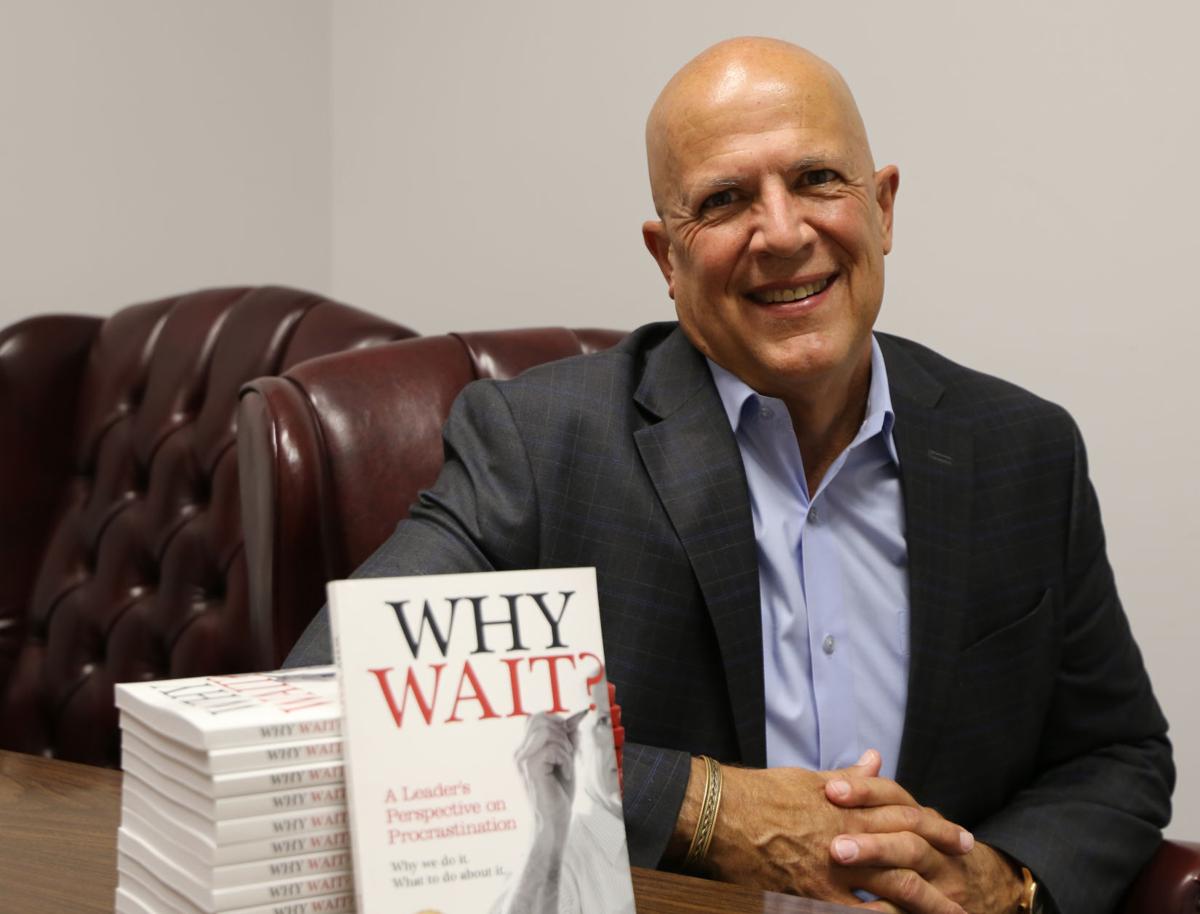 John Nimmo admits he is a procrastinator. He realizes that he often has delayed doing things that might be unpleasant or difficult.  
In that way, he is not much different from the rest of us. Many of us put off until tomorrow what could or should be done today.
Maybe that is why, according to Nimmo, procrastination had been searched 34 million times on Google. It also is why he chose to write a book on the topic, exploring procrastination's cost to business, to relationships and our happiness as well as what to do about it.
"I think it is a topic that people are so hungry for because we all do it," Nimmo said. "We're all seeking solutions that we can put into place in our lives and work settings. It's a universal problem that I've struggled with my whole life. When I started researching procrastination, the thing that intrigued me was the lack of psychological research on procrastination before 1984. Up to that time, people discounted it as laziness. The more I read, the more intrigued I got."
Nimmo, who owns Southern Real Estate Group in Anna and is a certified executive coach and trainer, said he had personal reasons for authoring a book on procrastination, sharing the story when a routine blood test showed extreme levels of prostate-specific antigen, a potential signal of prostate cancer. A visit with a urologist after a biopsy presented several options: gland removal, radiation or "wait and see."
In the classic style of a procrastinator, Nimmo chose to do nothing for a while. Eventually, Nimmo underwent another biopsy.
"The second biopsy was really good and the doctor told me that I had less than a 2% chance of dying from prostate cancer," Nimmo said.
Yet, he understands the risk of waiting. He said it is apparent in every area of life.
"Why did I put that off?" Nimmo wondered. "There have been other things in life, too. Like in the sales profession, we don't want to make sales calls because we are afraid of rejection. In corporate America, procrastination costs hundreds of thousands of dollars every year — salespeople don't make calls; an unproductive employee isn't fired; you deserve a raise, but don't want to ask."
He added procrastination impacts our personal lives, too.
"You may need to have a financial conversation with your spouse or there's something going on in your life that you need to talk about, but you won't. You always can fill that void with something else," he said. 
Nimmo explained that the opposite of procrastination is making a decision. He said making small decisions can aid us in overcoming our tendency to procrastinate. He said part of the process is to "reduce to the ridiculous."
SPRINGFIELD — Lawyers for Illinois' Democratic legislative leaders last week filed a motion to dismiss a lawsuit from Republicans and a Mexica…
"It's 'How can I take this big task and keep reducing it down until it gets small enough that I can do something?'" he said. "That creates motion and it is a law of the universe that any kind of movement reduces friction. So when you make a decision and you take action — no matter how small — it lessens the resistance and the task becomes easier."
Ultimately, Nimmo said overcoming procrastination is about living each moment free of distraction.
"The big thing is if people were to take a serious look at procrastination and really determine the costs of it ..." he said, using the story of a boss who delays terminating a problem employee as an example. "If I am him and I've procrastinated doing it, now I'm at dinner Saturday night and what I am thinking about is what is how I have to have this hard conversation Monday instead of enjoying the meal and being with my wife."
Ultimately, Nimmo said: "It's a life-stealer because it robs us from being present in the moment; We are focused on everything else. I think that is the key lesson in the book. If we can eliminate procrastination, we can live presently in every moment and not be worried about what we didn't do last week or yesterday."