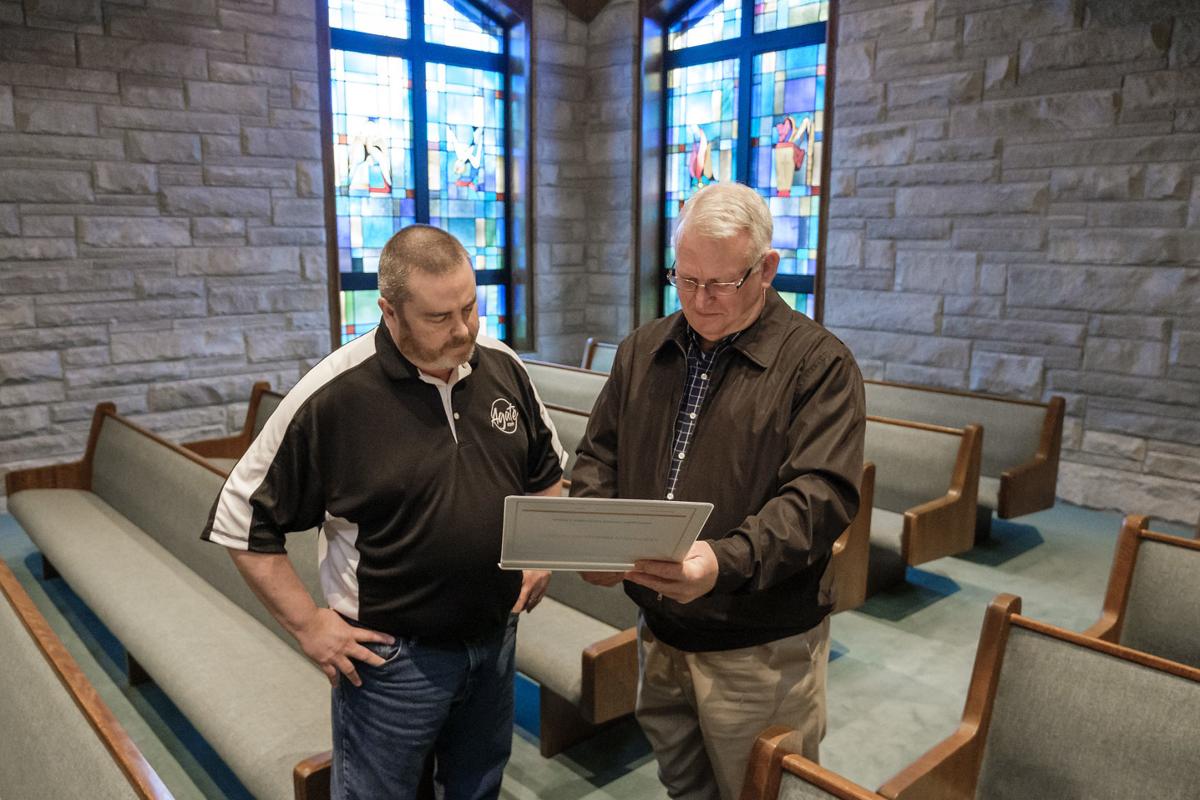 VIENNA — When Dale Russell looks out at the sanctuary of Fellowship Baptist Church, he sees a mirror image of the West Freeway Church of Christ in White Settlement, Texas.
"Our layout is exactly the same," he said. "Theirs is just a few rows deeper."
Tragedy struck that Texas church on Dec. 29 when an armed intruder, described as a drifter with a history of drug abuse, mental illness and trouble with the law, shot and killed two people during Sunday services.
The attacker was stopped by the church's security team, a volunteer group of armed parishioners who keep watch during services. The team, and the member who shot and killed the assailant, have been praised widely, including by President Donald Trump.
Preparing to respond
Since 2009, Russell has been the leader of his Vienna church's safety and security team, preparing it to respond to medical emergencies, natural disasters and the possibility of an active shooter.
His team exists as quietly as possible. He will not say how many members it has, nor where they're stationed on Sundays, nor how many are carrying a concealed weapon.
He will acknowledge that they are trained in watchfulness, conflict mediation and de-escalation, as well as regular tactical exercises with blank rounds or pellet pistols.
"The sound of a gun going off in a church is different than you might think," he said. "Someone who wasn't trained might think it was a door slamming."
Security at Fellowship Baptist begins in the parking lot and extends to all areas of the building, from the computerized check-in system in the childcare wing, to the hidden "panic buttons" that can place an instant distress call to law enforcement.
The team's vigilance extends past Sunday mornings, when about 170 congregants fill the wood-paneled sanctuary. It's present in the evenings, when small groups meet for bible study, and most any time the church hosts a community event, Russell said. Team members have clearly assigned roles and are always aware of who is and isn't carrying a weapon.
By-and-large, the team are lay people, not gun-carrying law enforcement professionals, Russell said. That's the reality of providing volunteer, unpaid security in a small town.
But he has full confidence in their capabilities.
"Guns are the hot-button thing, but there have been attacks in and around churches with knives, baseball bats, gas cans, vehicles," he said. "The adage, 'It will never happen here:' That's a naive approach to take."
Russell is retired from the Illinois Department of Corrections, where he reached the rank of captain. Now he's a volunteer firefighter and keeps a part-time job at an assisted living facility for "something to do," he said. In his spare time, he plays violin in the John A. Logan Community College Orchestra.
He's polite, thorough, friendly to strangers and quick to laugh. And he never sits with his back to an exit, not even out to dinner with his wife.
Russell knows violence at the church is a remote possibility compared to other things his team trains for, like heart attacks, tornadoes and interpersonal disputes.
"Our first focus is ministry in the community," Russell said. "If someone's having a really bad day, we want to be the first people to make contact with them."
In 11 years, the team has never used physical or deadly force.
They've had a few "red flags" that came to nothing, Russell said, plus their fair share of medical emergencies. On a recent Sunday, the team was tasked with convincing an older male parishioner to sit down and have his blood pressure taken, rather than try to ignore an apparent asthma attack.
"People with mental illness, depression, anxiety, we want them to come to church," Russell said. "I don't think it's difficult to greet people with two lines of thought: 'We're glad you're here, and we're paying attention to our security.'"
Their approach has made them an example for churches in the region.
Interest continues to grow
Two years ago, Fellowship Baptist hosted the Vienna Police Department to offer active shooter training to churches across Southern Illinois.
The seminar occurred shortly after the 2017 shooting at First Baptist Church of Sutherland Springs, Texas, in which 26 people were killed and 20 more were wounded before an armed civilian stopped the shooter.
About 175 people showed up, Russell remembers, representing over 40 Southern Illinois churches.
"We had churches from Carmi, to Cape Girardeau, to Murphysboro and everywhere in between," he said.
And interest in church security continues to grow in Southern Illinois.
"There's been a tremendous increase in desire and willingness to have a security team and to get training," said Sgt. Doug Wilson of the Carbondale Police Department. "Pretty much every time there's a church shooting somewhere, another church says, 'It's time we do something.'"
Wilson, who leads the volunteer security team at his church, is aware of five to 10 houses of worship in Carbondale who have armed security, he said.
"These are farmers, mechanics, everyday people," he said. "People who see the need and are willing to put themselves between a bad guy and their church."
About 15 churches in Williamson County have formed armed security teams, according to Kelly Norris, who consults with the teams as director of the Williamson County Emergency Management Agency, and in Union County nearly every large church has concealed carry protection, said EMA Director Dana Pearson.
Likely, these unofficial statistics still underestimate the prevalence of the practice, security team leaders said, as many churches are unwilling to discuss their defenses.
"There's this fear of challenging people," said Wilson, who declined to name the church he attends. "I don't want to put the crazy idea in someone's head to come try this out. I don't want people thinking, 'I bet I could beat them.'"
Like Fellowship Baptist, Wilson's church was among the first in Southern Illinois to form a security team, about a decade ago.
Back then, a local act of terror, not a far-off mass shooting, pushed people to action.
In September of 2009, Willis Bates entered the Anna First Baptist Church and viciously beat two elderly employees: church custodian Leona Mount, then 76, and Mary Shepard, then 69.
Bates, a tall, heavy man, fractured Shepard's skull in four places and broke both her cheekbones, the Chicago Tribune reported. Mount suffered numerous facial fractures plus a broken nose and jaw that required reconstructive surgery.
Churches across the region took action.
"We thought, 'That could've been us,'" Russell said. Like Anna First Baptist, his rural church often sits unoccupied, save for the pastor and a secretary.
Just as the attack inspired Fellowship Baptist's security team, it bolstered the armed self-defense movement statewide.
Two years after her beating, Mary Shepard, a legal gun owner, teamed with the Illinois State Rifle Association to sue Illinois — then the last remaining state in the country that prohibited carrying firearms outside the home.
In December of 2012, the Seventh U.S. Circuit Court of Appeals found in Shepard's favor, ruling the ban unconstitutional. Six months later, the state passed the concealed carry law that stands today.
Now, any citizen with a valid Firearm Owners Identification Card can apply for a concealed carry permit after 16 hours of concealed carry firearms training by an Illinois State Police-approved instructor.
State law still prohibits concealed carry in most public places, from schools, to bars, museums, nursing homes and public transportation, while other places have the option to designate themselves as "gun-free zones" under the Concealed Carry Act.
Indiana strengthened its laws allowing guns in places of worship last April. In September, Texas did the same. To many gun rights advocates, the heroism of the security team in White Settlement, Texas proves the laws are working.
"Lives were saved by these heroes, and Texas laws allowing them to carry arms!" President Trump tweeted.
A nationwide industry
Church security, meanwhile, has become a nationwide industry, with consultants offering training on everything from the biblical justifications for using force at church, to tactical shooting, grappling maneuvers and take-downs, to whether and how to divulge to a congregation that weapons will be carried in their sanctuary.
"I don't think there's any question that the movement is growing," said Carl Chinn, a nationally recognized church security advocate and researcher who leads the Faith Based Security Network.
Today, Chinn's organization is aware of more than 1,000 volunteer security ministries around the country, he said, and that's almost certainly a small fraction.
To Chinn, the growth is reflective of an uncomfortable truth: Going to church is more dangerous than it used to be.
"I don't like to sound negative, but there is an erosion of moral values in our country, and there's a loss of respect for houses of worship," he said. "There is a loss of respect for sanctuary."
American mass violence has become significantly more common since the 1960's, even as overall violent crime decreases, according to a 2019 report by the National Council for Behavioral Health.
Attacks have become much deadlier as guns grow more powerful, the council added, and no other country registers more shootings in which four or more people are killed.
By Chinn's count, there wasn't a single mass murder at an American church until 1963, when white supremacist terrorists bombed the 16th Street Baptist Church in Birmingham, Alabama.
And Americans are seeing more religious persecution than in the past.
A 2019 survey by the Pew Research Center found 64% of Americans now believe Jews face persecution, an increase of 20% over three years ago. Meanwhile, some 70% of conservative Christians now believe Evangelicals face discrimination.
Despite widespread anxiety, there is no comprehensive data suggesting that overall church crime is on the rise, and statistically, churches appear no more dangerous than other public accommodations.
But even as local security team leaders recognize the remote likelihood of violence, the specter of a senseless attack is on their minds.
Call to act
It's one of the main reasons Rich McVicar plans to arm the team he is working to form at Aldersgate Methodist Church in Marion.
McVicar felt the call to act last summer, in the wake of a mass shooting.
"I got to thinking: The odds of that happening at our church are astronomically low, but if something were to happen and I had not at least volunteered some of my experience and ability to help prepare for such a thing, I thought I'd never be able to forgive myself," he said.
McVicar and Russell have much in common. The two men were co-workers at IDOC, where McVicar was a warden and then a region-wide deputy director, and they share the look of retired prison workers: clean-shaven and conservatively-dressed with eyeglasses and close-cropped hair.
They are both calm, pragmatic and deeply rooted in Southern Illinois.
And, like Russell, McVicar has taken painstaking care to plan his team.
He has binders full of protocols, drawing on FEMA Emergency Operations Plan guidelines and best practices from fellow churches down to the smallest details: from the protection of the tithes to the security team dress code and personal grooming expectations.
The plans have been approved by the church's administrative council and McVicar has strong support from his pastor, Lance Leeds.
"We needed to seriously address this," Leeds said. "We didn't even have a comprehensive plan for weather emergencies."
Since McVicar began his work, Aldersgate has hosted Marion police and fire officials for safety walkthroughs. He's also advocating to have the building upgraded with security cameras and automatic door locks.
For McVicar, introducing weapons into the sanctuary was not an easy decision.
An unarmed security team, he acknowledged, could handle most common dangers without the risks of arming civilians and asking them to decide if, and when, to shoot.
"A big part of the plan is identifying folks that can be on the team with the right intentions in mind," he said. "It can't be about a sense of authority. Putting folks out with concealed carry and no plan, not selecting appropriately and training them on the expectations is a recipe for disaster."
McVicar himself doesn't carry a weapon in public, and only sought concealed carry certification recently to launch the security team.
He and other local team leaders appreciate that Illinois requires police-certified training and a clean record to issue a concealed carry license.
Today, 16 states allow concealed carry without a permit, background check or gun safety course, despite data showing increases in gun crime in the wake of permit deregulation and polls that indicate a strong majority of Americans oppose unrestricted carry.
Ultimately, McVicar said, only a minority of the Aldersgate team will carry guns and all will receive training beyond their concealed carry permit class.
"You need a plan and high expectations," he said. "Quarterly training. Qualification annually with your weaponry. It needs to be taken extremely seriously."
One benefit of additional training is that it helps church defenders understand the profile of a mass shooter, Russell said.
"There may be this issue that it is somewhat predominantly white males," Russell said. "But when they start throwing photos up (of mass shooters), you look at all of them, they are not young, old, rich, poor, educated or uneducated. They do not fit a stereotype, and that's the thing we're trying to get people to understand. You need to have an open mind."
Yet Russell is aware of many local churches that do not require any internal training.
"That is not nearly sufficient for us," he said.
Russell and McVicar do differ on some small points of administration. McVicar plans to ask other concealed carry holders to inform him if they bring their guns to church. Russell, who knows parishioners that do, takes a more hands-off approach.
Largely, the men share a philosophy.
Both are forthright with their congregations about their armed security teams. And fundamentally, both agree that a gun in the right hands makes society safer.
However, many gun restriction advocates believe the expansion of concealed carry, putting guns close at hand more and more frequently, creates more danger than it alleviates.
"There is little question (concealed carry) leads to enormous increases in gun thefts that can further stimulate criminal activity," wrote Stanford gun policy researcher John J. Donohue III. "(W)hile gun carrying has shown no ability to reduce robberies, states that adopt right to carry laws see increases in the percentage of robberies committed with a gun."
Guns also tend to escalate tense situations, he said, like in the death of Philando Castile, a legal concealed carrier who was shot by a police officer who believed he was reaching for his weapon. Recent studies have shown that owning a gun makes an individual more likely to die by suicide, or be shot to death by a partner or family member.
Not for everyone
Russell doesn't believe every church should arm itself. Each congregation should decide what's best for it, based on their capabilities and philosophy, he said.
For his rural congregation, he feels it would be negligent not to provide protection.
"We have a very good police department, but fact of the matter is if there's an incident at church, you're at the mercy of time," Russell said. "On a bad day, you could be looking at 10 to 30 minutes response time out here. That's an eternity."
In a residential neighborhood in Carbondale, one church has decided not to bear arms.
The Church of the Good Shepherd is a self-declared gun-free zone, with the state mandated signage — a gun struck through with the red "No" symbol — posted on the front door.
Just like Fellowship Baptist and Aldersgate Methodist, the church's decision was taken democratically, after broad conversation between Pastor Kim Magwire and her congregation.
Their refusal of weapons is rooted, Magwire said, in the Bible.
"Jesus was radically different than other leaders of his time," she said. "He was crucified on a cross exposing the grotesque violence of the day. He showed violence is not the answer, and He is the one we follow."
The church has done evacuation drills, trained its greeters to be vigilant, and even practiced the run, hide, fight progression to respond to an armed attack, Magwire said.
But rather than arm itself, the congregation believes it can best contribute to its own safety by advocating for equality, compassion and smarter gun policies, like funding gun violence research and requiring background checks for all gun sales, a policy with strong bipartisan support.
"How can we address the underlying issues of violence in our culture and be an agent for transformation of our society so that we have a community that exhibits and demonstrates loving kindness for others?" Magwire said. "In our experience we have found that arming ourselves is not the way."
Displaying the gun-free sticker on the door has been scary, Magwire is sad to say, and publicly acknowledging that the congregation is unarmed is scary, too. But it's a stand they feel they need to take.
"There's some fear when someone else is carrying a gun and you're not," she said. "But an eye for an eye leaves the whole world blind."
Correction: A previous version of this story incorrectly claimed that Illinois does not prohibit concealed carry of a firearm in hospitals and sports arenas. In fact, the Concealed Carry Act expressly prohibits carrying a firearm in both locations. The story has been updated.
Get local news delivered to your inbox!
Subscribe to our Daily Headlines newsletter.