THOMPSONVILLE — In 2004, a small church in Thompsonville began offering food one day a month to families in need in Franklin County.
The first month, about three families showed up. The next, it was 11. Fourteen years later, there are nearly 200 cars lined up well before the church's food pantry doors open at 8 a.m. on the third Saturday of every month. 
"There's a lot of need, a lot of underserved people," said Ann Schwengel, co-coordinator of the Thompsonville Community of Christ church's food pantry. "The employment situation and the economy in Southern Illinois adds to the need."
Across Southern Illinois' lower 16 counties, there are nearly 100 food pantries working to help keep food on families' tables. Recently, some of them have joined forces to create the Southern Illinois Food Pantry Network. The network aims to allow food pantry volunteers and managers, whether they run a small operation or a large one, "to rely on each other for brainstorming, support and idea sharing," said Toni Kay Wright, an educator for the Supplemental Nutrition Assistance Program-Education with the University of Illinois Extension, based in Marion.
The network is an initiative of the University of Illinois Extension, Southern Illinois University Carbondale's food and nutrition program, Jackson County Health Department, Southern Illinois Healthcare and the SIU School of Medicine's Center for Rural Health and Social Service Development. It is modeled off other successful food pantry networks in places like San Diego and Illinois' Metro East St. Louis region.
Wright said one focus of the network is to brainstorm ways to encourage donations of healthier food options. In the future, the network may also be able to seek grants to bolster support to local food pantries. There are other benefits, too. 
Working with neighbors facing difficult, often heartbreaking situations can take a toll on providers. "Sometimes you think, 'Oh my gosh, I don't know if I can keep doing this,'" Schwengel said.
Having others to communicate with who understand the unique challenges and rewards of running a food pantry is important, Schwengel noted. That's why she attended the network's first meeting last fall.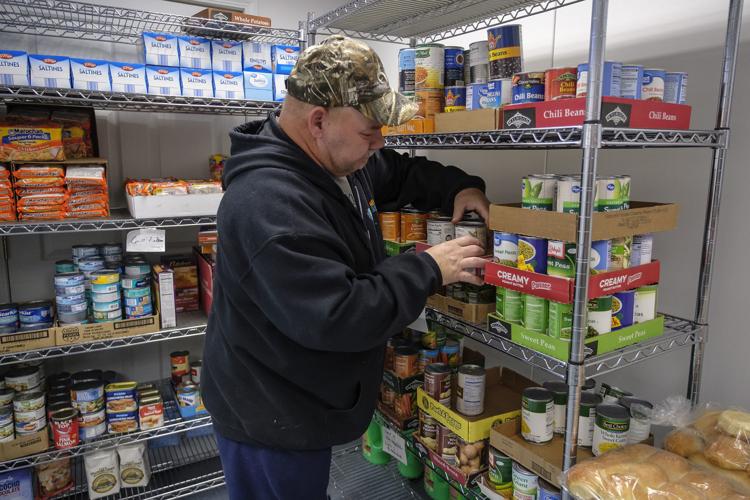 Ruth Hawkins, treasurer and co-manager of the Du Quoin Food Pantry, said she also believes there is an advantage to getting to know the people running other food pantries throughout the region. It allows for sharing ideas about what works and what doesn't, she said. The Du Quoin Food Pantry serves residents of Perry County, and Hawkins said it's also helpful to know other food pantry operators to direct people to if they show up at her location but live in another county.  
Wright said the network had its first meeting this fall; about 15 food pantry operators attended. A topic emerged during discussion that Wright said she had not anticipated as a shared concern: how to keep managers and volunteers safe if a client escalates. Food pantry operators say that, on occasion, people seeking food assistance become agitated if they are turned away either because they have already reached their allowed allotment for that month or they do not meet a residency requirement. As well, people may be experiencing substance abuse or poor mental health, or simply be having a bad day based on the circumstances that brought them there in the first place.
Given this concern, the network's next meeting will include a discussion about ways that food pantries can partner with local police departments to keep managers, volunteers and clients safe, and tips for de-escalating tense situations, Wright said.
The next meeting will be at 2 p.m. on Jan. 23 at John A. Logan College in room F119. If food pantry operators have questions about the network, Wright can be reached at 618-993-3304.