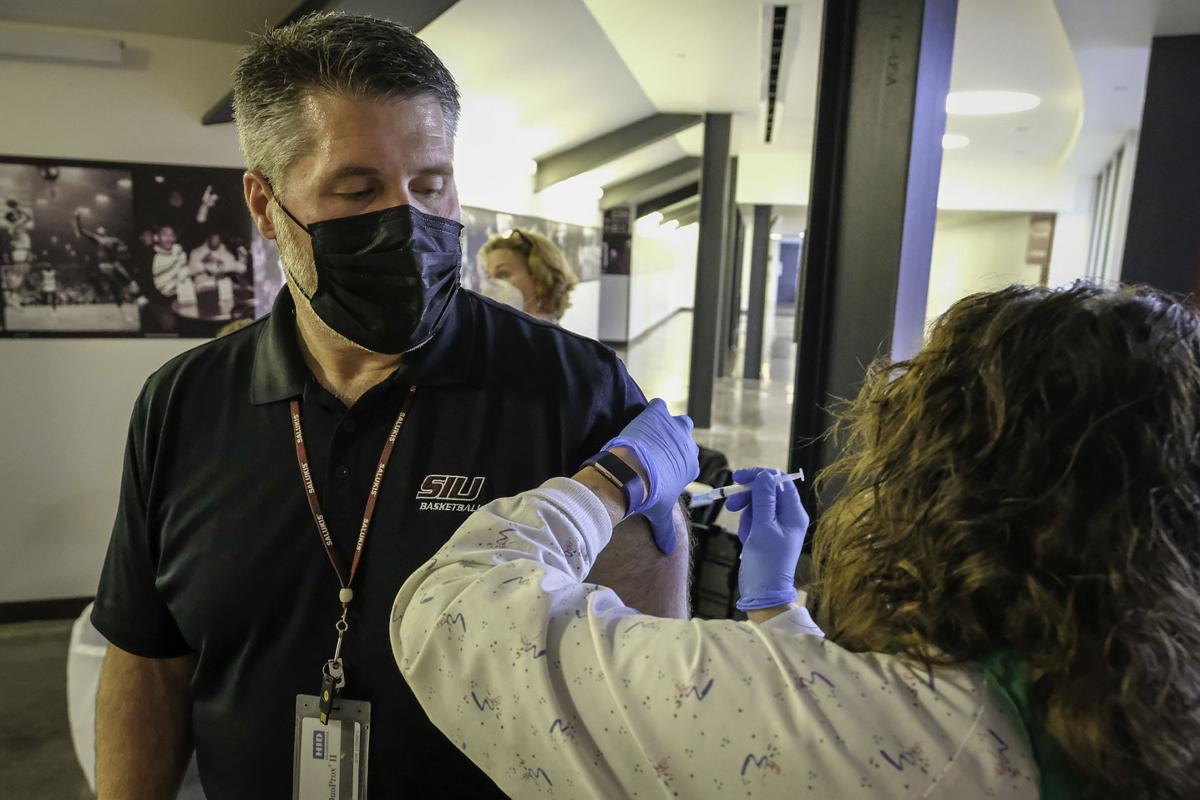 By now, most people have seen pictures of family and friends who are health care workers receiving their COVID-19 vaccine, and have heard Gov. J.B. Pritzker announce an expansion of those eligible for vaccination in phase 1B. That leaves many of us with a question: When can I get a vaccination?
According to Pritzker's COVID-19 briefing on Monday afternoon, the state of Illinois is currently is in phase 1B of the vaccination rollout.
The state has received 587,00 doses of the Pfizer and Moderna vaccines — 109,725 to the city of Chicago and 478,175 to the rest of the state. An additional 231,400 doses of the vaccine have been received as part of the federal partnership with Walgreen's and CVS to vaccine long-term care residents and staff, with 58,900 going to the facilities in the city of Chicago and 172,500 to the rest of the state.
Pritzker announced that 334,939 does of the vaccines have been administered, with 298,072 doses going to frontline health care workers and the remaining doses to long-term care facilities.
He said health departments that have substantially completed vaccinating their 1A population may move into phase 1B of the vaccine rollout. He said he expects to release the date of the state moving into the next phase later this week.
Southern Illinois health departments are preparing to move to phase 1B.
Residents of Alexander, Hardin, Johnson, Massac, Pope, Pulaski and Union counties can register with Southern Seven Health Department, which covers those counties, to receive updates on the COVID-19 vaccine on the department's website, southern7.org.
"When there is a vaccine you are eligible to take, you will be notified," Shawnna Rhine of Southern Seven Health Department said.
As of Monday morning, around 1,000 residents of the seven counties had registered for updates. Rhine urges everyone to register for updates, even if they don't qualify for early rounds of the vaccine.
Bart Hagston, administrator of Jackson County Health Department, said they are providing weekly updates through their website, social media and the county's emergency alert system.
Jackson County residents can sign up to receive text alerts by going to nixle.com and entering their ZIP code. If the ZIP code is not registered, enter 62966 (Murphysboro) to sign up. The first alert went out Jan. 8.
"We will be going to phase 1B soon," Hagston said. "Our staff met this morning to get more people ready for that rollout."
When the county moves the next phase, residents will be able to make appointments for vaccination through the county's online portal on its website, jchdonline.org. Hagston said clinics are scheduled each Tuesday and Thursday through the end of February.
He said some people are confused about who is and is not eligible for the next stages of the state's vaccine rollout, especially essential workers. For example, those who work in education through high school are eligible in phase 1B, but that does not include employees of colleges and universities. Food and agriculture workers include those who manufacture and process food, but not food service workers.
Those eligible to receive vaccines in phase 1B include individuals 65 and older and certain frontline workers, such as first responders, education and child care, food and agriculture, manufacturing, correctional workers and inmates, U.S. Postal Service, public transit, grocery stores, and shelters and adult day care. Detailed information about eligibility is available on the Illinois Department of Public Health website, dph.illinois.gov.
"We look forward to seeing an end to this pandemic at some point, but it will take a lot of people getting vaccinated," Hagston said.