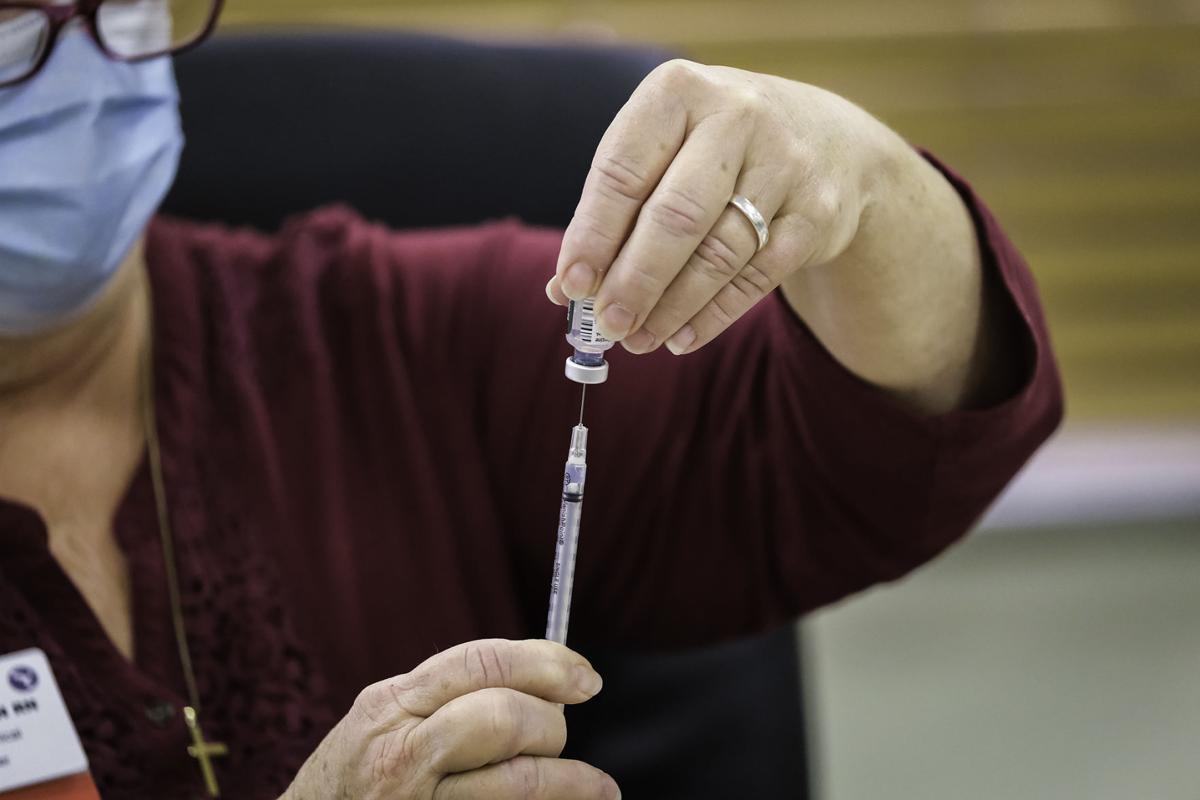 Southern Illinois health departments have advice for those seeking COVID-19 vaccinations — be patient.
Jackson County Health Department officials say the vaccination effort will take many months.
"Every person wanting vaccinated will eventually be served. Please be patient and continue to take precautions to protect yourself and your family from the spread of COVID-19," the county's Monday COVID-19 news release read.
Jackson County has booked all their appointments through the month of February with persons eligible for vaccines in phases 1A and 1B of the state vaccination plan. Phase 1A includes frontline health care workers and residents of long-term care facilities, and Phase 1B includes people 65 years of age and older along with some essential workers. Essential workers included in Phase 1B are: first responders (firefighters, police, EMS, etc.); K-12 teachers (including support staff and daycare); food and agriculture workers; public transit workers; grocery store employees; transportation and logistics; and employees of utilities (energy, IT and communication, water, wastewater, etc.).
Nathan Ryder, contact tracing outreach coordinator for Southern Seven Health Department, echoed that sentiment.
"It's hard to sit and wait. The general public doesn't see that we are out vaccinating all day every day," Ryder said.
The problem now is vaccine supply. Southern Seven will have four clinics this week to administer first doses of the COVID-19 vaccine. After this week, they will suspend clinics for initial doses of the vaccine to administer second doses. Both approved vaccines require two doses.
As of Friday, Southern Seven had vaccinated 3,569 residents in Alexander, Hardin, Johnson, Massac, Pope, Pulaski and Union counties. Ryder said he expects that number to be close to 5,000 by the end of the week.
"Hopefully, supplies will increase in a few weeks," Ryder said.
He expects Johnson & Johnson to apply for emergency approval for its vaccine soon, and another company also is near to applying.
Even with supply chain issues, those seeking a vaccination have several options as more sites open.
According to Illinois Department of Public Health, Walgreen's Pharmacy on South Wall Street in Carbondale and Kroger Pharmacy locations in Anna, Carbondale, Harrisburg, Herrin, Marion, Mount Vernon and Murphysboro also are offering vaccinations. Like local health departments, sign-up is only available online. Walgreens requires an account to sign up.
Ryder said Bode Drug locations in Vienna and Mounds are offering the vaccine. Hardin County Hospital and Massac Memorial Hospital are offering vaccines to those registered with Southern Seven.
"We're sharing our information with other providers. We are all sharing and trying to vaccinate as many as possible," Ryder said.
His recommendation is to start with your local health department. Sign up for a waiting list, if one is available. Check websites and online vaccine portals frequently, as new appointments fill up quickly.
A total of 1,333,475 doses of vaccine have been delivered to providers in Illinois as of Monday, plus an additional 496,100 doses allocated to the federal Pharmacy Partnership Program for long-term care facilities. This brings the total Illinois doses to 1,829,575. A total of 996,410 vaccines have been administered in Illinois as of midnight Monday, including 156,872 for long-term care facilities.
Editor's note: This story has been updated to remove a reference to Carterville Family Practice offering vaccines to the general public. At this time, they are offering vaccines to employees only.