CARBONDALE — Two pillars of the Carbondale and SIU communities died over the weekend — Harvey Welch and Seymour Bryson.
"Carbondale has lost two of the mainstays as far as giants in the community who have contributed, not just to Carbondale as a community, but to SIU and to thousands of lives including people who were students and others associated with the university," Carbondale Councilwoman Carolin Harvey said Sunday evening.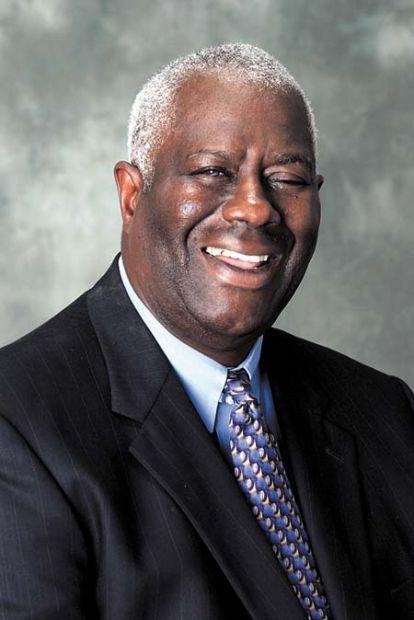 She called them both wonderful role models and great sources of encouragement for many people. "I'm thankful for the path they forged and for the sacrifices they made, personally and professionally," she added.
"Such a big loss for the community, I can't begin to imagine or count the number of lives they impacted positively at SIU and in Carbondale," said Dr. Linda Flowers, president of Carbondale Branch NAACP.
Welch, 86, died Saturday, May 4, in Carbondale. A Centralia native, he was the first black athlete to earn a basketball letter at SIU, playing from 1951 to 1954. He also was the first black student to complete the ROTC program at the university.
After a trail-blazing college career, he went on to a 20-year career with the U.S. Air Force where he continued to light the way for others. He was one of the first three black officers to be promoted to colonel.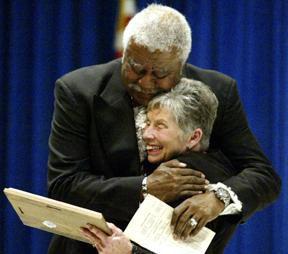 After his retirement from the Air Force, Welch came back to Carbondale and SIUC in 1975. He served as the first black dean of student life at SIU and then as vice chancellor of student affairs from 1987 to 2000.
In February 2018, Welch told Southern Illinoisan Reporter Isaac Smith that his greatest achievement was being "in charge of the vast majority of what went on" at SIUC.
Welch was active in Rotary Club, NAACP and served on the boards of Lutheran Social Services, SIRRS and Carbondale Park District. He was received a Distinguished Service Award from SIUC during commencement exercises in 2018 and was named Citizen of the Year in 2007 by Carbondale Chamber of Commerce.
Bryson, 81, died Sunday in Memorial Hospital of Carbodale. He followed Welch as an SIU basketball standout in 1955, earning MVP all four years. He holds the university's rebounding record of 1,244 career rebounds and scored a then school-record 1,535 career points.
As remarkable as his basketball career was, Bryson also had a standout professional career at SIUC. A native of Quincy, he received three degrees from SIU, a bachelor's degree in social work in 1959, a master's in rehabilitation counseling in 1961, and a doctorate in educational psychology in 1972.
He was one of three African Americans to progress from assistant professor to full professor at SIU, first African American associate dean of a college and the second of three African-American deans.
At the time of his retirement, he was serving three posts appointed by the governor, including Guardianship and Advocacy Commission, African American Family Commission, and the State Use Commission. He was active in Carbondale Branch NAACP, Jackson County 708 Mental Health Board and Carbondale United Way, according to a profile from SIU Special Collections Research Center's website.
Both Welch and Bryson are member of the Saluki Hall of Fame and have scholarships in their names at SIU. Bryson recently was recognized as a 2019 Distinguished Alumni.  
Interim Chancellor John Dunn sent a message to SIU colleagues on Sunday to inform them of the deaths of "two of the most storied and loved Salukis: Harvey Welch and Seymour Bryson."
"Both embodied the best of what it was to be a Saluki. They honored us by choosing to be students at SIU and then became prominent in numerous roles as educators and contributors to the education of future students. They set a high standard that has been emulated by many others who benefited from the opportunity to work with them and share their love of all things Saluki. Their contributions to SIU, the community and region beyond have been widely acknowledged and will never be forgotten," Dunn wrote.
Former SIU president and Congressman Glenn Poshard said Bryson and Welch were both critical leaders in modern SIU history. "We have lost two of the foundation stones of our university. It's so hard to believe. I'm so saddened by this," he said.
"When you look at the broad history of our university, these are two of the giants, reaching all the way to Dr. (Delyte) Morris and throughout our modern day history. They were two people in the middle of helping build this university," Poshard said. "They were part of that group effort that helped take SIU from a small teachers college to a large research university."
Poshard said that it was a great mission of Morris, the long-serving administrator that took over the leadership of SIU in 1948, to bring diversity to the university; Bryson and Welch were critical to helping carry out that mission, he said. "These two gentleman were models for bringing many students into SIU that diversified our student population and made SIU a model for diversification across the state. Their contributions are just unparalleled."
Athletic Director Jerry Kill called Bryson and Welch "icons at our university."
"What they've done for our university, from their days from the very beginning to the very end of their lives, has been incredible. And the impact that has made, I don't know if anybody else could ever do. It's a very difficult loss," Kill said.
Kill said their influence has reached every corner of the university. But the leadership they showed to ensure that African-American students coming up behind them would have equal access to education, athletics and other opportunities "really made them groundbreakers" and is among their enduring legacies, Kill said.
Funeral services for Harvey Welch Jr. will be at 10:30 a.m. Thursday at Epiphany Lutheran Church. Visitation will be from 5 to 8 p.m. Wednesday at the church. Meredith Funeral Home in Carbondale is in charge of arrangements.
Funeral services for Seymour L. Bryson will be at 1 p.m. Monday, May 13, in Hopewell Missionary Baptist Church. Visitation will be from 11 a.m. until 1 p.m. Monday at the church. Jackson Funeral Home in Carbondale is in charge of arrangements.
Both families request memorial to help further Welch's and Bryson's legacies as educators through donations to their scholarship funds, the Harvey and Trish Welch Scholarship Fund and the Dr. Seymour and Marjorie Bryson Scholarship Fund. Donations may be sent to SIU Foundation, Colyer Hall, 1235 Douglas Drive, Mail Code 6805, Carbondale, IL 62901-4308.
Memorials for Welch also may be made to Lutheran Social Services of Illinois, 1001 E. Touhy Avenue, Suite 50, Des Plaines, IL 60018.
618-351-5079
On Twitter: @MollyParkerSI ​
Get local news delivered to your inbox!
Subscribe to our Daily Headlines newsletter.