CARBONDALE — Illinois Gov. J.B. Pritzker announced Wednesday that he expected restaurants and bars throughout the state will likely be able to serve customers using outdoor seating by the end of the month. Some in the region are trying to figure out what that will look like.
Pritzker made the announcement Wednesday that bars and restaurants could open for outdoor seating in Phase 3 of his reopening plan, which the state is set to enter on May 29. In March, he had mandated that restaurants and bars limit service to curbside and delivery. That was part of his administration's efforts to limit the spread of the sometimes deadly COVID-19 virus.
Experts think restaurants and bars throughout the state could reopen safely, Pritzker said, "with the right restrictions, tables 6 feet apart and away from the sidewalks, masks and distancing measures for staff." He said it was believed that doing so would operate at a similar risk level as other outdoor activities.
Pritzker also recognized each city is different.
"I want to encourage municipalities and mayors … to do whatever is in their power and best fits their communities to help these restaurants," he said.
"His announcement caught us by surprise," Steve Mitchell, Carbondale's economic development director, said Friday. But, even so, he said the city had been in discussions for weeks about how to accommodate outdoor seating.
Mitchell and City Manager Gary Williams said Carbondale already has an outdoor cafe permit that has been on the books for about four years. Both said easing restrictions on that could be a way to help businesses. But, both said without further details from the Illinois Department of Public Health, they couldn't nail down any specific plans. Williams said he believed there to be a mechanism for the city to act without City Council action — the next scheduled council meeting is June 9.
According to a statement released Saturday by the City of Carbondale, Mayor Mike Henry is expected to issue an executive order to help accommodate bars and restaurants in the days leading up to May 29.
"We had hoped that this announcement would be made, so earlier this month I directed city staff to find ways to help our bars and restaurants expand their outdoor seating areas so they can serve more customers," Henry said in the statement. "We're finalizing details on several items that I hope to implement next week through an executive order."
Sally Carter, the longtime owner of Hangar 9 in Carbondale, also had a lot of questions.
"Do I want to be around it? And if I don't, how can I ask someone else to," she said. Posing another question, she said, "How are you going to sit around in masks and drink?"
"There's more questions than there are answers, for sure," Carter said. With the 6-foot guidelines for tables, she said her beer garden could have less than 40 people in it at a time. She wondered whether it would even make economic sense to reopen.
Similarly, Michelle Stokes, co-owner of Carbondale bar The Cellar, said they, too, were waiting on guidelines before they made any definite plans one way or the other.
Stokes said they are eager to be back with customers, but it just had to be safe.
"We are excited about opening but have work to ensure the safety of our staff and customers. We will be strictly following the CDC and local health department guidelines to ensure we are doing our part to not add to the spread of (COVID-19)," Stokes said, speaking with a Southern reporter through Facebook.
In a news release sent Friday, Marion Mayor Mike Absher announced an executive order easing regulations on alcohol consumption on public property and also made allowances for bars and restaurants to use privately owned or leased property, like parking lots, to serve customers, as well. Absher made sure to note that all establishments had to abide by social distancing and other state guidelines.
"We are going to do all things in our power to get (them) back on their feet," Absher said in a phone interview Friday.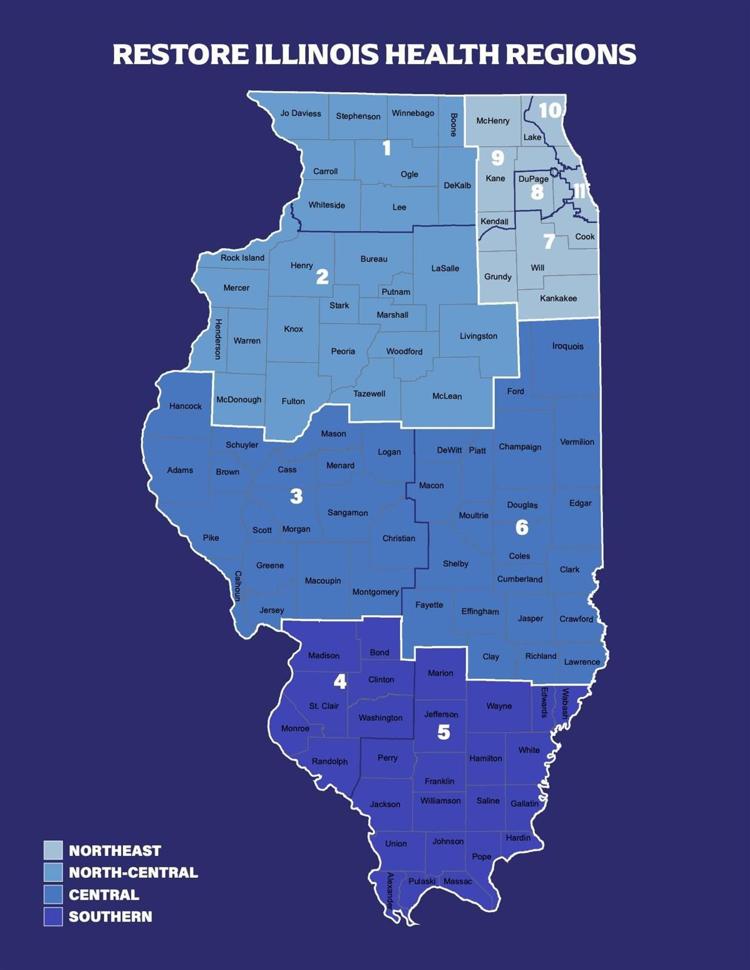 Absher's order is effective immediately, however, table service is not permitted until after the region enters Phase 3 of Pritzker's reopen plan. The plan breaks the state into four regions and, after certain health benchmarks are met, moves each region into one of five stages of reopening.
Bennie's has been a Marion establishment for the better part of a century. Owner John Hill said he's excited, but cautious, about the opportunity to re-open. He said he has to be "careful that cost doesn't overrun profit."
When he spoke with The Southern, he said he was making plans to move tables and chairs outside and to possibly bring in a tent. He said restaurants were already inherently health-conscious when it comes to potential contamination. But he said his employees will be doing their part to keep customers safe.
"We're all in this together. We've got to do it right," he said. Hill said he hopes to reopen as soon as weather permits.
John Brown, proprietor of John Brown's on the Square, had similar things to say.
"We're concerned like anyone else in their right mind would be," Brown said Friday. "Obviously we will be taking all the proper precautions and then some." Brown said he plans to wait until Phase 3 begins to reopen.
Walker's Bluff will be opening May 29 for onsite outdoor dining, according to a news release from the winery and restaurant. It said after completing a 400-person survey of patrons and completing a reopening plan, they will be opening the winery's tasting room and the Legends restaurant.
The news release said the "stated preferences, concerns, and suggestions of the guests who have already responded have guided the setup and offerings of this phase, within the confines of the regulatory requirements."
618-351-5823
On Twitter: @ismithreports
Concerned about COVID-19?
Sign up now to get the most recent coronavirus headlines and other important local and national news sent to your email inbox daily.