MARION — Robert Bruyns sized up the white button-down shirt, making sure the sleeves were long enough, and placed it inside a grocery bag. He added the plastic bag to the stash already lined up his arm. 
Bruyns, who served in the Vietnam War, knew that he would need plenty of shirts, socks, hats and pants to make it through the cold weather months ahead. And he knew he wouldn't have enough income to front the bills.
"I'm kind of in a crisis right now," he said, saying he suffers from PTSD and has money problems. "But this, this is a good thing because everybody needs some help every now and then."
Bruyns was one of at least 200 veterans who filed through the "Veteran Stand Down" event Tuesday in Marion.
The veterans ambled through aisles of winter coats and sleeping bags and filled their trunks with bags of potatoes, cartons of juice and canned goods. They could also sign up for counseling sessions and health care opportunities. 
"For some of these people, they really couldn't make it without that extra blanket or extra food," said Beth Lamp, who has helped organize the event for the last seven years. "Doing this, it's heartwarming and heartbreaking all at the same time."
Community partners such as local colleges, the St. Louis Food Pantry and local counseling services were on site.
You have free articles remaining.
"When a veteran comes in and you can tell they don't have everything they need, it's hard," Lamp said. "We do have some that are actually homeless, and we can relate to that because we all know someone or ourselves could be two paychecks away from being in a bad situation."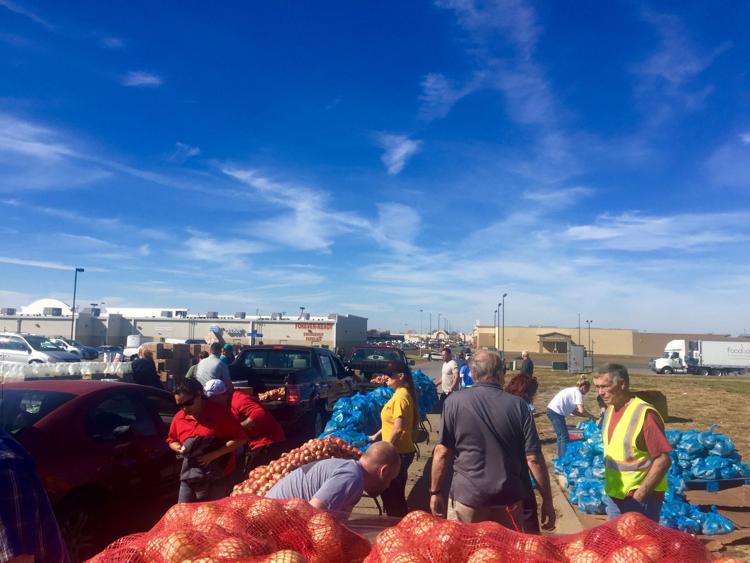 It also offers a sense of camaraderie, she said, as veterans come together for hours at a time to share hot meals, war stories and current challenges.
"This is a chance to meet with other people who get it," Bruyns said. "When you have problems from the war, and money is tight, it's a struggle."
A big part of the event was a drive-thru food pantry, where volunteers loaded nearly 2 tons of food onto a cycle of veterans' cars and trucks.
Teresa Mcintosh, who joined the military just after her high school graduation in 1986, helped pile cartons of juice in the assembly line.
"Every veteran has an issue, I'm fortunate that I have a job, but not every veteran does," she said. "It's crazy to think how many veterans we have in need here ... the need is huge."