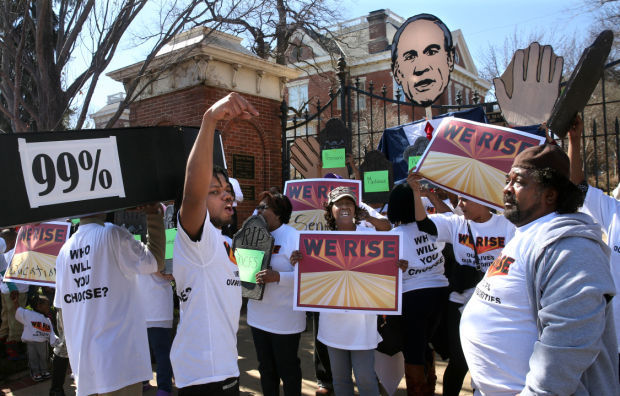 SPRINGFIELD — Hundreds of protesters gathered Wednesday in the state Capitol and marched to the Governor's Mansion, where they rallied against Gov. Bruce Rauner's proposed budget cuts.
Rauner has proposed slashing billions of dollars in order to balance the state budget. But the protesters argued that everyone other than the one percent of extremely wealthy people cannot afford the reductions.
The protesters chanted "money for jobs and education, not for greedy corporations," and wore matching shirts that said, "who will you choose?" on the back.
Some protesters were escorted out of the House chambers for being disruptive while legislators were in session. Protesters then sang, "whose side are you on?"
Stephen Nickels of Simpson said he came to the rally to support others.
"I'm here because I care," Nickels said.
Katelyn Johnson of Chicago helped coordinate the protest for a coalition called We Rise.
"We rise to take back our state, to take back our budget. This is about our lives," Johnson said. "That's why people brought their kids, brought their families. Like these budget cuts are destroying families and destroying communities."
Johnson said if she ever got the chance to speak with the governor, she would ask him how he can justify the proposed budget cuts.
"I would want him to look me in my eye and tell me that our education for our lowest of income students doesn't matter, that our seniors don't matter, that our people with disabilities don't matter."
Residents marched down the street to the mansion where they had a mock funeral for Illinois residents who are not considered wealthy. They held up a fake coffin and tombstone and a 15-foot doll of Rauner while chanting, "move out, go home."
The Rauner administration said the budget cuts have to happen and the debt is not the governor's fault.
"Governor Rauner didn't create this crisis, but he is committed to solving it without raising taxes on hard-working families and without irresponsible borrowing," the governor's office said in a statement. "We urge all members of the General Assembly to support a bipartisan solution to this crisis."