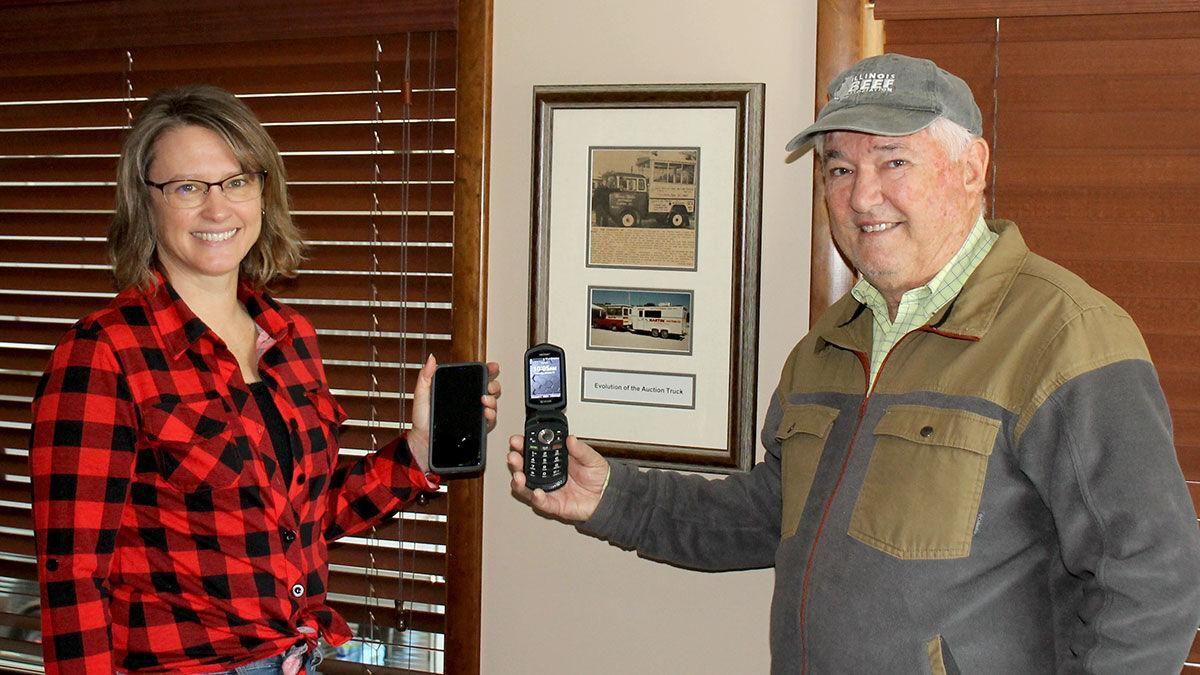 CLINTON, Ill. — Larry Martin's family teases him about using his old- fashioned flip phone.
The central Illinois auction manager and livestock farmer admittedly still likes his aging technology, but the pandemic-pounded year of 2020 reinforced his appreciation for newer tools as well.
While Martin's specialty is purebred cattle, he now favors a hybrid style of auction, combining live and online sales for Larry Martin Cattle Sales.
Today, Martin is retired from the Martin Auction Services business, the company founded by his father, Warren, in 1947, and concentrates on his own animals and on his cattle auction management. Martin Auction Services is owned and run by his daughter, Lucy Nord. His son-in-law, Rob Nord, is the lead auctioneer and his granddaughter Echo is promotions specialist.
Making adjustments
In reaction to the need for smaller crowds during the COVID-19 pandemic, Martin now uses a combination of real-time broadcasting services through DVAuctions and opportunities for people to see cattle in person.
"It's all live and online auctions now," he said as he prepared for an auction of a Simmental cow herd on Jan. 16 in Palmyra, Missouri.
DVAuctions is like an "insurance policy," as it ensures a larger audience and international exposure.
"They set up the cameras and we represent the animal that is going in the ring," he said.
Martin has added another component to address modern needs. He hires sales consultants/professional buyers for each auction. They work the phones and learn from the potential cattle buyer about their budget and genetic goals. Martin pays the consultants, so the service is free to the buyer.
At a November event at the Arthur Livestock Barn in Douglas County, more than 100 people viewed the auction and bid online in addition to those present. About 40% of the bids came from the online services or over the phone from as far away as Nebraska, South Dakota and North Carolina, said Martin, who joined his father's auction business in 1966.
The Nords have been using online sales for more than 10 years at Martin Auction Services. They started in 2007 when they moved to their new extensive sale barn operation near Clinton, Illinois.
"We had four live auctions here this year," Rob Nord said. They were held in February, August, September and November. "Everything else has been online."
Historic business
Like the business Martin's father started, the auction company is based in DeWitt County, but branches out across the country.
"At one time, Dad conducted as many auctions as anybody in the country. He was not just a well-liked local guy in DeWitt County," Martin said.
Likewise, Rob is in demand as an auctioneer across the country. He might lead auctions in 30 states each year, for everyone from the U.S. Marshals to the Treasury and other regular customers.
"But when COVID hit, that all stopped," he said.
Rob learned his skills at Missouri Auction School and teaches online there now. He jokes that he got into the profession by accident. Martin had initially bought the lessons for another son-in-law, but when the opportunity opened, he offered it to Rob, who was keen to become an auctioneer.
Warren, who was inducted into the Illinois State Auctioneer Association Hall of Fame, was innovative. He invented the first auction truck offering a sound system, high viewpoint and controlled climate for the auctioneer, Martin said. He didn't patent it, and someone else used his idea. He had preferred making his ideas accessible for others in the auction community, Rob said.
A photograph of that truck hangs in their sale barn meeting room.
Here you'll also find a giant scrapbook that shows the many auctions and events Warren was part of over the years.
"He was very gifted," Martin said. He started a new style of chant and had a way to move along an auction. "Dad always started on time."
Looking ahead
This room has a large glassed area that overlooks the auditorium. This year the auditorium helped serve in social distancing. Lucy said one of the best decisions she made this year was limiting the number of people in the office. People waited in socially distanced lines in the auditorium.
It reduced congestion in the office, reduced distractions when people were writing checks, and gave her the opportunity to interact with more customers.
This is one of the changes made this year Lucy said she will continue.
She also introduced a greeter. It was something she had considered before, but for the first time a registered nurse greeted people at the door and helped direct them.
Security and safety are top priorities for the business, Rob said. The sale barn complex includes a large fenced in area which allows for safe viewing. Off-duty police and other trained security officers are on duty during the auctions as well.
A workshop is also part of the structure. Here, tractors and other equipment get cleaned and repaired to look their best for auction. A new starter was being installed this day. A few hundred dollars in parts and a little cleanup can sometimes mean thousands more in a sale price. This is a popular service for estate sales, bankruptcy and other sales where the sellers are willing to pay a little to improve the product to get a better price, Rob said.
"We are like a McDonald's. You pull your car up to the drive-thru window and expect service and good prices. We hope you feel good about what you got and will come back," Rob said.
While multiple adjustments have been made to ensure auctions are safe, they remain an important part of life, Martin said. He believes auctions are among the most important social events in the world.
"People come to buy and sell things, see old friends, meet new ones and learn what is going on in the world," he said.