RIDGWAY — This small Southern Illinois community was for years called the Popcorn Capital of the World. Now it is known more for the pop of baseballs rocketing off the bats made here.
Ridgway is a village surrounded by thousands of acres of farmland. A popcorn plant once dominated the industrial base of the Gallatin County town of fewer than 1,000.
The popcorn plant closed years ago. But thanks to the entrepreneurship of one of its residents, a little help from a community development group and funding from the USDA, Dinger Bats is making some noise.
"They're a really interesting company," said Rex Duncan, president of Champion Community Investments. "We've made a few loans to them. We hope to grow their business. It's their ingenuity and passion for it that drive it."
Duncan's group acts as a middle man of sorts, getting grants and low-interest loans from USDA Rural Development, and awarding the same to small businesses that breathe economic life into rural communities in the region.
Champion itself is a success story. The nonprofit agency received an initial USDA grant of $95,000 in 2006 to start a revolving loan fund. USDA later offered the group a $300,000 loan, then $1 million.
In 2010 it was awarded $500,000 through the Micro Enterprise Assistance Program for small businesses of 10 employees or less. In 2013, Champion became the USDA-designated community development financial institution in Southern Illinois.
"We've done over 100 loans, with principal value in excess of $6.5 million," Duncan said. "We work a lot with very small businesses. We work increasingly with banks on bridge-loan projects. It may be a $150,000 project, and the bank is good for $100,000. We come in with $50,000 to bridge the deal."
Such a program was tailor-made for Dinger Bats. The company was formed years ago by Drone, who attended a small Tennessee college on a baseball scholarship.
He was unsuccessful in his pursuit of a pro career, but wanted to maintain a presence in the sport he loves. Through some fortuitous contacts and persistence, he started making bats, though he had virtually no experience in woodworking.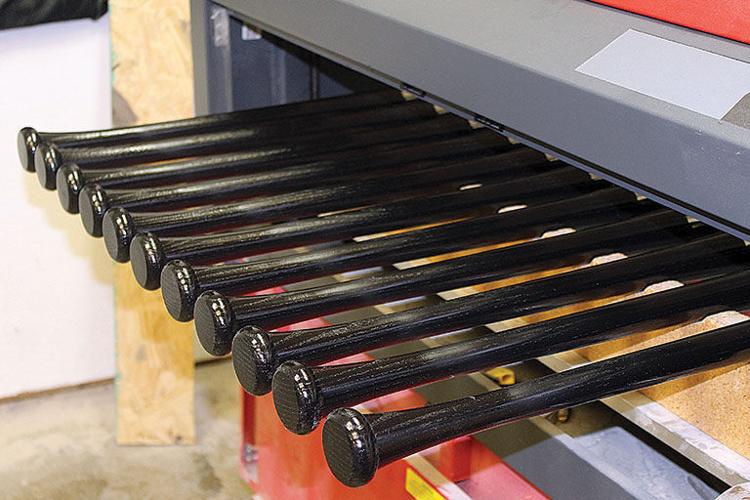 It is a regional success story. Dinger bats are used by dozens of Major League players, including Chicago Cubs sluggers Kyle Schwarber and Jason Heyward; Matt Adams of the St. Louis Cardinals; and Starling Marte, the All-Star Pittsburgh Pirates outfielder.
While it may seem odd that the Department of Agriculture would indirectly help a baseball bat manufacturer, the agency regularly leverages money to help rural communities, often by helping small companies.
"A lot of it has to do with small, emerging businesses," said James Wanstreet, director of the USDA Service Center in Marion. "They impact everyday businesses in small communities."
Drone is on his third cycle of loans. He paid back the initial $50,000 loan and has plans to expand, doubling his workforce. He has five or six full-time employees, so that would mean only about a dozen people working there, but that makes a difference in such a small rural community.
The company has gone from making 420 bats the first 10 months of its existence to about 24,000 in 2016. Drone expects to top 30,000 this year. The bats sell for as much as $150 each. His is one of 32 companies approved by Major League Baseball to provide bats for players.
Growth hasn't always been steady, however. Not long after Drone started the company, he landed a contract with sporting goods company Worth to make wooden bats under the Worth brand. Dinger did $680,000 in sales.
Then Worth sold out to Rawlings, which had its own wooden bat factories.
"We went from up here to straight down here," Drone said. "We struggled for the next eight years trying to keep our head above water. We got to a point where we couldn't get ahead because we couldn't get capital. Now, the last five years we have had pretty steady growth."
Rural Development also helps communities directly, in order to attract small industry.
"We have another program where we promote communities that want to attract business," Wanstreet said. "We do a lots with infrastructure, such as water, sewer, firehouses — anything a community needs to make it a great place to work and play."