EDWARDSVILLE — The former U.S. attorney for the Southern District of Illinois has been arrested and charged with his second DUI in less than two years.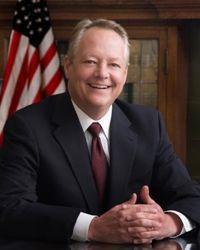 Edwardsville police stopped Stephen Wigginton, 55, at about 9 p.m. on New Year's Eve in the 1000 block of Plummer Drive on suspicion of driving under the influence and improper lane usage, and cited him on those two charges, according to Chief Jay Keeven.
Keeven would not release any additional details.
Madison County Prosecutor Tom Gibbons will refer the case to a special prosecutor because Wigginton worked in that office part-time before becoming a U.S. attorney, according to a spokesperson for the office. He served as U.S. attorney from 2010 to 2015.
In May 2017, Wigginton crashed his Cadillac in Troy, and was charged with DUI, leaving the scene of a crash, failure to reduce speed to avoid a crash and improper lighting.
When an officer asked for his identification, Wigginton said, "You know who I am." When the officer told him, "no idea," Wigginton replied, "Well, your boss does," according to audio and video surveillance the St. Louis Post-Dispatch obtained following the incident.
Wigginton pleaded guilty in Madison County Circuit Court to the DUI charge. As part of the plea, charges of leaving the scene of a crash, failure to reduce speed and a headlight violation were dismissed.
Wigginton's driver's license, which had been suspended for his failure to submit to a breath test, was restored after the plea.
Wigginton received an alcohol evaluation at an out-of-state facility, court records showed at the time, and was to be on court supervision for a year. He also was required to attend a Mothers Against Drunk Driving "victim impact panel" talk designed to "help drunk and drugged driving offenders to recognize and internalize the lasting and long-term effects of substance-impaired driving." Wigginton also paid fines totaling $1,500.
Wigginton resigned as U.S. attorney in December 2015 to join a private practice.
Former President Barack Obama nominated him, and he was sworn in on Aug. 27, 2010.