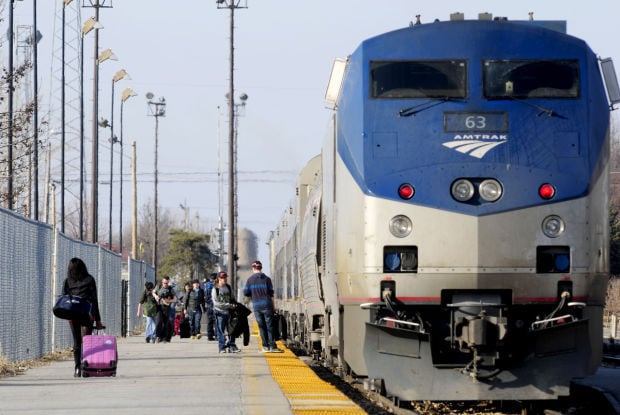 In the 12 months that ended in September 2018, only 6% of northbound Illini trains, which run between Carbondale and Chicago, were on time, meaning they arrived within 15 minutes of their scheduled arrival time, according to a report released Thursday by the Office of Inspector General for Amtrak. For southbound Saluki trains running between Chicago and Carbondale, 17% arrived on time, and 18% were delayed by more than hour.
The Illini and Saluki both run between Union Station in Chicago and Carbondale in Southern Illinois. Stops include Urbana-Champaign and Mattoon. Both are both primarily funded by the state, according to the Inspector General's office.
Nationwide, the report found that 27% of Amtrak's trains were late in the same time period. The report identified poor on-time performance as a key factor driving Amtrak's operating loss of $171 million for the fiscal year.
U.S. Sen. Tammy Duckworth, an Illinois Democrat and a member of the senate's transportation committee, called the on-time performance for the Illinois trains "unacceptable."
"Reliability is the entire game for passenger and commuter rail," Duckworth said in a statement. "It doesn't matter if there is one train per day or 10 trains per day, if your customers cannot rely on a train to arrive at the time it is scheduled, they might as well drive or book a flight."
The lines are used heavily by students of Eastern and Southern Illinois universities and the University of Illinois.
The Illini and Saluki service operate on tracks owned and operated by Canadian National Railway. In May 2018, U.S. Sen. Dick Durbin, an Illinois Democrat, wrote a letter to the Federal Railroad Administration complaining that the trains were consistently delayed by CN's freight interference and ongoing speed restrictions.
The report sent to Congress earlier this week found that nationally, Amtrak's best-performing routes were state-supported and Northeast Corridor lines, which arrived on time 81% and 78% of the time, respectively. Long-distance routes typically did the worst, with just 46% of trains arriving on time, with an average delay of 49 minutes.
Amtrak said freight railroads were responsible for most delays on its long-distance routes, according to the report. Bad weather and congestion also can cause delays.
Improving and maintaining on-time performance on all Amtrak routes, particularly on long-distance lines, would result in $41.9 million in annual cost savings and additional revenues, plus an estimated $336 million in one-time equipment savings, the report said.
Federal law requires railroads that allow passenger trains to run on their tracks to give them preference over freight trains, though Amtrak executives have said the railroads routinely disregard the law, resulting in delays, according to the report.
The report said that Amtrak owns and maintains more equipment than it needs and keeps more conductors and engineers on call than it needs, primarily because of poor on-time performance.
A representative for Amtrak was not immediately available for comment.
Be the first to know
Get local news delivered to your inbox!