CARBONDALE — The bottom is not falling out at the Department of Anthropology on the Southern Illinois University Carbondale campus, but the working conditions have worsened, said Professor Janet Fuller.
Even without changes in teaching loads, fewer faculty means more work for those remaining, she said.
There were three linguistic anthropologists to share the course load up until 2013, but Fuller is the only one who remains today. One retired, and one left for another position. The budget situation didn't necessarily drive them from campus, but it is the reason that the vacant positions remain unfilled. The same is true for dozens of other faculty openings across campus. 
Though the department is able to fulfill its mission, she said the squeeze also has severely limited the funds available for the travel and equipment essential to the study of humankind. 
"I guess I would say that morale is not high," she said. Fuller echoed a sentiment that has been shared countless times in recent months by faculty and staff in departments across campus.
In the face of an epic, months-long budget battle in Springfield that has resulted in slashed budgets for universities, SIU has been treading water — avoiding major layoffs by attrition while administrators warn more significant reductions and reorganizations could lie ahead.
These sorts of conversations and anecdotal stories about how the budget impasse is playing out on campus paint an image of a higher education system heading for a crisis in Illinois. 
Yet, state taxpayer support for higher education in recent years has reached all-time highs.
It's just that the new money isn't going into classrooms.
This is the lesser-told story of the financial predicament facing SIU and other public colleges and universities. SIU's plight is not unique; it is used as a case example in this article to illustrate the elephant in the halls of higher learning.
In the past decade, between fiscal years 2005 and 2015, the taxpayer funds provided on behalf of SIU System retirees, present and future, increased five-fold.
Here's how the payments to the State Universities Retirement System (SURS) on behalf of the SIU System break down in raw numbers for the years that bookend that span of time. (SURS provided this data to the newspaper in response to a public records request. The totals combine contributions on behalf of SIU Edwardsville and SIU Carbondale, the latter of which includes the SIU School of Medicine). 
That's a 452 percent increase.
The total taxpayer contributions to the retirement system for public universities and community colleges breaks down as follows:
That's a 472 percent increase. (Note: A portion of the contribution to SURS annually is from the sale of abandoned property via the State Pensions Fund.) 
A challenging picture
Leading an institution through uncertain financial times, SIU President Randy Dunn has worked to strike a balance between optimism and honesty, but he's leveling with employees and the greater Southern Illinois community about the road ahead. "The picture going from here will continue to be very challenging," he said in a recent interview.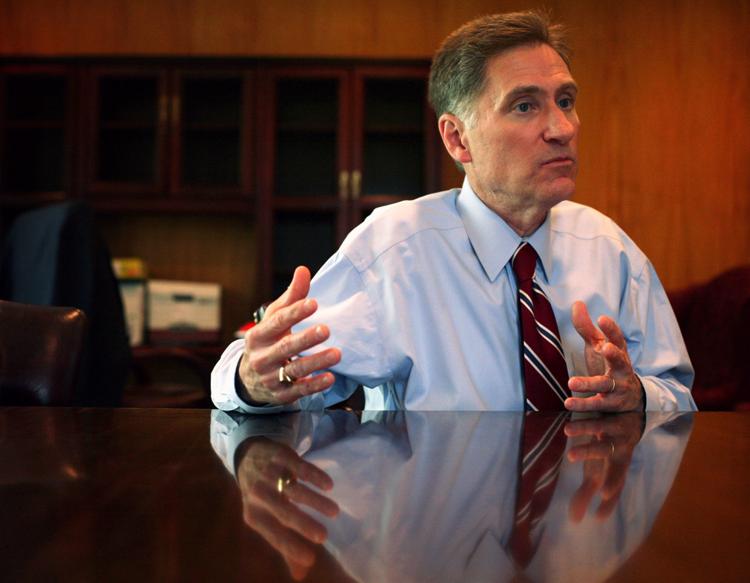 Dunn said that one of the things he hears in the national discussions around higher education is that Illinois looks to be a well-funded state generally when the pension payments made on behalf of the universities by the state are considered in the summation of state support.
But there's more to that story, Dunn said. The state is having to make such large payments to the retirement systems because lawmakers for decades skipped or underfunded the state's share, leading to a $130 billion unfunded liability. That number, revised as of this past month, sets a new undesirable record for Illinois, and solidifies the state's last place national ranking in its funding ratio of its five pension systems, at 37.6 percent. Illinois was previously tied for last place with Kentucky.  
The huge and growing sums of money being funneled into the retirement system are intended to pay down legacy debt. 
"We certainly don't take those contributions for granted. We understand the pension costs in many states are directly charged to the institutions. And we realize the benefit of this contribution that's made on our behalf," Dunn said. "At the same time, this funding model is not something any of us invented."
The 'Edgar ramp' 
The increases are largely attributable to the pension payment ramp plan that originated with Republican Gov. Jim Edgar. In 1994, Edgar pitched and the General Assembly agreed to a plan intended to get the state back on track with regards to its pension obligations during a 50-year period, by 2045.
In the face of criticism, Edgar has defended the plan as an important step of that political era for policymakers to begin taking responsibility for Illinois' long-ignored pension obligations. Further, lawmakers had the ability to tweak the plan along the way, Edgar said, according an April 2016 article in Crain's Chicago Business titled, "The Illinois Pension Disaster: What went wrong?"
The trouble with Edgar's ramp plan is that it called for paying a little at first and then a lot more in later years — and those later years are the present. 
Other factors also have played a role in creating the gaping pension hole facing Illinois, such as early retirement programs intended to reduce salary costs but that added additional liability to the state's pension systems. Also included in that mix are market forces outside the control of policymakers such as the dot-com market crash in 2000 and the Great Recession of 2008. 
Regardless of the reasons, Dunn said that the system of public universities in Illinois cannot function or continue at the level it has with regards to degree production, research and regional support, "without the state being a partner in that."
And that partnership cannot include the state only paying retiree obligations, Dunn said.
For additional context, here's a comparative breakdown of the amount of taxpayer funds contributed for SIU's operating budget and on behalf of SIU to the retirement system. These numbers do not represent SIU's total operating budget as money also comes from tuition and fees and smaller amounts from other areas. 
Total state contribution: $244 million
SURS contribution: $27 million 
Operating budget contribution: $217 million 
Total state contribution: $349 million
SURS contribution: $149 million  
Operating budget contribution: $200 million  
The numbers represent about a 43 percent increase to the SIU System when the retirement and operating budget contributions are combined. But SIU saw its operating funds shrink by 8 percent during that same time. 
In fiscal year 2016 and the present fiscal year, SIU received drastically less funding in two partial year budget plans. The only line item to receive a full year's funding for fiscal year 2017, the current one, was that for K-12 schools. All other areas of government have been funded by stopgap budget measures and court orders since Republican Gov. Bruce Rauner was seated in January 2015. 
Part of the uncertainty facing higher education leaders is that it is difficult to say whether the financial decisions out of Springfield during the past 18 months represent a shorter-term consequence of a budget war between Democratic legislative leaders and the governor that will eventually level out, or a longer term reshaping of the relationship between the state and public institutions. 
But there are signs pointing to the latter. 
Four-year universities have taken the brunt of the cuts in the arena of education. Community colleges have fared much better, even though their employees ' retirements also are paid by the State Universities Retirement System. And lawmakers have continued to fund K-12 schools, and increased funding this fiscal year, even though increased payments to the Teachers Retirement System are similarly eating into general revenue resources.
Dunn also noted that four-year universities are the only educational institutions that cannot seek additional funds through property taxes as K-12 schools and community colleges have the ability to do. Tuition rates are the only major area where universities can look to raise additional operating dollars, but there is a point of diminishing return. Tuition and fees for SIU Carbondale undergraduate students increased 92 percent from the 2005/2006 school year to the 2015/2016 school year, to about $13,136 annually.    
A call for ownership
Ted Dabrowski, vice president of policy at the Illinois Policy Institute, said university leaders need to take more ownership of their role in driving up pension costs, given that actuarial projections are affected by current salary loads. Legacy debt, though a substantial contributing factor, is not entirely to blame for the growing shortfall. But that's become a popular excuse for administrators to deflect responsibility, he said.
Dabrowski, who co-authored a six-part report titled "Pensions vs. Higher Education," in his role at the conservative think tank based in Chicago argues that there are too many administrators in public higher education and that their salaries and benefits are excessive.
"The problem isn't revenue; it's how the universities are spending it," Dabrowski said. "Most people don't know that most of their higher education money is now being sucked up by pensions. They don't understand that spending for higher education is at the highest level it's ever been."
'Everyone is at the table' 
Dunn agreed that the growing pension obligations play a role in the discussion. And Dunn said he anticipates reforms to the higher education system to accompany any revenue solution that dedicates additional dollars to post-secondary institutions.
That could include talks about limiting universities' degree granting authority and creating a specific menu of offerings allowed at each institution. It also could mean discussions about shifting future pension obligations away from the state and onto universities.
But while those ideas are floating around Springfield, there has not been a serious and comprehensive reform proposal to surface in recent years as it relates to the higher education system in Illinois. That has left university leaders in somewhat of a holding pattern.
"Everyone is at the table trying to figure out how to deal with the pension issue," Dunn said. "We've obviously been going now for an 18-month period without the level of state support that we've had in the past. And at some point, there's going to have to be a reconciling of these pressures because they are coming to the fore right now, particularly in the community colleges and universities."
While without a clear picture from the state, Dunn said he and his team of SIU administrators have been meeting for months to determine the best way to move SIU forward. They have had to create plans that account for various scenarios, depending on what happens with state financing, Dunn said. He said it would be premature to share those plans publicly at this stage. 
Cost shift proposal floated
Dabrowski said one of the top reform priorities pushed by the Illinois Policy Institute as it relates to higher education is to overhaul the way pensions are paid, shifting the cost responsibility from the state to the institutions.  
In Illinois, the employer portion of an individual's pension contribution is paid by the state for workers at K-12 schools, with the exception of Chicago Public Schools, and the public universities and community colleges, even though these employees are not technically state workers. 
The shifting of responsibility would increase transparency and should go a long way in curtailing the overly generous salaries and bonuses, end-of-career pay spikes and buyouts that have left a black eye on higher education, he said. "It's a broken system and it's a system that's become very unfair," Dabrowski said. 
Such a cost shift proposal passed the House and Senate in 2013, but died because the two chambers failed to sign off on identical language. House Speaker Michael Madigan was a proponent, arguing it was not fair that universities could set whatever salary and benefit packages they wanted while the state was forced to pick up the long-term tab in retirement, according to an article in the State Journal-Register that year. University and community college administrators also had agreed to the plan that would gradually shift responsibility; The Illinois Education Associated opposed it. 
IEA: Raise revenue, support higher ed   
Michael McDermott, the Illinois Education Association's higher education and UniServ director, agreed that more money should be directed toward university operations and the faculty and staff that are critical to the operations. But he has an opposing opinion on how it should happen.
McDermott said that the shifting of pension responsibility does not make any sense, because universities are barely surviving as it is and payments would still have to come from the state. Further, he said, it's not fair to make university employees pay for the failures of policymakers past. Looked at objectively and in historical context, the numbers do not indicate that more money is being paid in support of higher education, he said.
"We're not spending more on higher education. We're spending less on higher education," McDermott said. "It's not the pensions that did it. The employees, the annuitants, they've made their contributions into those retirement plans."
McDermott said he believes additional revenue — whether generated from an income tax, an expansion of the sales tax, or by other means — is the only way to save critical state functions that include higher education. McDermott is the IEA representative for four unions on the SIU Edwardsville campus.
He also is a founding member of the Coalition to Invest in Higher Education that was formed in early 2015 to spread the word about the importance of the state's investment in colleges in universities, both in educating students and economically. The coalition consists of university and community college administrators and union representatives, he said.
"When you start losing students, and losing programs and staff you have fewer in the community and buying power goes down," he said.
"It's a snowball effect. There are lots of communities that rely upon the students and staff who work at universities. They provide, in some cases, as much as 80 percent of the revenue in those areas."