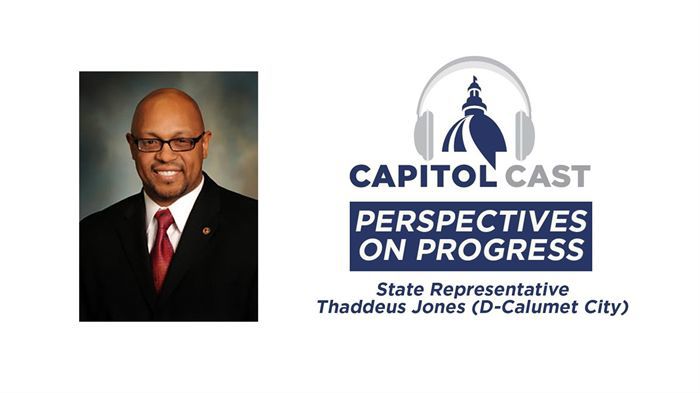 SPRINGFIELD — The recognition that institutional racism exists in Illinois' law enforcement, education system and houses of worship, for example, came as "an awakening" for many residents, Rep. Thaddeus Jones said, and it will be impossible for the state to "move forward" until Illinoisans confront those issues by having honest conversations.
The death of George Floyd, an unarmed Black man who died in Minneapolis police custody on May 25, spurred near-daily demonstrations where residents of all races protested systemic injustice.
"We're seeing people's real feelings and comments come to the forefront like we've never had before, and it's surprising on one hand but it's insulting on the other hand because there's so many relationships that are being challenged right now based on feelings," Jones, a Democrat from Calumet City, said. "Part of that is anger, and then part of that is getting to know each other better."
The representative, who serves communities in southeast Chicagoland minutes from the Indiana border, spoke with Capitol News Illinois for its "Perspectives on Progress" series, a collection of conversations on race with state leaders.
Illinois elected officials at all levels have in recent weeks suggested policy improvements in certain areas — police reform, access to health care, integrated communities and small business support, to name a few. But Jones said none of those changes will make a true difference unless residents confront their ability to live, work and respect each other.
"We can't legislate morality — that's what we're talking about," the representative said. "...There's no way that you can break down institutional racism in education, policing, in all the systems that you can name with just one piece of legislation. It is not going to happen."
That process, he said, should begin with members of the General Assembly. If Illinoisans see their representatives and senators confronting their biases, "then it's more powerful."
"If you live in Southern Illinois, you've heard things about Black people that are not true, and vice versa, if you live in northern Illinois, you've heard something about white people in southern Illinois that is not true," Jones said. "And I know it sounds so simple, but it's the simplistic stuff that's going to get us to the point where we're going to actually do things to change the country and change our state."
In the late 1990s, Jones served as chairman of the Illinois Human Rights Commission. He said he wants to bring techniques from that group to the Legislature to encourage and "challenge" his colleagues to confront "the issues that have brought us to this point."
The point, he added, is to "move the conversation forward" by learning about each other's families and life experiences. Members of the General Assembly would then be able to confront ways to craft helpful legislation.
"I'm just afraid that, you know, some of my White colleagues have the same frustrations and we don't talk about it. We sit around like we get along with each other, but in the back of our minds, we have these deep-rooted issues that we need to work on," Jones said.
"Taking it from the foundation of what Illinois started with, you know, dealing with slavery back in the day to where we are now, and actually having conversations about racism — we've never done that as a state," the representative continued. "...I think once I can move that ball forward, it'd be better."
But what is occurring in Illinois currently — people "paying attention" — is giving him hope, he said. In the back of his mind, though, is this movement's uncertainty.
"I think that's what scares me the most, is that all of this talk is going to go away and is here for a moment and people are going to move on to something else," Jones said. "...We all have views on each other that we have to move beyond because our country has put those thoughts in our head, and we have to sit down and deal with them."
Capitol News Illinois is a nonprofit, nonpartisan news service covering state government and distributed to more than 400 newspapers statewide. It is funded primarily by the Illinois Press Foundation and the Robert R. McCormick Foundation.
Be the first to know
Get local news delivered to your inbox!