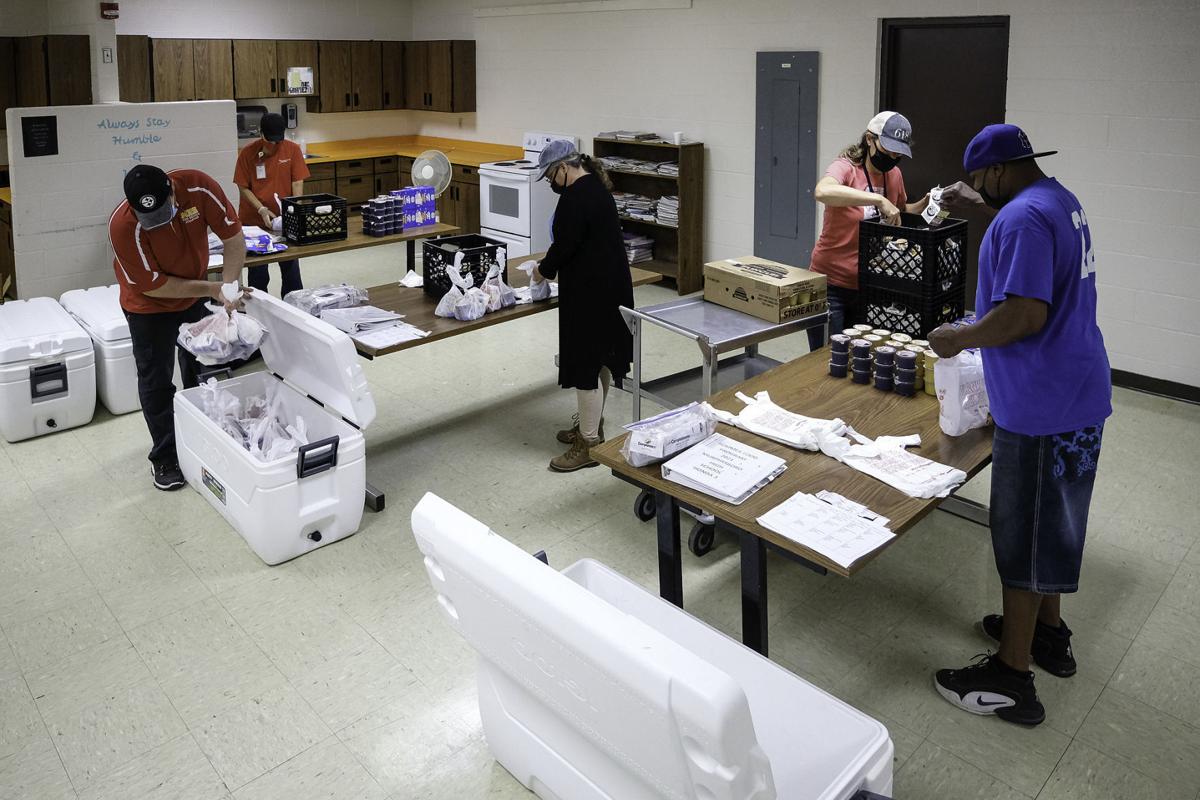 A regional summit planned for Aug. 11 is taking aim at problems of hunger across the region.
Organized by a group of 11 agencies and organizations, the Southern Illinois Food Security Summit will address the issues, look at available programs and hope to build collaboration to make nutritious food more widely available in the area.
"We are going to bring together people from different organizations that support food access," explained Toni Kay Wright, extension educator with the University of Illinois Extension Service, one of the organizers for the summit. "We want to talk about food access and food security in our region and ways to improve the statistics."
More than 14% of Southern Illinoisans struggle with having enough food, according to Feeding America's Map the Meal Gap. In all, more than 45,000 of the region's citizens and more than 12,000 children have what is called food insecurity.
The region's 95 food pantries help, but even they are hard-pressed to serve.
"I think all of the pantries are busy," said Gayla Pottorff, co-chair of the Cambria Food Pantry. "We are serving about 400 individuals a month, not just from Cambria, but also from Herrin, Culp and other towns. We serve all of Williamson County."
Pottorff said about one-third of those her pantry helps are children.
"Food security is how reliable people's sources of food are every day and whether they can count on a meal. It's basically knowing where their next meal is going to come from," explains Steve Ericson, executive director of Feeding Illinois, an association of foodbanks throughout the state. "Most people like to go to bed or wake up knowing that they're going to have two or three meals as the day goes on."
Ericson, who will be one of two keynote speakers at the summit, said the problem of food insecurity is more prevalent in Southern Illinois.
"It is a part of the state which is very rural and sources of food – manufacturers and distributors – are not as plentiful as in other parts of the state," he said. "There really is enough food out there, it's just a matter of how to we get it to the people at an affordable cost," he said.
Wright added, "Food insecurity impacts every city, community, village or county in our region. There are a lot of different issues in regards to either distributing the food that is available or just not having access to food, whether it be a food desert or a lack of food pantries or grocery stores. Food access and food security impacts every corner of Southern Illinois.
Summit organizers said some of the mechanisms of addressing food stability include school meals, senior meal sites, food pantries and summer meal programs. They hope bringing the agencies and organizations behind these efforts together will lead to further successes.
"We would like to come up with some strategies to really impact food security at a systems level and discover how these agencies or organizations might work together to have a greater impact on food security," Wright said.
In addition to Ericson, presenters include Vince Hall, vice president of external affairs for Feeding America, the nation's largest domestic hunger relief organization. Highlights of existing Southern Illinois programs ranging from gardens and food drives to summer meal programs will be presented.
Wright said she hopes the summit will become a regular event – one that leads to solutions.
"Our goal is to have this conversation continue. At the end of the day, we're looking to do some action planning and we hope to walk away with strategies and ideas of how we might work together as a region," she said.
The summit is set for 8:30 a.m. – 3:30 p.m. at the Pavilion in Marion. Businesses, schools, healthcare providers, farmers, religious and community organizations as well as community members who are interested in addressing food insecurity are encouraged to attend. Cost of attendance is $15 which includes a box lunch.
Information and registration available at www.feedsi.org or by calling Wright at (618) 993-3304.