TAMMS -- The residents of Tamms have a hard time agreeing these days on the village's population count. The U.S. Census in 2010 pegged it at 632. But that number included several hundred prisoners held within the sprawling, 220-acre, concrete and concertina wire of Tamms Correctional Center. No one seems to know how many people are left, since the "supermax" prison and work camp closed in January 2013.
Despite hopes of an economic revival when the prison fully opened in 1998, and the "First Place for Economic Development" plaque that hangs at Village Hall, Tamms looks a lot like it has for decades. Old men meet in the morning over coffee at the gas station that doubles as a grocery store. Fliers hang along the counter inside the Butcher Block/Fast Stop. On one, the Second Baptist Church invites all to a week-long revival. On another, a man offers to mow yards or do other manual labor for pay.  
On nice days, others gather across the street on the porch of Bev's Bargain Barn, an eclectic store not much bigger than a large walk-in closet, where one can find a pack of smokes, a prom dress and barbecue sauce under one roof. On one particular sunny afternoon, an older gentleman -- the modern-day village jester -- sat outside teasing any woman who approached about joining his weekly girlfriend rotation.
The shock has worn off in Tamms since former Gov. Pat Quinn announced in his February 2012 budget address that he planned to close 14 state facilities to make ends meet. Three of those facilities were in Southern Illinois: Tamms Correctional Center, the youth detention center in Murphysboro and an adult transition center in Carbondale.  
Today, the prison in Tamms sits empty, essentially nothing more than a parts store for other state facilities. 
But the state continues to spend more than $750,000 a year on the empty prison -- covering utility costs and maintenance, and paying guards to prevent vandalism and to serve as fire watch.
Meanwhile, recent budget cuts forced the end of a summer meals program at the local school where the child poverty rolls are growing, and Alexander County continues to grapple with the real-life impacts of being considered one of the poorest counties in Illinois.
In the shadow of the empty prison, Tamms and the surrounding communities deal with the fallout of broken state promises. 
A Bright Future
Twenty years ago this month, the Egyptian High School marching band serenaded a crowd of dignitaries as they tossed a little ceremonial dirt at the groundbreaking, and offered lots of promises about the good times on the horizon that would come with the arrival of Tamms' new neighbors: convicted serial killers, reputed gang leaders, disruptive prison-yard shot callers who had killed, injured or ordered hits on staff or fellow inmates elsewhere, and men on death row whose final appeal had run out.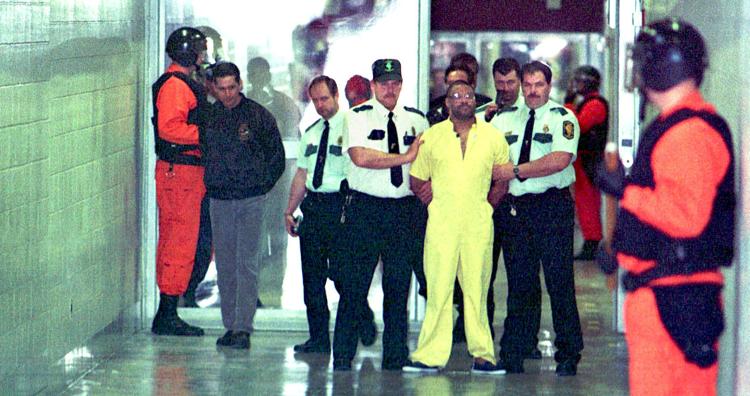 In 1995, then-Gov. Jim Edgar proclaimed that the prison would be "an anchor to help this part of the state move ahead and have a bright future as we enter the 21st century."
With the prison's closure, the only warden left in this village today answers to the name of Poverty. His rules are unforgiving and punishment is doled out seemingly without reason to the most vulnerable – children, the disabled and the elderly.
Yet few notice or care, or so it seems to some in Tamms.
"We're just the forgotten part of the state," said Jane Dunning, as she stood in line at a food pantry to get her monthly allowance of canned and boxed goods. The small amount of free food, she said, stretches out her food stamp-funded grocery budget just a little further.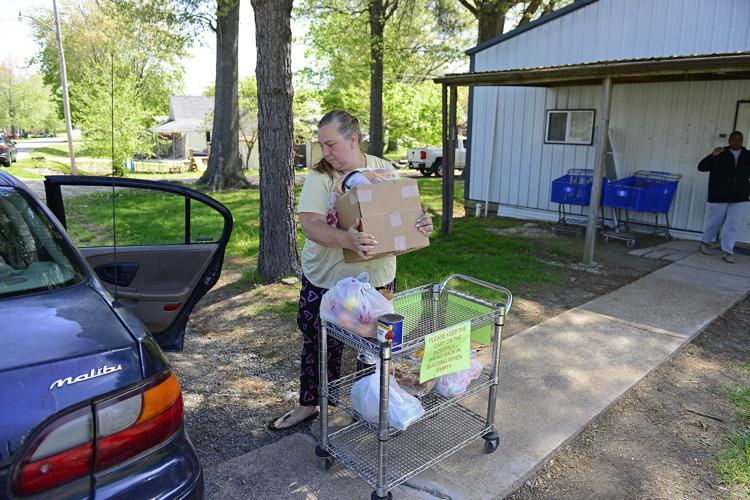 Bake Sale for the State
Driving some of the raw feelings in Tamms and surrounding communities is that residents gave so much to get the prison here.
When a study commissioned by the Illinois Department of Corrections at the dawn of the 1990s claimed need for a new prison to control gang leaders run amok behind bars, Southern Illinois leaders hoping to earn that facility leaned on one of this region's greatest talents: its ability to eek donations from a depressed region for the good of one's neighbor.
In a short amount of time, people gave in excess of $225,000 – money raised by banks, churches, VFWs, bake sales and individual contributors, large and small – in order to purchase 220 acres in rural Alexander County just outside the village of Tamms from a father-son farming pair, harvesting soybeans and a bit of corn. The farmers themselves offered the land at several thousand dollars less per acre than the appraised value as their part in the charity deal.
All told, between the land and other contributions, the local match for the project was $412,000, records show.  
The eventual benefactor of the massive fundraiser would be the state of Illinois.
Golden Mouse Traps
People gave by the dozens on the hope that the prison would solve both longstanding and more recent economic woes. On the heels of a national recession, 1991 marked the start of an economic boom for the country as a whole, but one would not know it here. In November 1992, Florsheim Shoes closed its plant in Anna, putting 350 people out of work. Only a few months later, "That's what I said … Bunny Bread" shuttered its iconoic headquarters on Springfield Avenue. And that was just Anna.
"I, as well as a number of other people, set out to see what we could do to get more employment after the devastating loss," said Jerry Reppert, a Southern Illinois newspaper publisher who was one of the leaders of the effort to bring the prison here.
Reppert recalled at one point an environmental concern threatening to halt the project when the issue was raised about possibly destroying a habitat for the golden mouse. So he bought a bunch of mouse traps and painted them gold as a fundraiser.
This community courted the state like an eager (and perhaps slightly desperate) bachelor hoping to woo his mate for a lifelong courtship. Reppert recalled one particular phone call he received that state officials wanted to drop by and examine the proposed property for the prison.
It was early morning when he fielded the call, and they would be there before noon. An avid golfer, Reppert said he knew these state officials also enjoyed golf. So he called the property manager and said, "I want that site turned into a nine-hole golf course."
In a strictly symbolic gesture, several people from the town came out with mowers and in a few hours turned the clover field into a makeshift golf course complete with "fake greens" and flagsticks.
"It was a very impressive sight," Reppert recalled. "The people of Tamms came out with their mowers. It was a wonderful community thing that happened over the course of just a few hours."
It wasn't long after that the government accepted the donated land, a promise to back $1 million in home loans for corrections' employees and other efforts organized by the Southernmost Illinois Prison Committee comprising leaders in five of the state's most destitute counties: Alexander, Pulaski, Massac, Johnson and Union.
When Edgar broke ground on the facility in May 1995, it was, for many, a happy, sun-drenched summer day underscored by a rare visit from the governor and so much optimism floating around that it's a shame the feeling couldn't have been bottled up for the bleaker times ahead.
Before its closure, the prison would come to house inmates, including "I-57 killer" Henry Brisbon, reputed leaders of the Maniac Latin Disciples and the Latin Kings and others sent there, not because of their crimes that led them to prison, but for their behavior on the inside.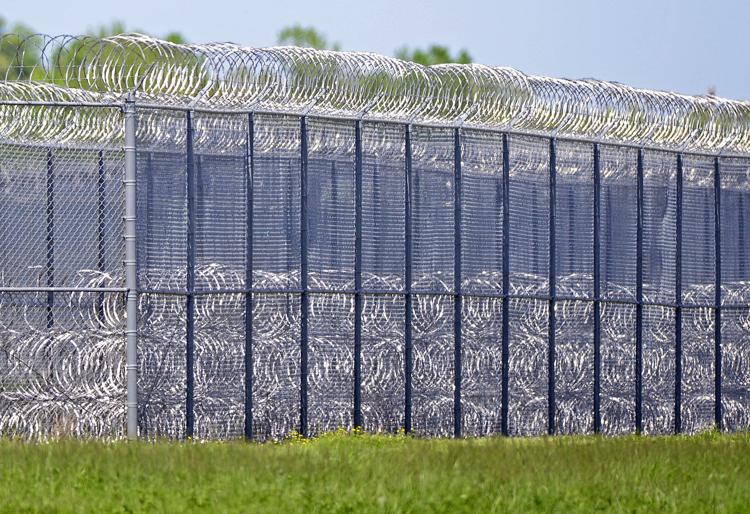 Picked Over
Southern Illinois lawmakers are fighting in the Capitol to give the prison new life as a re-branded Alexander County Correctional Center -- moving away from the "supermax" label and pitching it as the answer to overcrowding within the Illinois Department of Corrections.
But state corrections officials quietly moved in a month after its closure and hauled out much of the prison's contents, according to information provided by the Illinois Department of Corrections in response to a request filed by the newspaper under the Illinois Freedom of Information Act. This makes efforts to reopen it more challenging. 
"They completely gutted it. Took every single thing out," said Debbie Short, a former village board member whose husband is the rural mail carrier for the U.S. Post Office in Tamms.
Weeks after the facility closed, bed units were hauled to Centralia. A gun chest went to Ina. A physician's scale was taken to Lincoln. Chester scored some administrative chevron chairs. A hydraulic stretcher removed from the prison's execution chamber went to the prison in Pontiac, which also took a wet/dry vacuum, binoculars and a vegetable slicer. A state seal was plucked from the prison's courtroom and moved to an IDOC administrative office in Marion.
A complicated confluence of factors have led to the decline of this region within Southern Illinois dubbed "Southernmost Illinois."
Still, driving through here is like holding a magnifying glass to the state's policies of the past half century, and getting an up-close look at how decisions made 230 miles away in Springfield to spend, borrow and bargain the state's way into the nation's worst credit rating – and now, as a consequence, to harshly reverse those promises in the face of a $6-billion-plus deficit – is playing out in communities in varying and painful ways from Chicago to Cairo.
Cruel and Unusual
Illinois taxpayers have invested well in excess of half a billion dollars into constructing and operating Tamms Correctional Center and the attached minimum-security work camp. The costs continue to add up as the state pays to maintain it empty.
That's not tallying the costs the state has accumulated defending lawsuits brought on behalf of inmates held in the supermax unit in solitary confinement for years at a time.
In 2005, the state reached a settlement with the MacArthur Justice Center, which filed a lawsuit alleging cruel and unusual punishment of inmates kept for 23 hours a day in a 7-by-12 foot concrete cell and, if they behaved, given one hour in a concrete recreation pen, plus an occasional shower.
Lawyers argued the harsh conditions were particularly troublesome for inmates with mental illness, and that the inmates' Eighth and Fourteenth Amendment rights were violated when state officials showed "deliberate indifference" to those concerns. In its settlement, the state promised to offer better screening and ensure access to timely treatment.
Loss of Influence
There has been little chatter about the residents of Tamms these days on the national scene or in the hallowed halls of the Illinois Capitol, where marble steps lead to stately chambers that haven't seen the likes of a Southern Illinois kingmaker for decades -- and might never again.
The region's lack of influence in Springfield is certainly part of the complex formula that left Tamms and other similarly situated communities in Southern Illinois behind.
The feeling here of being marginalized at the hands of Chicago powerbrokers – whether real or perceived – is the psychology behind why an attempt during the U.S. Congressional race by Mike Bost's opponent to use a video of Bost throwing an angry fit on the Illinois House floor backfired. Bost's tirade was aimed at Democratic House Speaker Micheal Madigan, of Chicago, related to a maneuver Bost said stifled debate on a pension reform bill.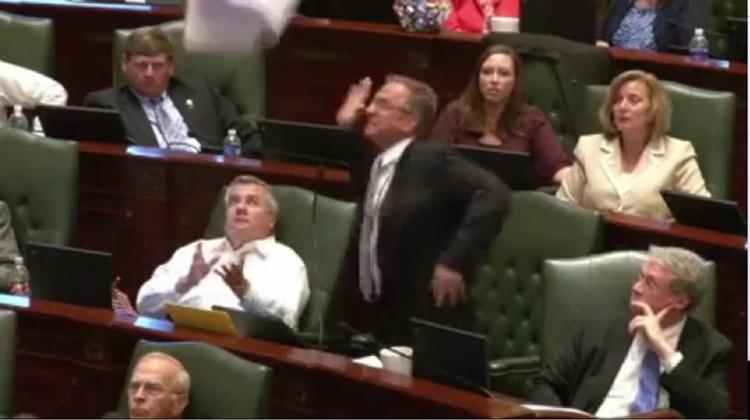 "Let my people go!" Bost yelled that 2012 day, borrowing the words of Moses, as quoted in the Bible, as he tried to free his people from the tyranny of Egypt.  
As the video went viral, Bost was mocked on the national stage, but in Southern Illinois, also known as Egypt, voters loved it. They overwhelmingly elected Bost to the U.S. House, the first Republican congressman from the district to go to Washington, D.C., since Democrat Ken Gray -- "The Prince of Pork" -- knocked out Republican Cecil William "Runt" Bishop in 1954.  
Quinn cited money woes when the prison closed, but he also faced political pressure from allies in Chicago who opposed the operation of Tamms. 
Following Quinn's closure announcement, Democratic state Sen. Gary Forby, D-Benton, became so worked up at a rally that he suggested taking all the inmates at Tamms Correctional Center and unleashing them onto the streets of Chicago.
Forby also said on that June 2012 day that he was about ready to do away with Chicago after years of people asking why not just lop off from Illinois the nation's third largest city.
"You know, I'm just about there," Forby said then. "I'm about ready to just cut 'em off and push em' right out into the water."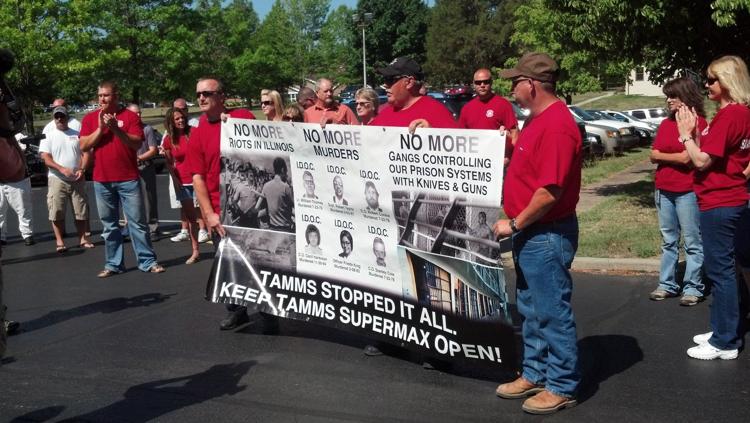 A Fair Share
Creating a state of Southern Illinois is an idea that predates the Civil War. According to a column penned by Jeff Smyth, editor of the Pinckneyville Post, the first call to secede came in 1861, when Rebel forces took Fort Sumter in a battle with the Yankees -- and some here questioned the logic in siding with the state's "Land of Lincoln" namesake, then-President Abraham Lincoln. According to Smyth's research, some folks gathered in a Marion saloon, chugged ale and demanded a public meeting to pass an ordinance to break free from the liberal north. (It's a shorter drive to Mississippi from Marion than it is to Chicago).
Reportedly, Carbondale officials slammed the brakes on the deal, creating a chasm between the two communities that still exists some 154 years later.
In March 2012 -- after the idea to eliminate Cook County from Illinois was volleyed by a Decatur lawmaker -- the Southern Illinois University Paul Simon Public Policy Institute reported that in a poll of 400 people in the 18 southernmost counties of the state, 49 percent were solidly behind the idea.
The poll also found that 8 in 10 people believed Southern Illinois gets "less than its fair share" from the state. But Southern Illinois largely is a welfare region that receives more in taxpayer money than it contributes in the form of state dollars for prisons, SIU, large institutions for the mentally and developmentally disabled, funds for K-12 public schools in property-tax poor counties, and public aid for struggling families, thanks to more-affluent northern neighbors. Even the prisoners that Southern Illinois state workers make good money overseeing largely come from population centers in the north.
No Water to Fight Fires
As part of the package crafted by locals to lure the state prison here in the 1990s, the federal government helped the village of Tamms build a water tower solely for the prison that could hold about 500,000 gallons. At full capacity, the village was pumping upwards of 2.5 million gallons to the facility monthly. Today, the water tower is only about one-fifth full, and the state is utilizing about 10,000 gallons per month, said Sam Davis, who is the village administrator in Tamms and also the part-time police officer.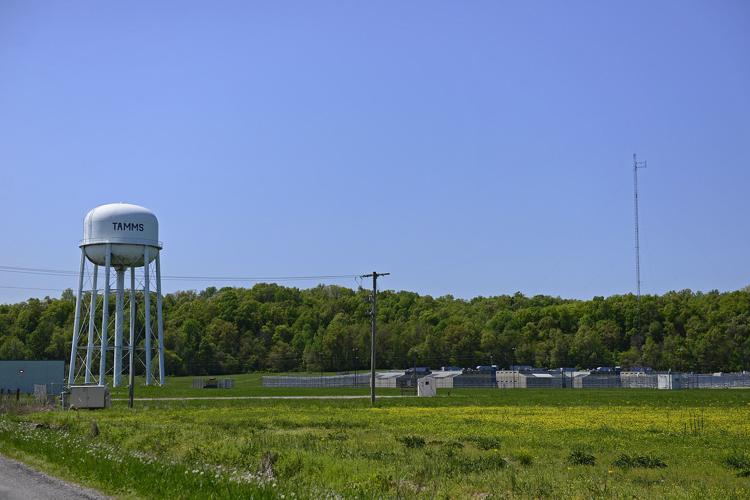 Faced with budget cutbacks related to the prison, the village decided it could no longer afford a full-time police officer and put Davis in both positions. A vote was taken recently to attach police lights to the village's utility truck that Davis drives in case he can't access his squad car quickly in an emergency. 
Davis said state officials asked the village at the prison's closure to keep the water tower full in case of a fire. But Davis said Environmental Protection Agency regulations prohibit the village from keeping the tower full with stagnant water. 
In response to a records request, state corrections officials said they could not say how much money was being spent in personnel costs related to maintaining the security of Tamms Correctional Center because employees on that duty are on the payroll of the Vienna Correctional Center.
But several people in town said it's their understanding the state maintains two full-time employees around-the-clock at the prison on what they call "fire watch." Based on a rough calculation, an average employee in Vienna, at $59,000 annually, is earning $28 an hour, and there are 8,765.1 hours in a year. After doubling that to account for two people per shift, the state would pay about $491,000 in personnel costs to guard the facility, not accounting for overtime, state benefits or other extra work needed at the facility.
Davis said, because the water tower is mostly empty, if there is a fire, "They'll be in trouble, because we won't be able to get them water quick enough."
Asked what would happen to the facility if a fire broke out, Davis surmised it would probably just burn -- taking who knows what else with it.  
Utility to Nowhere
Officials in Tamms, a community founded by Oscar T. Tamm, a wealthy playboy who made history when he drove the first automobile into the Arctic Circle, operate Village Hall from a renovated train depot built in 1899. It's a throwback to the town's more prosperous days as a bustling railroad community serving the Gulf, Mobile and Ohio Railroad (GM&O) and the Chicago and Eastern Illinois Railroad. Passenger service lasted through the 1950s and freight service pulled out in the 1970s.
These days, village leaders are grappling with a roughly $45,000 budget deficit as they adjust to the state's major ramp down in utility payments. The state paid Tamms $319,532 for water, sewer and gas in fiscal year 2011 when the prison was open, compared to $38,429 in fiscal year 2014, city records show.
These days, the village is struggling to maintain the utility system to nowhere. In January, the village board voted to pay up to $7,000 for a new gas meter at the prison because the former one wasn't registering any use by the state, even though city officials knew at least one boiler had been operating throughout the winter months. 
In an attempt to dig out of the deficit, the Tamms Village Board in April voted without dissent for a small raise to water, sewer and gas rates for customers, beginning July 1.
Village President Warren "Buddy" Mitchell said he hopes the increases are not too painful for residents, but he's concerned about the financial stability of the village. While a brand-new system was built for the prison, the village is facing the disrepair of its 70-year-old gas system that feeds residential customers. The median household income in Alexander County is just under $30,000, though 27 percent of people make less than $15,000.
Board minutes from the start of the year showed five names on the delinquent utility bill list in January, compared to 24 by April.
Mitchell, who plans to serve one term and then retire, said he ran for mayor in 2013 after the death of his wife, who had been the long-serving mayor, because he was concerned about the future of Tamms. Born and raised in Alexander County, Mitchell returned to Cairo in 1968 after serving three tours as a U.S. Navy Seabee in Vietnam.
He returned from a confusing war to a community torn apart.
Mitchell took a job with the Cairo Police Department in the midst of racial unrest during the Civil Rights Era. Mitchell, who is white, said his partner was an African-American man who also served in Vietnam, and the so-called "salt and pepper" police duo were fast friends. But in the unrest, Mitchell said he felt as though people were being forced to choose racial sides.
Mitchell said he couldn't wrap his head around the unfolding racial strife that eventually contributed to much of the decline in Cairo, as he had just returned from war where he fought alongside, not against, African-American men.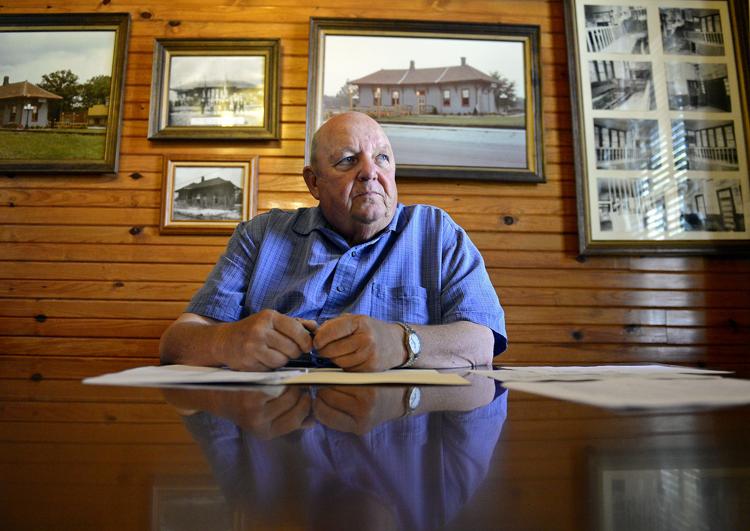 "The bottom line was I'd seen enough ignorance for three years in Vietnam, much less see my own people fight against each other," he said.
He married a young Tamms woman with the maiden name of Carol Croft, and the two sought a more stable life in Pontiac. Though many left the area during that time to never return, the Mitchells were called back home a few years later to care for aging parents. When they came back this time in 1974, they stayed. Buddy Mitchell went on to become the sheriff of Alexander County upon his successful election in 1982, a position he held until his retirement in 2006.
Having seen how hopeless situations can turn people to crime, Mitchell said he sympathizes with his fellow residents who feel forgotten here. But he harbors no hard feelings.
"The fact of it is the state's broke. I think they do the best they can with what they have," he said. "Life's too short to take things personally. Even though in some cases it may be. Too many other good things to do."
Anyone Who's Hungry
In Tamms, roughly a mile from the empty prison, a line continually stretches a dozen-deep onto Third Street every Thursday and Friday at the Happy Helpers Pantry.
"I serve anybody that comes through the door that's hungry," said Lacie Betts, the jovial retired Illinois Department of Transportation employee and pastor who is the board president of the pantry.
On a given Thursday, some 50 people will line up for a box of food. At the amount the state is spending to maintain a shuttered prison, each of those hungry families could be given $9,600 a year, or $800 a month -- the average cost on a moderate budget to feed a family of four, according to the U.S. Department of Agriculture -- and still come out $270,000 ahead.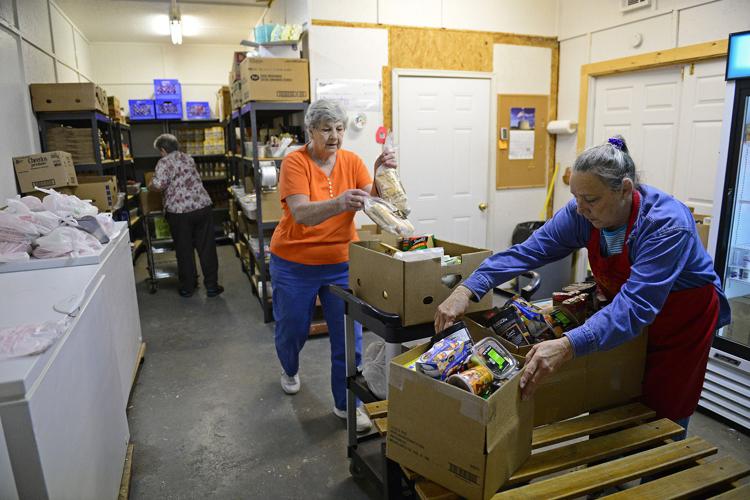 Betts and other volunteers provide food without any assistance from the state.
"So many think we get state money to operate," Betts said. "But the only thing the state does is tell you how to do it and what they want you to do."
The food pantry has its own rhythm, driven by poverty. People come early for the best stuff, lining out the door a dozen deep and spilling into the street for hours. Traffic picks up at the end of the month when food stamp benefits have been stretched as far as possible.
"I don't want to be blunt about it," Betts said. "We can't feed them and support them, but this is to help them get through the month."
Occasionally, someone will score an inch-thick T-bone steak ripped from the Anna Kroger's shelves just past its "sell by" date and otherwise destined for the garbage, or a bag of sweet Ghirardelli chocolates. But for the most part, it's a roughly 50-pound survival kit of non-perishables -- items such as rice, spaghetti noodles and Tuna Helper -- and a loaf of bread, milk if it's available and a few fresh vegetables.
The federal government tags one in five residents, and one in three children in Alexander County, as "food insecure," which is bureaucratic speak for people who might not know from where their next meal is coming.
"The need has grown. It's more than I ever dreamed of," Betts said of the food pantry that native Dorothy "Dot" LaForest started in 1982 and ran until her death in July 2008. After it sat empty for a few months, Betts took it over.
Marcia Vance, of Cairo, said she volunteered at the pantry years ago, but more recently has found herself unable to get enough food in the house with the $62 she receives in monthly food stamp benefits. 
"If we don't work together, I don't know," she said, trailing off, then adding: "We'd be all messed up if people didn't pull together and help each other. From Carbondale south, we get nothing."
Growing Poverty
When Edgar announced in 1993 that Tamms had been selected as the site for the state's first "supermax" prison, there were 3,805 people in Alexander County receiving Supplemental Nutrition Assistance Program benefits, formerly known as food stamps. That compared to 2,997 the past full year of the prison's operation in 2012 – a decline of 808 people that would, at first blush, seem a trend worth celebrating.
But the reduction in numbers had more to do with population bleed than the reduction of poverty. The percentage of people receiving food stamps actually went up during that time from roughly 36 percent to 39 percent as the population declined. Alexander County shrunk by nearly 3,000 people between 1990 and 2013, the U.S. Census shows.
At the pre-K to 12th grade Egyptian Community Unit School District 5, the state classifies 99.6 percent of students as living in poverty, meaning they are eligible for free and reduced lunch and/or their parents receive some type of public assistance. In nearby Cairo Unit School District 1, 98.7 percent of students are classified as low-income. One hundred percent of students have that distinction at Meridian Community Unit School District 101 in Mounds, in neighboring Pulaski County.
Egyptian Schools Superintendent Brad Misner said people expected a boom from the prison, both in new businesses and school enrollment. But very little changed. Most of the students then came from financially struggling households – and too many were showing up to school hungry – just as it is now.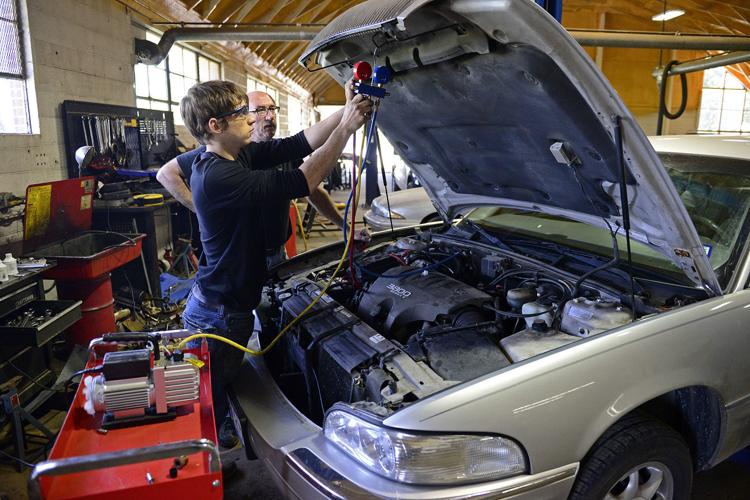 Statistics kept by the Illinois State Board of Education show poverty at Egyptian schools skyrocketed between the 2011 and 2012 school year, when the prison was in the process of closing, from 52.6 percent to 96.1 percent, though there's some unexplained discrepancy between numbers kept by the state and district. School officials say the student poverty rate is presently 87.2 percent.
Regardless, the district is taking advantage of the Healthy, Hungry-Free Kids Act of 2010 that allows all students in districts serving a high percentage of needy children to eat for free at school. But when school lets out for summer break, families struggle even more to add the extra meals to their budgets.
Misner said the district began a program this past year to offer children and their parents breakfast and lunch at the school through June, July and August. But school officials were informed by the sponsoring organization that the program might not happen this summer after Gov. Bruce Rauner quietly cut $26 million in funds on Good Friday. In doing so, the governor also cut state-funded burials for the poor, teen outreach initiatives and services for children with autism, among others programs, to patch the mid-year budget hole he inherited.
Those funds were restored by April's end when budget projections came in a bit rosier than expected, but the Illinois Coalition for Community Services had already laid off 10 community organizers, including one in Alexander County, and the future of summer meals remained in limbo just days before the close of the school year, said a spokesman for the organization.
Finding a Villain
In this tale of how Tamms Correctional Center came to be and to be no more, the state is portrayed as a hero turned villain, though in reality, it is neither.
Stripping down the issue, prisons are core functions of government designed to protect the public and rehabilitate offenders. While there are associated jobs that pay well and some ancillary benefits to towns in which they are placed, prisons were never meant to be profit-driving economic engines. There is no reason that correctional policies, ideally based on evolving best practices, should bend to the will of labor unions, emotions or local economics.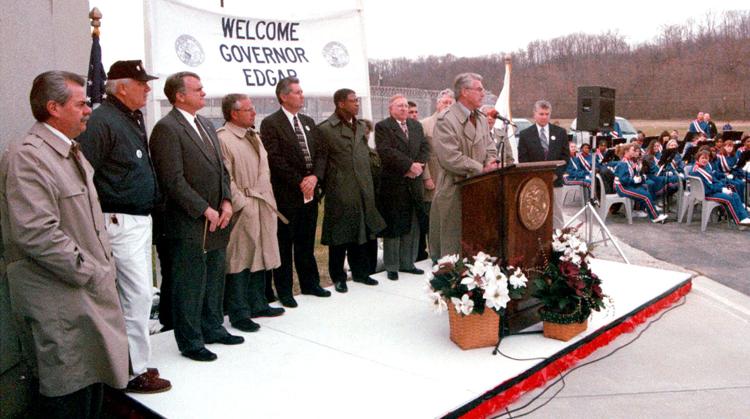 But then again, this is Illinois. A state that has sent four of its past eight elected governors to federal prison. A state that has mismanaged its way into a financial nightmare, underfunding the pension systems pre-Edgar, who pitched, as a means of catching up, paying a little now and a lot later.
A state that, despite all the political finger-pointing and blame gaming, allowed payments to go skipped or underfunded under at least four governors in the past quarter-century, prior to Rauner taking office – two Republicans (Jim Edgar and George Ryan) and two Democrats (Rod Blagojevich and Pat Quinn).
A state that made a promise to the community of Tamms specifically and Southern Illinois generally, offering up during bleak times hope that things would improve with the building of a prison -- a promise it had no business making in the first place, because a prison is just that -- and then left people here hanging out to dry.
"Oh my God, the state is totally dysfunctional," said farmer Collin Cain of Ware, who owned the farmland with his father Gerald Cain prior to the prison deal. "They need to do something, even if it's sell it to the feds, but don't just leave it sitting there, and they're paying somebody to maintain it."
He noted that the state has found alternative uses for other defunct state prisons. For example, the former all-female prison in Dwight, closed in early 2013, is serving as a warehouse for Department of Human Services records.
And three months before Tamms closed, the Federal Bureau of Prisons agreed to purchase Thomson Correctional Center, which was built in the early 2000s and never fully operational, for $165 million. When the deal was inked, Quinn, who also tried to sell the Tamms prison, said it would bring needed jobs to the small community of Thomson, located about 150 miles west of Chicago. Meanwhile, critics decried the federal government's plan to operate an administrative maximum security unit where inmates are kept locked up for 23 hours a day.
As he idled his tractor for a quick conversation, Cain said they didn't really want to sell his land in Tamms back then. 
"In fact," he said, "my dad would have never done it. Me and Leroy twisted his arm because we had a chance to bring the prison there. Everybody and their dog thinks me and my dad got rich and got $10,000 an acre from the state and that wasn't the case, at all. I felt like we were doing our part." 
The Cains sold the property that was eventually donated to the state at roughly $1,000 an acre, he said. A few years ago, when they turned the remaining 300 acres, it sold for more than $3,300 an acre, he said. 
Maybe a McDonald's
During Edgar's groundbreaking visit in 1994, The Southern Illinoisan spoke with an Egyptian High School student about the prison. She called it "a chance to fulfill the dreams and wishes of being able to stay in Alexander County" after graduation.
But living in the shadows of the shuttered prison in Tamms, Carmela Hazelwood, a longtime resident, said she never believed the state's promise about prosperity in the first place.
"When that prison was built, everyone thought it was really going to create a lot of jobs and do a lot of things around here," she said. "It didn't do anything. If it did create any jobs, there weren't many."
Hazelwood said townspeople, at the least, thought they would score a McDonald's, but there's no sign of golden arches.
Across the rural road from the prison, weeds grow up through the cracks in the parking lot of the empty D&M Quick Stop, a liquor and convenience store opened at the edge of the prison for employees coming off shift.  
Described as a blessing in disguise by some in town, few people in Alexander County actually lost a job at the prison. That's because few people from the county were employed there. At one point, the former mayor said five people from Tamms had a job at the prison, and perhaps there were a few more from Alexander County as a whole. Most workers were transferred in from other area regional prisons – and when the prison closed, everyone was offered jobs within the system.
"We tried to help the economy there," said Mike Lawrence, the former director of the SIU Paul Simon Public Policy Institute, and a longtime political journalist who went on to serve as Edgar's chief of staff and communications director. "The way it turned out, employees came from places like Union County and Missouri. I want to be careful how I say this. In Alexander County itself, there were relatively few people who met the qualifications. Some of them had encounters with the law, records. And I think there were some basic educational requirements that limited the number of people eligible."
In My Backyard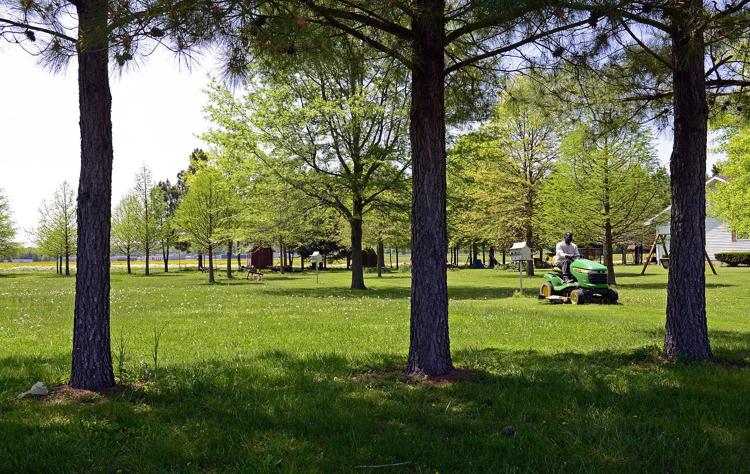 Larry Houston, who retired as the principal of Egyptian High School in 2008, said he had mixed feelings about the facility when word first spread it would be placed here.
"In the state of Illinois, we've made a business out of prisons. And I don't think that's a good thing to do because you're not going to get one cent back from prisons," he said.
But years ago, as he watched the prison go up in his backyard – literally – the longtime educator also was hopeful that new jobs would allow more young people to remain in the area, including his son who graduated third in his class at Egyptian High School in 1994, just as the prison was preparing to open. His son applied for a job but wasn't accepted, Houston said, though no reason was ever given, or help offered to overcome challenges of getting in the door. He now works in an auto parts factory in Tulsa, Oklahoma.
"It was really frustrating," Houston said. "I would have liked for him to have stayed here."
Four years ago, Charlie Patel bought the hotel in Ullin -- the closest one to the prison -- at an interstate stop along I-57 where the sign on the Fast Stop reads: "No shoes, no shirt, no service. Pull up your pants. Thanks."
Patel said, when the prison was open, he might score a guest or two in town to visit a relative but visitations were extremely limited at Tamms, so it didn't happen often.
Business was bad then and worse now, said Patel, of West Frankfort, adding that he thought the area was "redneck."
"I'm going to close soon. Maybe summer and that's it," he said of his Americas Best Value Inn, his voice rising and then falling as he apologized for expressing frustration about the impossible business formula he faces: high property taxes in a county without much to tax, coupled with little business to make up for it.
For Phil Atherton, his job as a carpenter at Tamms for 15 years served a dual purpose, and his story is another complex tale about a state that gives with one hand, and takes away with the other. 
When the prison came to town, Atherton's wife already was employed with the state as a case worker with the Department of Human Services. The two have a severely disabled 20-year-old daughter at home, who suffered brain damage at 6 days old and was sent home to die. Though she pulled through, their little girl required around-the-clock care, and the two were growing concerned the state would cut their 24/7 in-home skilled nursing care, requiring his wife to stay home and care for her. If his wife had to quit her job, the family would lose their state insurance coverage.
A few years after Atherton took the job at Tamms Correctional Center to ensure continued insurance coverage for the family, the state did just that. The bureaucratic letter arrived in the mail saying that the nursing care was no longer considered "medically necessary" despite the Athertons' physician saying it was. The couple filed a lawsuit in 2005 to stay the state's decision and won, eventually fighting a years-long battle with the state's health care administrator to clarify that needed services should be determined by one's physician and not a corporate lawyer.
Knowing first-hand the needs of so many in this area, and well aware that the prison system is overcrowded, Atherton said he can't grasp why the state would continue to pump money into an empty prison.
"This prison down here, it's kind of just a crime that they closed it," he said. "I hate waste."
In 2010, Alexander County was one of only four counties, joining Jackson, St. Clair and Cook, that gave a majority of votes to Quinn, a Democrat, in his successful gubernatorial bid against Republican Bill Brady.
A lifelong Democrat raised by a party activist in Alexander County, Village President Mitchell said he was hurt by the fact that Quinn shut down the facility after telling him in a private conversation at a political rally in Marion in 2010 that he did not anticipate doing so.
Mitchell said he's only voted Republican twice in his life -- once for Edgar, who brought the prison to town, and once for Rauner in 2014, who ran against the guy who shut the prison down. In 2014, Alexander County, a Democratic stronghold, joined the rest of the counties in Illinois, excluding Cook, in endorsing Rauner for governor.
Still, concerned about ruffling feathers, Mitchell said he wanted to clarify that he's not calling Quinn a liar and that perhaps he did not know pre-election he was going to shut the prison down two years later. But a phone call would have been nice ahead of the public announcement, he said.
Selling the Cow
Longtime Tamms resident Charles Bennett, an 85-year-old retiree, said he believes the state sold quite the story to the village of Tamms regarding the prison, even if it can't be defined as a lie. That's just part of the dysfunction, he said.
"I don't even know how the government runs, period," he said. "All these high salaries paid in retirements and things like that. You talk about living high on the hog."
Bennett said he learned as a young man the politician's art of bending the truth without telling an outright lie. Raised on a farm, so his story goes, Bennett said his dad told him at age 16 that he could help out by selling the livestock. 
Bennett said a man came by looking to buy a Jersey milk cow, and he made him an offer of $75. Proudly, he told his father about the deal, who informed him that he'd just lost the family $25 because he had purchased the cow for $100.
When the man came to claim his cow, "I tried to figure out how I could get out of that honestly," Bennett said. "You know what I did? I took advantage of him. I said, 'Let's look in that cow's mouth.' I said, 'Well, this cow doesn't have any upper front teeth. The guy said, 'Well, I don't want a cow that don't have any upper front teeth.' So I gave him his money back and took care of that."
But there was nothing wrong with the one he sold, Bennett said. When he told his dad what he had done, his father called the man and told him the truth: no cow has upper front teeth. 
"Now see, I got out of the deal. It was a true statement, but it was still a lie. See?" Bennett said. 
That man ended up giving his father the $100 anyway, saying he appreciated his honesty, Bennett said. But the state of Illinois, and its prison money, are long gone in Tamms.
Said Reppert, the newspaper publisher: "It cries of Illinois politics at its finest."