SPRINGFIELD -- Despite overcrowding within the state's sprawling prison system, there appears to be little support for reopening the now-empty, super-maximum security prison in Tamms.
The prison, built to house up to 500 of the state's most violent inmates, has sat empty since January 2013 after then-Gov. Pat Quinn ordered the closure of dozens of state facilities as a way to cut the state budget. An adjacent 200-bed minimum security unit work camp was also idled.
Freshman state Rep. Terri Bryant, a Murphysboro Republican, has been pushing lawmakers to join her in urging Gov. Bruce Rauner to reopen the facility, at the southern tip of Illinois.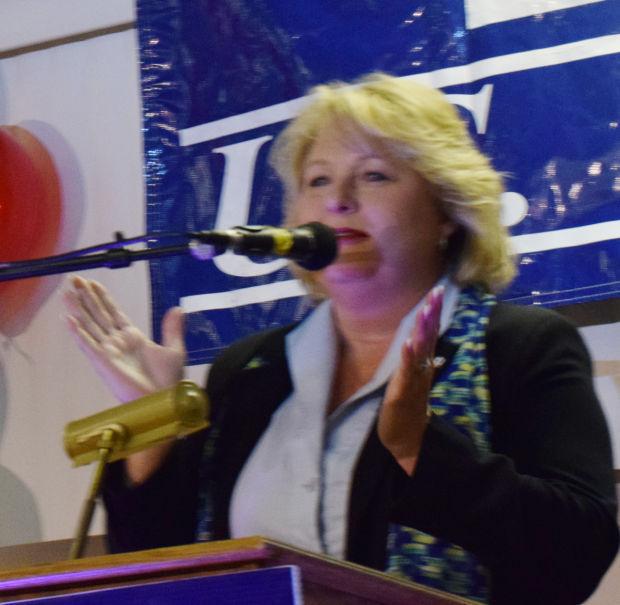 "I think there is a pressure building within all of the facilities that has to be relieved somehow. I think that's only going to be relieved by either kicking inmates out or creating some more bed space," Bryant said in a recent interview.
But a non-binding resolution sponsored by Bryant endorsing the opening has gone nowhere in the General Assembly.
The state's prison population hovers near 48,000 inmates. They reside in prisons that were built to house 32,000 inmates. Rauner, who took office in January, has appointed a special panel to find a way to reduce the inmate population by 25 percent over the next decade.
That study, as well as long-standing concerns about the treatment of Tamms prisoners, have become major roadblocks in the push to reopen all or part of the Alexander County lock-up.
While Quinn said the closure was a money-saving venture, the decision also was clearly linked to sentiment against the tough conditions at the prison. Quinn allies in Chicago were among those who were calling for its closure, regardless of the savings, because inmates living in solitary confinement were showing signs of mental health issues.
The John Howard Association -- a respected prison watchdog group -- came out in support of closing Tamms because of what it considered inhumane conditions.
Tamms served a role
But some who were instrumental in the building and operation of Tamms over the years maintain that it was an essential component in keeping the rest of the prison system safe for guards and inmates. The intention was to send prisoners to Tamms for acting up behind bars, not because of the offenses that sent them to prison in the first place.
Gov. Jim Edgar said, in a recent interview, he still believes the large state investment to build and operate the prison was worth it. He made the call in the early 1990s to move forward with construction of Tamms Correctional Center on the heels of a study calling for a "supermax" facility to house troublemakers and deter others from acting out for fear of being sent there.
"I initially had reservations," Edgar said. "We were basically broke at the time and I didn't want to spend the money. I was finally convinced by the corrections people that it would probably save us money in the long run because it would make the other prisons much safer and free them to do a better job of trying to rehabilitate inmates."
Edgar added: "The guards felt very strongly that this was needed, too. That's why we built it."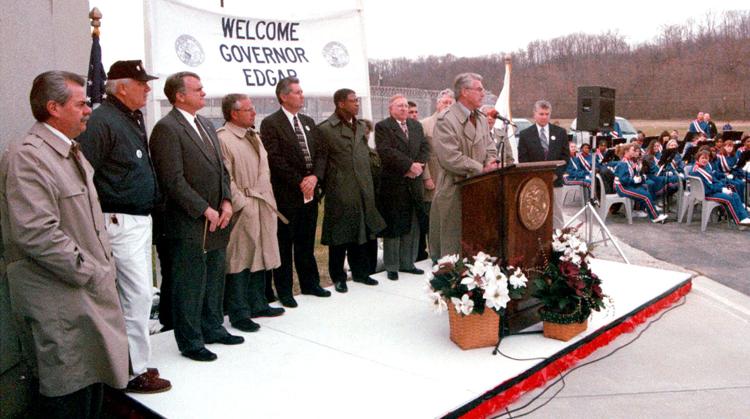 Edgar said he thinks the prison served its purpose during the 15 years it was open. He called Quinn's decision to close the prison "penny wise and pound foolish."
Gov. George Ryan, who followed Edgar in office, also said recently that the prison was helpful in controlling gang leaders who he said had taken over state prisons.
Ryan said some thought Tamms was "too severe" but added, "It proved to be a useful tool at the time for us."
"It's not pleasant doing any of those things, but it served a purpose for what we needed," he said.
Quinn unavailable for comment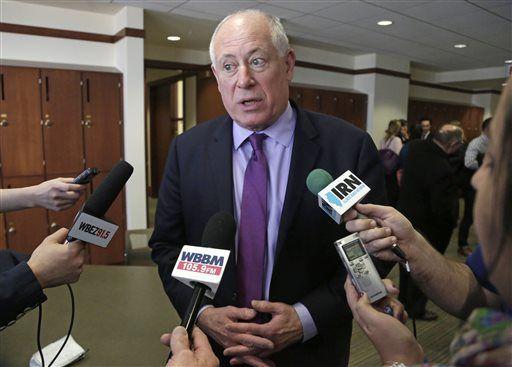 Messages to Quinn and a top aide relayed by a former spokeswoman went unreturned, and she replied, "I reached out a few times with not much response. Please move forward without the interview." Former-Gov. Rod Blagojevich, the other governor whose administration operated Tamms prior to its closure, is serving a federal prison sentence in Colorado.
Records provided to The Southern Illinoisan by the Illinois Department of Corrections in response to an Illinois Freedom of Information Act request show that former Tamms inmates are largely being housed at Pontiac Correctional Center, though some are at Menard Correctional Center, in Chester, and other Illinois prisons, and a few have been shipped to prisons in other states. A small number have been released.
During a recent interview in Anna, Eddie Caumiant, Southern Illinois regional director for the American Federation of State, County and Municipal Employees Council 31, said inmate assaults against staff, as well as other fellow inmates, have increased since the closure of Tamms.
But AFSCME had not provided incident statistics by press time despite a commitment to do so. In its FOIA response, officials at IDOC said it would be too cumbersome to provide facility-specific incident reports for the years just prior and after the closing of Tamms.
An IDOC spokesman under Quinn's administration previously reported that assaults and other incidents had decreased since the closure of Tamms, but prison workers and union officials have argued that those reported reductions were because of a change in how IDOC calculated incidents, not a true reflection of improving safety conditions.
Petition drive, rebranding effort
Marsha Griffin, a Jonesboro teacher whose husband is a correctional officer, said she started a petition drive and the nonprofit My Brother's Keeper after hearing about an inmate assault on a prison guard at Pontiac Correctional Center.
Griffin's husband and several other family members previously worked at Tamms but have since been placed at other state prisons in Southern Illinois. She said she worries about her family members' safety in the absence of Tamms.
"Hopefully, it won't end in bloodshed before something is done," Griffin said.
Griffin said she has collected about 5,000 signatures, both online and in person, and hopes to garner 10,000 before delivering the petition to key lawmakers in Springfield. Griffin said her goal is to deliver the petition in the final weeks of the legislative session.
Meanwhile, union officials are attempting to rebrand the Tamms prison by renaming it the Alexander County Correctional Center. Caumiant said that name would be more reflective of the fact that the prison, when it was open, provided an economic benefit to the entire county, not just the village of Tamms.
You have free articles remaining.
But the renaming is also a strategic effort to generate political support by moving past the negative connotation for many, associated with Tamms Correctional Center.
Aware there is no political appetite to do so, Bryant said she's not interested in reopening a "supermax." She's also backed off the idea of reopening the facility with a partial "segregation unit." Bryant said the goal is to seek its reopening, and let IDOC officials determine its best use.
Opponents of reopening 
In addition to concerns about how inmates were treated, the facility, when it was operational, was hugely expensive. The state was spending in excess of $60,000 per inmate annually at Tamms -- more than three times the average cost of housing an inmate in Illinois, according to the Illinois Auditor General's Office.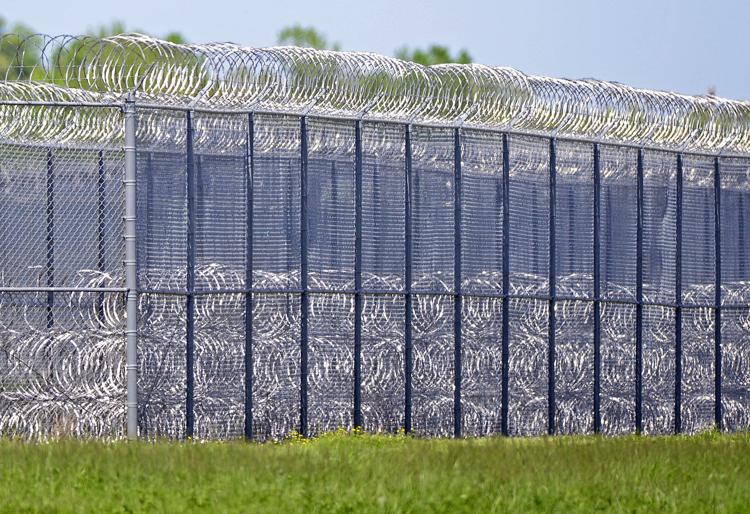 The high cost was largely associated with personnel, which skyrocketed the first ten years it was open. There was a guard for roughly every two inmates at Tamms. 
Laurie Jo Reynolds, director of the Tamms Year 10 committee that sought to close the facility, said there remains strong opposition to reopening the prison. She said the cost of retrofitting and restaffing the facility at a time when the state is cutting spending would be a tough vote for a lawmaker.
"How is it going to make a legislator look to bring back a financial boondoggle while supporting these other cuts?" Reynolds said.
She said the same scenario applies to Rauner.
"It's hard to fathom a Republican governor who ran on the platform of cutting wasteful spending giving in to legislators who want an exorbitantly expensive prison," Reynolds said.
Even if the prison were to be repurposed, it would take a hefty investment. IDOC records show that much of the contents of the prison were hauled to facilities elsewhere in the month after its closure.
In addition, Reynolds said Rauner is working to reduce the prison population, meaning the need for additional space may be short-lived.
"I think other legislators haven't signed on because it defies the governor's bipartisan efforts to reduce the prison population," Reynolds said.
Union officials argue that, while they support efforts to reduce the number of people incarcerated in Illinois, the need for more bed space is immediate. 
Rauner's office: No immediate plans for Tamms
Rauner's office says Tamms isn't on the radar screen this year.
"We have not budgeted to reopen Tamms as a prison or treatment center in the coming fiscal year," spokeswoman Catherine Kelly said.
Rauner's aides declined a live interview, but responded in writing to multiple requests for information about Tamms and the prison system.
State Rep. Will Davis, D-Homewood, said Bryant's push is unlikely to advance in the Democrat-controlled House.
"I can appreciate that she's someone who is from the area and she campaigned on it," Davis said. "But we're in tough budgetary times. Reopening a prison is not in the cards."
IDOC is facing a court order to spend more than $60 million to upgrade services for mentally ill prisoners.
Another lawsuit by prisoners at the minimum-security prison in Vienna could result in IDOC being forced to spend money on upgrades.
And, during a recent tour of the Pontiac Correctional Center, Warden Randy Pfister said buildings dating to the 1800s need new roofs, wall supports and other repairs.
Bryant: At least open work camp
Bryant says she's retooling the resolution in hopes of at least finding support to open a 200-bed work camp that is adjacent to the main prison building.
When it was open, prisoners at the minimum-security unit helped with chores around town, including mowing and litter pickup. During a flood, they helped stack sandbags in Cairo. The work camp rarely was mentioned in the political fights involving Tamms, but it was a political casualty related to the "supermax."
One nearby resident and former Tamms prison employee likened letting the relatively new work camp sit idle to throwing money into an old clunker when a perfectly good car is available to drive.
As an example, roughly 80 miles to the east of Tamms, the state has been paying $9,250 monthly for a portable kitchen at the Hardin County Work Camp in Cave-in-Rock since a fire in October 2012 damaged the prison's kitchen. The monthly rate for the rental kitchen recently jumped to $11,500.
IDOC officials said capital funding is needed in order to fully address the kitchen issue there.
Bryant said the work camp at Tamms would be "very inexpensive to open."
"My intention is to have a release valve for overcrowding in the department, as well as keeping the inmates safe, staff safe and the community safe," Bryant said.