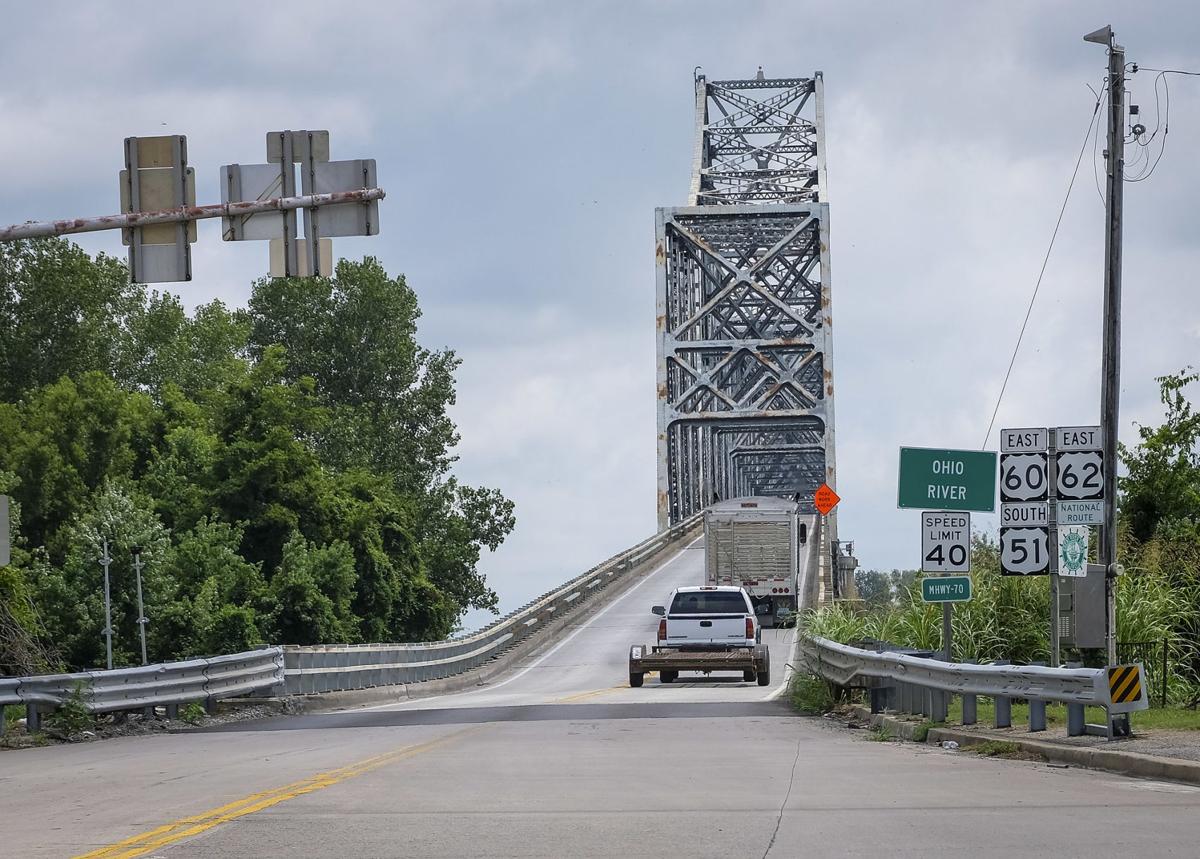 CAIRO — Closure of the U.S. 51 Ohio River "Cairo" bridge will force thousands of commuters and commercial truckers to identify alternative routes, many of which are lengthy, for the month of August. It also presents challenges to some businesses that rely on the heavy traffic.
Keith Todd, spokesman for the Kentucky Transportation Cabinet's District 1, said the agency is asking for patience from the public, and said that the improvements underway will ensure such disruptions are not commonplace in the future.
"We recognize the hardships this will cause commuters and business owners, but this will get it done in the shortest amount of time," Todd told The Southern on Friday.
The bridge officially closed at 6:30 a.m. Saturday for extensive maintenance work, and is not expected to reopen until about Aug. 31.
During the closure, road crews will upgrade a nearly 2-mile section of the Kentucky approach levee. The closure will also allow for accelerated work on an ongoing deck and expansion joint maintenance project on the bridge.
Intech Contracting, LLC, is the prime contractor on the bridge repair project, totaling more than $8 million. Kentucky manages the bridge, but Illinois chips in half for maintenance under a cooperative agreement.
The 84-year-old bridge serves as an important north-south connection for U.S. 51, as well as an east-west connection for U.S. 60 and U.S. 62. The bridge carries about 7,000 vehicles per day between Kentucky and Illinois. About a third of the traffic on the bridge is commercial trucks.
Darren Bruce, of Olmsted, depends on that heavy traffic for his fresh produce market located in Wickliffe, Kentucky, about a 5-mile drive from Cairo. He farms in Pulaski County, and roughly 90% of his sales come from his roadside business just over the Ohio River. 
He's concerned about how he's going to move his produce with traffic slowed to a trickle. "Wickliffe is a small town," he said. "There's not enough local people to keep what we're doing running." The closure, he said, could not have come at a more inopportune time. "We have several thousand tomatoes to sell," he said. "What good are they if you can't move them? When I planted them in April and May, I didn't know that the bridge was going to be closed."
Todd said the Transportation Cabinet knows that other businesses are impacted, as well. A lot of people use the bridge to commute between Kentucky and Illinois for work, he said. For instance, several people who live in Ballard County, Kentucky cross the bridge to go to work at Bunge, an oilseed processing plant in Cairo.
With the bridge's closure, motorists traveling between Wickliffe, Kentucky and Cairo will see what is typically a 5-mile drive between the two communities become an 80-mile detour via the Interstate 24 Ohio River Bridge at Paducah.
The detour will not be officially marked.
Motorists and truckers are advised to self-detour via the I-24 Ohio River Bridge at Paducah to U.S. 45 North at Metropolis, then take Illinois 169 through Karnak to Illinois 37 South to Cairo, or to connect to Interstate 57 into Missouri.
Motorists at Cairo should detour on U.S. 51 North to Illinois 37 North to Illinois 169 through Karnak, then take U.S. 45 South to Metropolis before following I-24 eastbound to cross the Ohio River into Kentucky.
Bruce said the detour will triple the time he spends traveling to and from work. Typically, it takes him only about 40 minutes combined coming and going, but now he expects to be driving about two hours round-trip.
Todd said construction on the bridge is complicated by two projects ongoing at once.
Prior to Saturday's closure, the bridge had been reduced to one-lane traffic with alternating flow controlled by an automated signal with a maximum 8 1/2-foot load width. This was to allow for deck and expansion joint work on the bridge. On June 8, the agency began work on the levee approach leading up to the bridge on the Kentucky side. This necessitated closing another section of roadway to one lane.
On the one day this was attempted, traffic was gridlocked for 5 miles from the bridge and commuters waited more than an hour to cross, Todd said. Part of the issue is that the diesel engines had a hard time stopping and starting up again at two lights where traffic moved to one lane. "After about two hours we realized this wasn't going to work," Todd said, and crews pulled down the work zone.
Todd said one upshot to the monthlong closure is that crews should be able to make more progress on both bridge projects.
The upgrades, he said, are in an effort to get the "Cairo" bridge in "optimum condition so that in the next five to 10 years, we can start construction on a new bridge." Planning is underway for building a new bridge within a half-mile of the current one. Three proposals are under consideration, and the agency has been meeting with the public about them to gather feedback. More public meetings are expected in the future, Todd said, but COVID-19 has caused delays.
That the "Cairo" bridge remains well-functioning for the time being is critical to turning attention to that project, Todd said. "You don't want to have unexpected service operations while working on a new bridge."
The Kentucky Transportation Cabinet said it has sent notice of the extended closure plan to travel sites and websites that cater to cross-country truckers.
Further complicating travel plans, the Dorena-Hickman Ferry, which normally offers a viable alternative for some local commuters, will be out of service through Tuesday. Though, beginning Wednesday it will offer another detour for some motorists. The ferry travels between Dorena, Missouri and Hickman, Kentucky. Track the ferry schedule on its Facebook page at facebook.com/DorenaHickmanFerry.
When the bridge reopens, one-lane traffic will resume until deck and joint work on the bridge is completed.
The target completion date for all work on the project is Oct. 1.
618-351-5079
On Twitter: @MollyParkerSI ​
Get local news delivered to your inbox!
Subscribe to our Daily Headlines newsletter.