When Linda Krutsinger drops a nickel on the ground, her golden retriever Juno knows to use her paws and teeth to pick it up. When she falls down in her backyard, Juno stands firm like a table so Krutsinger can catch her balance. And when she doesn't want to get out bed, Juno gives her a reason.
"You count on them for everything all day long. This dog is my partner and has turned my life around," Krutsinger said. "I have a reason to get up and I have a sense of purpose."
Her relationship with Juno isn't something she keeps to herself, thanks to a program she started 11 years ago. Through Willing Partners, Krutsinger teams veterans with service dogs who help ease the pains and burdens of day-to-day life that come for many after serving in the military.
"This gets people out of the house when nothing else will, because a dog has to go for a walk, so suddenly, you have a reason to get moving," said Krutsinger, who served in the Army in 1981. "It's a comfort thing. A dog isn't going to judge you or question you or knock you down, a dog is always going to be there and make you feel better."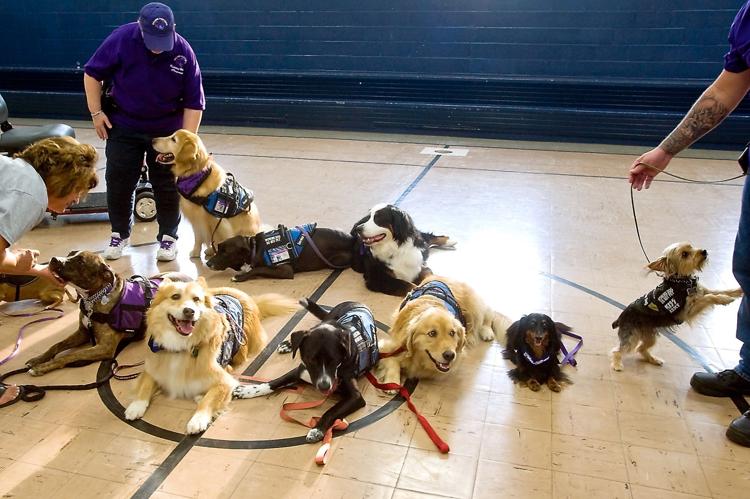 Krutsinger and a team of veterans train dogs and their owners in classes each week. Bigger dogs help people with balance issues or who can't walk. Smaller dogs help those with PTSD, diabetes or seizures.
At first, Krutsinger says many veterans are nervous about the class.
"It's like a foreign language to learn all this. And it's hard on them when they're already struggling on some level," she said.
Some veterans are so nervous to try out a class that they stay in the parking lot. Some leave every five minutes to take a smoke break. Some don't say a word. And then, after some training, dog treats and a touch of hard work, things start to click.
That's what happened for one veteran, Kevin Murphy, who came to his first class over a year ago. Murphy is a 55-year-old science teacher and served in the Air Force for 22 years. He also goes just about everywhere with his dog Ellie.
"As part of the military, I've been involved in lots of death and dying. One of the problems we had is if you tell people you were hurting, you were pushed aside," Murphy said. "For a long time, I was really struggling and me and my wife hid it from everyone, but then my wife got sick and passed away, and then I had to deal with it."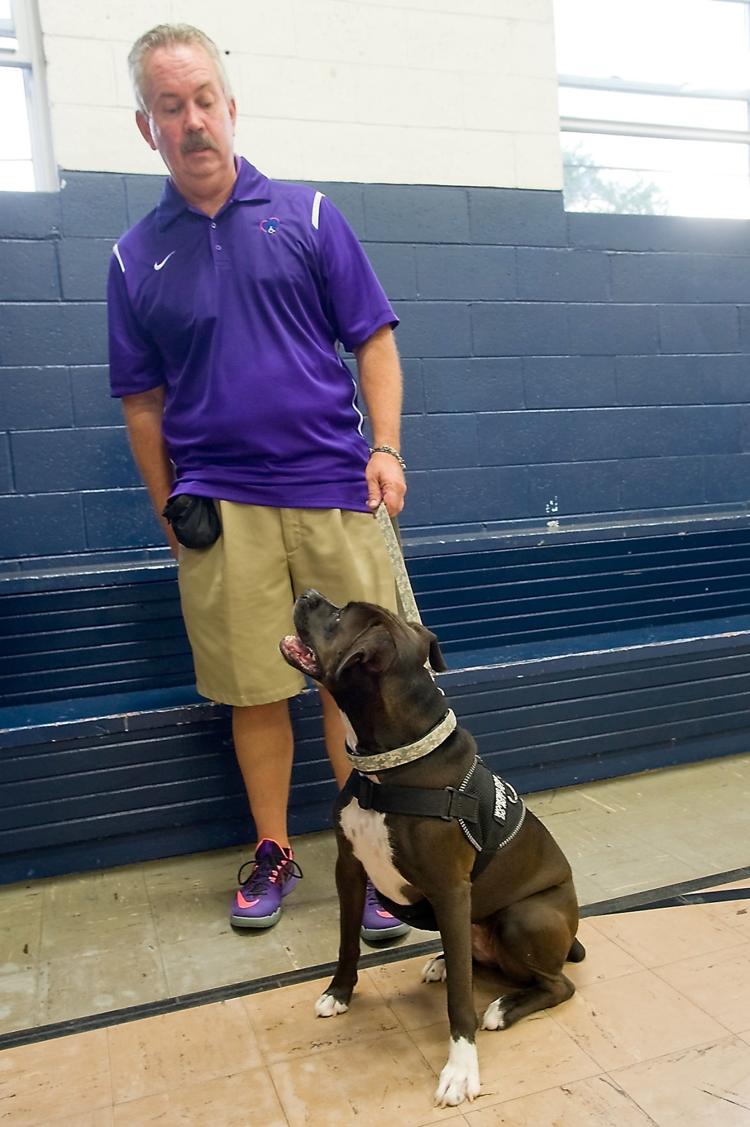 You have free articles remaining.
Keep reading for FREE!
Enjoy more articles by signing up or logging in. No credit card required.
In the months before he paired up with a service dog, Murphy said he wouldn't leave the house except for work. He'd get in bed and pull the covers over his head. That was his routine until his daughter heard about Willing Partners.
So, slowly, Murphy and Ellie took steps together: in different rooms of the house, outside and maybe to Target. They learned the lingo: stop, get this, leave it, stay. And then, Murphy suddenly had more excuses to get out of bed.
"It's amazing how well she knows me and how much she can sense what I needed," he said.
Unlike other programs of its kind, Willing Partners is free to veterans, uses a variety of breeds and doesn't put anyone on wait lists, said Krutsinger. A fully trained dog can range from $15,000 to $50,000, but veterans don't pay for the dog, equipment or dog food .
"These dogs can do some amazing things for people, so I don't turn anyone away," said Krutsinger, who has helped adopt more than 35 dogs from shelters and put them to work with a veteran.
Why is she so set on the free price tag?
"If a service dog can help someone re-enter the work force, get a higher level of education or just cope with their family life, then we can't let money hold them back," she said. "It's just too important."
That's why she's putting on a fundraiser Friday, Aug. 21, which will feature a talent show and silent auction with various prizes like round-trip plane tickets, tickets to Disneyland, Cardinals baseball tickets and other items.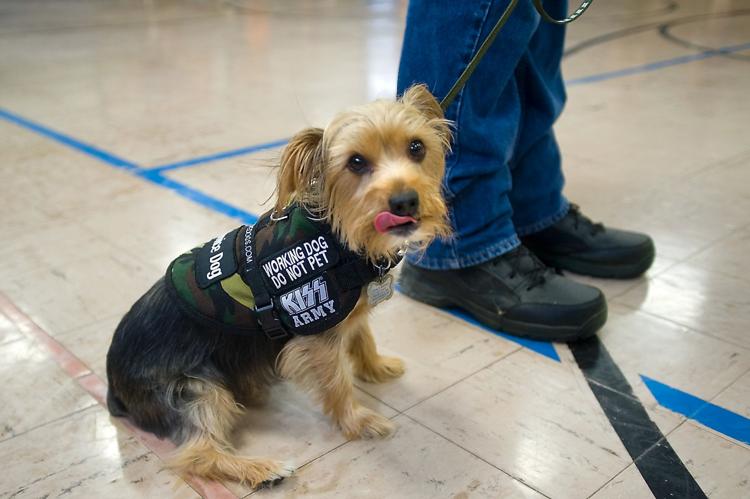 It's an event that could help keep the lights on for their training and weekly classes, which is always a concern, Murphy said.
"This experience is so valuable, more people really need it," he says. Murphy is one of a dozen veterans who come to class each week in a gym at Logan Community Center on Tuesdays.
"It's like a family. Because of this, I'm a completely new person and I'm not as broken anymore," Murphy said as he fed Ellie a small treat. "Is it all because of my dog? I don't know, but I also don't know where I'd be without her."