A story in the Dayton (Ohio) Daily News in January featured Cassie, a hound-shepherd mix who was adopted after spending 525 days waiting for her family to find her in the Humane Society of Greater Dayton.
Southern Illinois has some dogs in a similar predicament. This is an introduction to a few of those dogs: Zeek, Lola and Kingston, who are looking long-term relationships and their "forever" homes.
Zeek, 614 days, Perry County Humane Society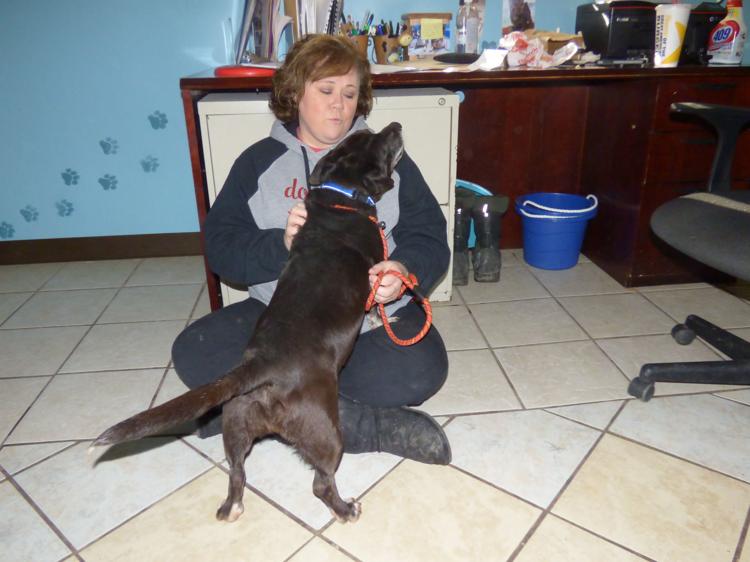 PCHS volunteers say Zeek is a sweet boy who thinks he is a lap dog and knows simple commands
Zeek, 7, is listed as a terrier-dachshund mix, but is built like a Corgi. Fire Chief Bob Shaw, a dog trainer who is working with Zeek, believes he may be part herding dog.
Zeek was surrendered to the shelter by his owner on June 6, 2016 (975 days ago) and has spent more than 614 days at the shelter. He has been in foster homes and adopted. He came to the shelter with his doggie brother, Zack, who was adopted by a shelter volunteer.
Zeek was adopted on May 19, 2018.
"He is picky about his dog friends, and he doesn't like cats," James Amy James, volunteer with PCHS, said.
So, he was returned Aug. 1, 2018. James believes an owner with patience could get him past his issues with other animals.
"We just need somebody to give him a chance," James said.
Lola, 507 days, St. Francis CARE
Dave Lyon of St. Francis CARE takes care of large dogs at the no-kill shelter, including an 80-pound lab mix "lap dog" named Lola.
"I think this is a big reason she's not been adopted. She's 80 pounds and thinks she is a lap dog," Lyon said as Lola plopped into his lap.
She appears to be housebroken or nearly housebroken. She is a little jealous of other dogs, but just needs time to adjust. Christin King of St. Francis said she does well around dogs and children, but has not been tested around cats.
"Right now, most of our long-term residents are larger adult dogs," King said.
Lyon explained that most people want a puppy, but you never know what you are getting with a puppy. Adult dogs already have developed their personality, you know what you are getting.
Kingston, 630 days, Wright-Way Animal Rescue
Kingston is a 6-year-old Great Pyrenees-bloodhound mix who lives at Wright-Way Rescue in Murphysboro. He was brought in May 17, 2017; however, Kingston's story really begins before May 17, 2017.
He started at the shelter as a puppy and has been adopted a couple times and returned.
"He has definitely grown up with us. His life expectancy is not that long. We hope he doesn't live his whole life here with us," Kristin Tolar, intake manager at Wright-Way, said.
He was adopted in 2012 and returned in 2017.
"We have some dogs that have been on our program a really long time. They are more likely ones that have behavior issues," Tolar said.
Kingston does not do well around children. He has chronic ear infections, which can make his ears sensitive.
"I think that is typically why he doesn't do well with children," Tolar said.
He is sponsored, so there are no adoption fees for Kingston. Tolar would talk in depth to any potential adopters about Kingston and his prior adoptions. She believes he would really do well with a family with land.
"He is not necessarily a high-energy dog. He just likes to be outside. He's an independent dog," Tolar said. "I don't think he was really trained properly as a puppy."
Diane Daugherty, president of the St. Francis board, said some dogs are just looked over for some reason. Volunteers and staff work very hard to make sure those longer-term residents receive attention. Big dogs are taken on long walks. All dogs spend time in the play yard for socialization.
"We are very fortunate that one of our volunteers takes dogs who are not adoptable home to her farm. We pay for medical care and the dogs' needs, and they go to live out their lives on the farm. We are so blessed that we have that," Daugherty said.
She said they are also blessed to have 18 employees and hundreds of volunteers.
"For some of the dogs that we get, we are upgrades from where they have been. We pray that every animal gets a forever home, but we are a pretty good intermediate stop," Daugherty said.
Animals at St. Francis get medical care, love, walks, time to socialize with other dogs and a warm, dry bed. Plus, staff and volunteers try everything possible to help them find homes.
On Jan. 29, 2015, the shelter operation moved into new, spacious buildings after outgrowing their previous white house and promptly filled it with pets. Daugherty said the building could have been five times larger and it still would not hold all the homeless pets in the area.
"Lot of shelters in Chicago and other cities don't have unwanted pet problem that we have," she added.
What can you do?
When adopting a pet from a shelter, spend some time with adult dogs and cats who have been there a while before making a decision. If you cannot adopt, sponsor all or part of an animal's expenses. If you have some training expertise, teach dogs like Zeek, Lola and Kingston some manners.
Help the shelter fulfill its mission by donating your time and money.