Consider the run of successful sports ownerships in Dallas.
The Cowboys have won five Super Bowls under Tex Schramm and Jerry Jones. Then there's Mark Cuban, who took the down-and-out Mavericks and made them NBA champions of 2011.
The Texas Rangers haven't gotten their first World Series ring yet, but you know Hall of Famer Nolan Ryan will get them there someday.
Now consider the one Dallas sports mogul you probably haven't heard of.
Since forming WinStar Farms in 2000, Southern Illinois native Kenny Troutt has sent 26 thoroughbred horses to the Kentucky Derby. That includes Justify, the 3-year-old chestnut colt who on Saturday in New York will try to become just the 13th horse in the last century to win all three legs of horse racing's Triple Crown.
By this time next week, Troutt could be king of the sport of kings.
But he was raised as a pauper in a Mount Vernon housing project.
Estranged from his alcoholic father, Troutt was raised as the oldest of four in a small apartment by his mother, who made ends meet by tending bar.
But he was a good enough quarterback for the Mount Vernon Rams that he earned a partial athletic scholarship to Southern Illinois University in Carbondale. He covered the rest of his tuition by selling insurance.
He was good at it and he liked it.
As a part-time student employee, Troutt was the company's top salesman. So he decided to forgo plans for law school to test the entrepreneurial spirit he discovered within himself mowing lawns to help his mother pay the bills.
Troutt left SIU in 1971 with a degree in political science and headed west to Omaha, where he opened a small construction company. When interest rates soared in the mid-'70s he shuttered the business, moved to Texas and tried his hand at dealing crude oil. When oil prices plummeted in the 1980s, he sought out yet another venture.
That's when he founded Excel Communications, which eventually became the fourth-largest telecommunications company in the United States and the newest company ever admitted to the New York Stock Exchange. In 1998, Troutt sold off Excel in a $3.5 billion merger with Teleglobe and today is worth about $1.4 billion, according to Forbes.
Troutt, 70, and his wife, Lisa, now spend their money on philanthropy and thoroughbreds.
According to the WinStar Farms website, Troutt was introduced to horse racing by an uncle in the summer of 1965, and he's been involved in watching, raising, training or owning horses ever since. But it's his stable of studs at WinStar that is making him one of the sport's most successful owners.
Super Saver, the 2010 Derby winner, came from WinStar, as did Belmont Stakes and Breeders' Cup Champion Drosselmeyer. There are others.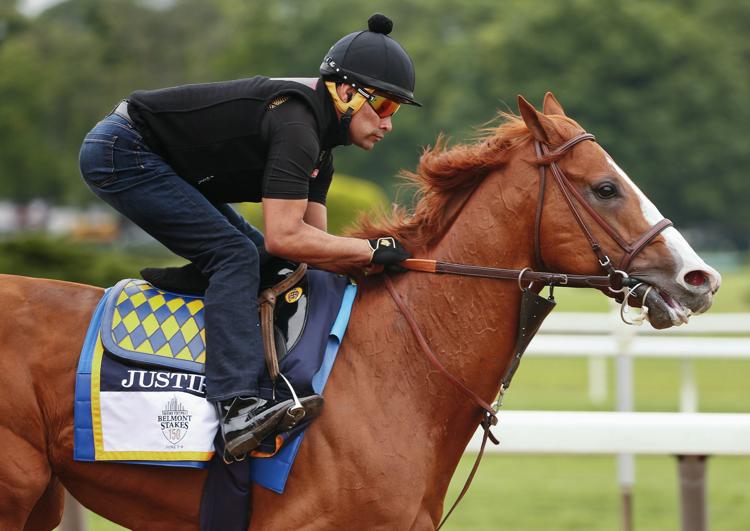 And then there's Justify, the first non-2-year-old to win at Churchill Downs since 1882, who then slogged through a muddy track at Pimlico on May 19 to win the Preakness.
Justify, in just his fourth race, will try to make more history Saturday. At 4-5 odds as of Friday, he's the prohibitive favorite to succeed. Jockey Mike E. Smith, who has won each leg of the Triple Crown twice, will be riding Justify.
Post time Saturday is 5:37 p.m. The race will be televised on NBC.
Troutt is said to prefer giving his horses one-word names. In that way, Justify is not an unusual moniker for a WinStar thoroughbred. But perhaps there's some deeper meaning to it.
"Merriam-Webster" defines the word "justify" as a verb meaning "to prove or show to be just ..." That's certainly a fitting name for a horse that won at Churchill Downs against 7-2 odds.
It's also an interesting choice for for a self-made man like Troutt, who rose from poverty in Anywhere USA to bootstrap billionaire and, now, the top of the horse-racing world.
There's another name for that, you know, and should I ever see it on a race card it would be with the horse that would get my bet.