AKIN — When Sandy Sorensen launched her niche pork operation several years ago, she knew virtually nothing about pigs or about marketing them.
Today, she is comfortable doing both.
The Chicago native — with the help of her husband, Tom — has carved out a nifty side business that keeps her as busy as she wants to be. She has a small herd of free-range Gloucestershire Old Spot pigs that provide her with a steady income.
Sorensen got into the pork business almost by accident. She had concerns about animal production, which made her feel hypocritical as a meat eater. And one day when she passed a truck full of hogs headed for market, she had an epiphany.
"They were looking at me through the slots," she said. "I thought about it all day, then I told my husband we were going to get pigs. My husband said, 'What do you know about pigs?' I said 'Nothing, but I'll learn.'"
Though agriculture is new to her, Sorensen is no stranger to animals. She bred and trained racehorses for 12 years.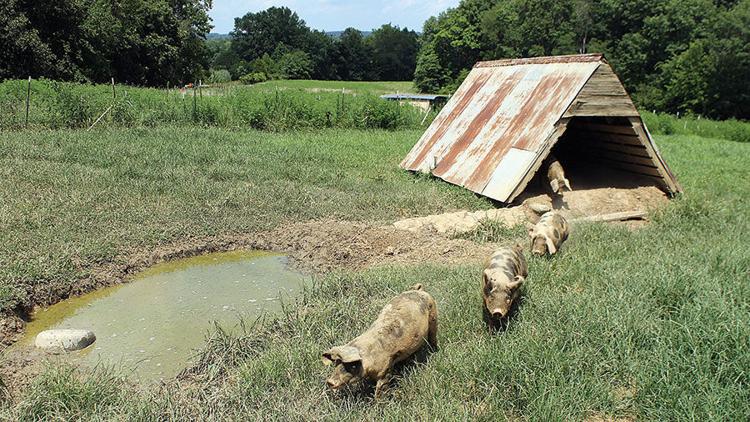 When she first started raising pigs, she faced a big learning curve, but soon carved out a niche within a niche with her sausage business. While going through some of her late mother's belongings, she found the family sausage recipe kept by her grandfather, who was raised in the hills of Kentucky.
She started small, making sausage in her kitchen. Soon, after procuring more animals, she began making sausage off-site, adding several other recipes, including a Polish sausage recipe she got from Poland and had translated.
"My friends went crazy over it," she said. "I started selling out of my van at the farmers market. I didn't know anything. I was calling all over dealing with the health department and the agriculture agencies. A wise person would have given up a long time ago. People started buying my sausage and they wanted more sausage."
She said she believes the naturally raised pigs yield meat with superior flavor. Customers buy for both the quality and the knowledge of where the animals are raised.
After trying a couple of other markets, Sorensen is now a fixture at the year-round Carbondale Farmers Market, where she is seen every weekend with her "Bacon Bus," a small commercial vehicle she bought on eBay and converted to store and display pork cuts.
She makes sausage in 5-pound batches, and sells about 80 to 100 lbs. each week at the Carbondale market. There are no plans to expand.
"I want to stay small and have my little niche thing going on," she said. "It's one single person. That's all I can make."
Her interest in marketing has led to some creative strategies, including giving various sausage mixtures whimsical names, such as I Believe I can Fry, whose inspiration came when she heard the song "I Believe I Can Fly" on the radio.
"The names usually come first," she said of her sausage recipes.
She also promotes her pork — including bacon, chops and other cuts — with Penelope the Pig, a metal pig that she dresses up in various costumes.
"You've got to connect with your customers," she said.
She has become fond of pigs and developed an admiration of them. But she understands they are bred to be slaughtered.
"Their social structure is unbelievable. They form really strong bonds. It's amazing," Sorensen said. "I'm glad I feel that way, because I respect what they're giving."