BENTON — Around Benton's Public Square, there are no rules. At least none that are written down anywhere.
Lee Medders has one go-to rule for nonlocal customers who come into her restaurant after facing the square.
"I tell people that what you usually do anywhere else in the entire country, just do the opposite here," said Medders, who owns the Buzz. "People want a traffic flow, well, that's not a thing here."
In Benton, proper etiquette for maneuvering the Public Square isn't found in a city-wide handbook. It's more of an unspoken thing. There are no crosswalks, yield signs or stoplights around the square. The roughly 11,000 vehicles that cycle through the Public Square each day tend to rely on a blend of eye-contact, head nods and leaps of faith.
Mayor Fred Kondrtiz hopes to change that mentality.
"The square hasn't been pedestrian-friendly for quite some time," he said. "People don't know square etiquette, and we kind of joke about it, but it's true. People don't look and they're too aggressive, and they zoom around the road like they're in NASCAR."
Kondritz plans to add stripes for crosswalks around the square, along with yield signs and new parking-spot outlines, which could reverse the longtime ideology of "anything goes around the square."
"I think it might take some time for people to change their habits, but it will fix a lot of the problems," he said. Kondritz also mentioned that the updates could encourage residents to park in the city lots, freeing up much-need spaces on the inner and outer edge of the square.
"We all know that's been a problem for quite awhile too, so I think this will ease that," Kondritz said.
For many residents, having real rules of the road has a foreign quality about it.
"When I'm getting ready to cross and I'm walking, I kind of just hold my breath and hope for the best," Medders said. "It's like you take your life out of your hands for a second."
The Public Square, which houses the Franklin County Courthouse and a handful of antique shops and restaurants, shoots off to Highways 34, 37 and 14. Benton residents attach many off-hand phrases to the Public Square: it's a mess, an adventure or occasional death trap.
Medders calls it a free-for-all.
You have free articles remaining.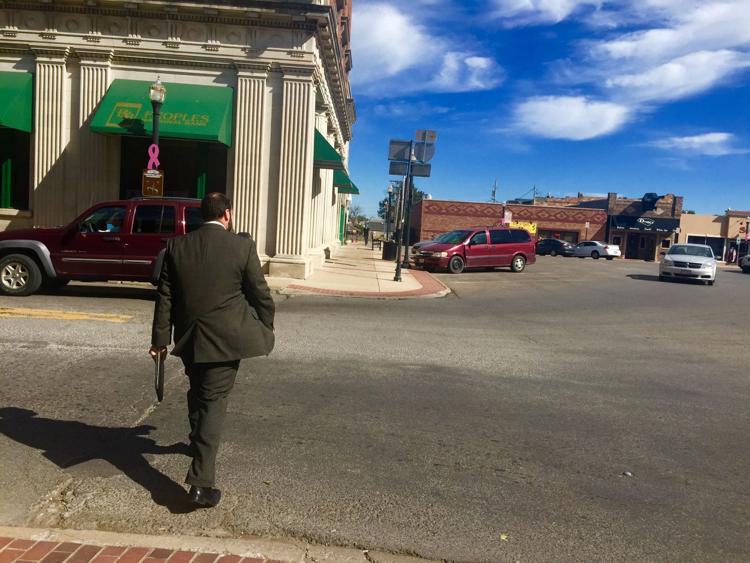 "If you stop or go slow on the square, you're going to get honked at," Medders said. "People drive super slow in this town except when you get to the square where it's kind of like anything goes."
Some vehicles have been know to accidentally end up on the curb or go the wrong way, facing oncoming traffic.
Residents say the unspoken-nature of the square's traffic pattern often creates a never-ending loop of almost-wrecks, almost-accidents and almost injuries.
For Carla Crisp, there's nothing "almost" about it. Crisp, who is 62, got hit by a car while crossing the unmarked area on the outer edge of the square last year.
With an iced coffee clutched to her chest, Crisp inched out on East Main Street after seeing an apparent nod from a woman inside an oncoming truck. As she started walking, she heard the engine rev up again.
"There's so much activity going on, and people easily get distracted," Crisp said. "For me, I think was a chain reaction where one person just wasn't looking."
After a "gentle hit," she found herself on the hood of the vehicle and suffered a few minor bruises.
"I remember having to make this decision to lunge on the hood because I knew if she knocks me to the ground, I was going to be run over," she said. "I ended up being very lucky."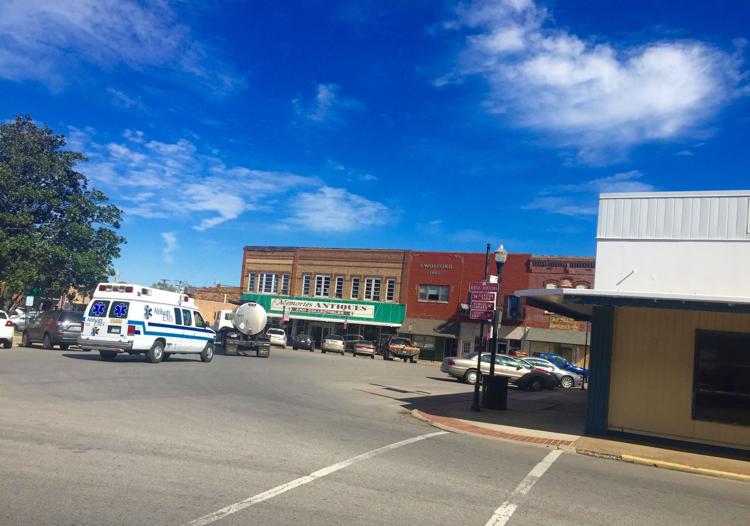 Crisp says it could've been worse, and she hopes the town can start to find common ground when it comes to navigating the square.
"Everyone has a different opinion or idea of what they should do," Crisp said. "Some people seem to think it's their turn all the time and some people are rude about it."
Along with other residents, Medders thinks any changes to the Public Square would take awhile to kick in.
"In theory, it sounds like it could work and make it so you're not on your toes anytime you go outside," she said. "But in reality, it might take awhile for people to do it any differently, because this has been the way for so long."