COBDEN — The Apollo 11 moon landing solidified a place in history for Commander Neil Armstrong, Command Module Pilot Michael Collins and Lunar Module Pilot Edwin "Buzz" Aldrin.
But some 400,000 lesser-known scientists, engineers, mathematicians, mission controllers, medical personnel and others helped them get there and back safely.
Among them was Galen Weakley, who lived out the final years of his life in Southern Illinois.
To commemorate the 50th anniversary of the moon landing, several items that belonged to him, related to his work with the space program, are on display at the Union County Museum in Cobden through August.
Weakley, who died in 1995, was the manager of the Guidance and Control Systems project at IBM Corp.'s Cape Kennedy facility, according to his obituary, a copy of which is included in the special exhibit. 
He holds the distinction of being the first IBM Saturn employee at Cape Kennedy, and was part of the team that launched Apollo 11. He later worked at an IBM facility in Manassas, Virginia.
Union County Historical Society President Patrick Brumleve said that the display has drawn numerous visitors, especially from older generations who were glued to the television when Armstrong stepped off the Apollo and delivered his famous line 50 years ago this Saturday.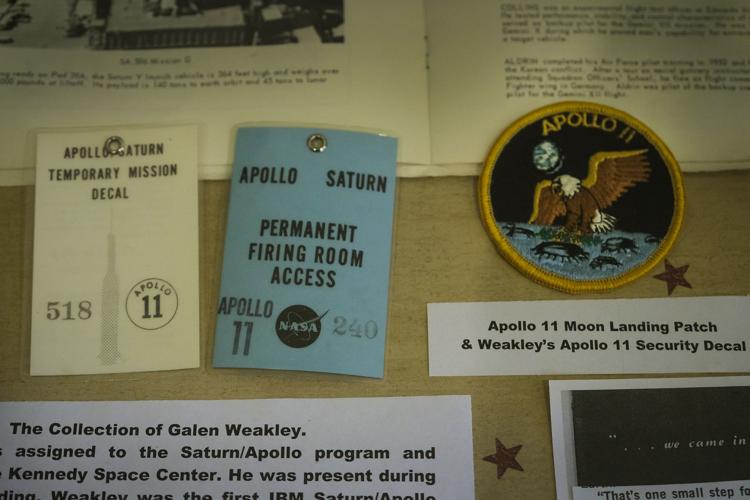 "It's people who remembered the moon landing, and saw it on television at the time," he said. "Some are bringing in younger people to show them what it's all about."
Though a small display, "people have found it interesting," he said. "We don't have a moon rock or anything. But it's something to honor this historic event."
Brumleve said Weakley's stepdaughter mentioned to him last year that her stepfather had been involved with Apollo 11, and that her mom still had some of his memorabilia. Weakley's widow, Mary Anna Weakley, is neighbors with Brumleve in Cobden. She offered to show it to him, and he was impressed by the collection of items. He asked to display it at the museum the following year. At the time, he didn't realize that 2019 marked 50 years since the historic event. That part was serendipitous.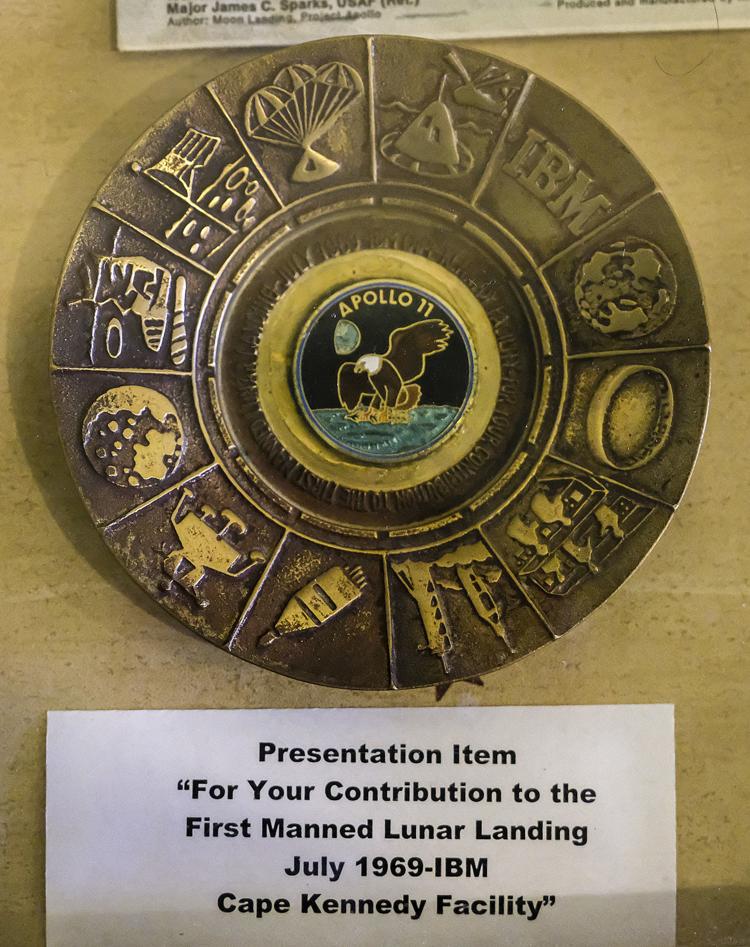 "I started doing some research on Apollo 11 for the display, and said, 'Oh my gosh, the anniversary is next year.'" Her contribution is offering Southern Illinois residents a special opportunity and local connection as they reminisce about the moon landing, he said.
The items that he left to his wife upon his passing included several cloth patches from various Apollo missions, his work ID tag, and a commemorative plate mentioning his contribution to Apollo 11, among other photographs and mementos. Brumleve supplemented the display with newspaper articles from the period.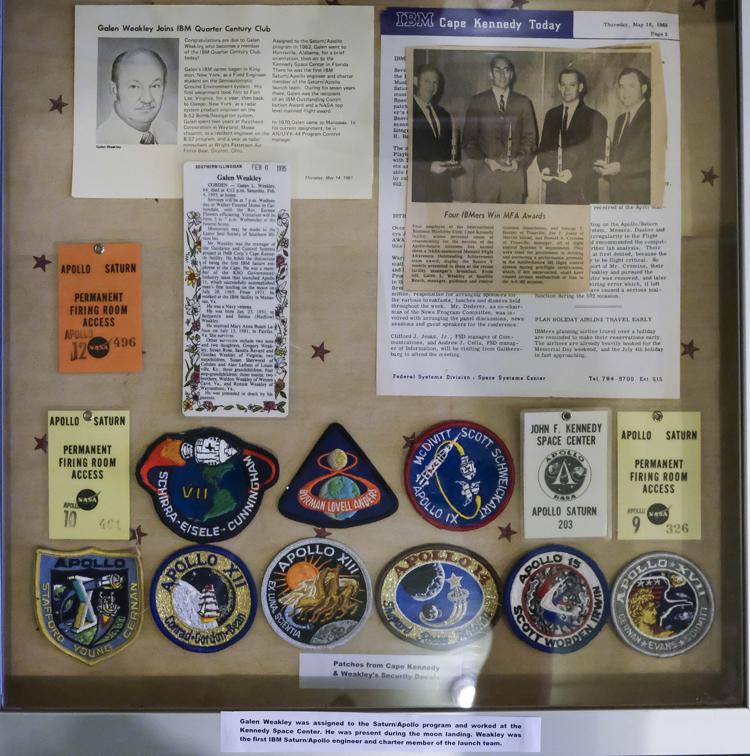 Weakley, a Virginia native, moved to this region in 1985 with his wife. Mary Anna Weakley spent her childhood years in Keyesport, Carbondale and Cobden and still had family living in the area when she returned with him. They had been living in Virginia, but he had suffered an aneurysm in 1981 and was unable to return to work, she said.
She described him as a loving husband who enjoyed life. He was very smart, she said, but he didn't have a college degree. He also didn't talk a lot about his work, and so Weakley said she only knows a little about what he did. The two were not married at the time of the Apollo launch, and some of his continued work with IBM, she said, was privileged information. "All I knew was when he left in a certain outfit he had a big meeting at the Pentagon or something, because he couldn't talk about it, or he didn't," she said.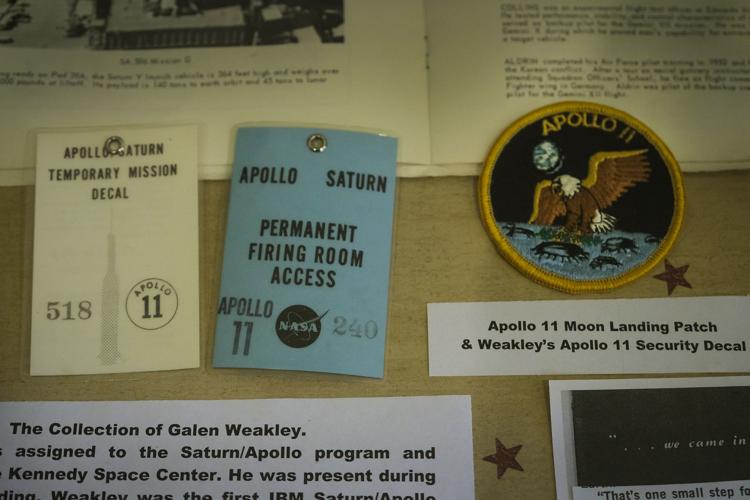 Of the items she's loaned to the museum, Weakey said it's stuff he gave her when they first married. "I just had it all in a drawer," she said.
"I would give anything if he was still alive and could tell you all this stuff. He could tell you a lot of stories that I don't even know about it," she added. "He's been gone 24 years, but it still doesn't seem possible."
With so much news coverage this week of the 50th anniversary of the launch and landing, Weakley said her late husband has been on her mind a lot.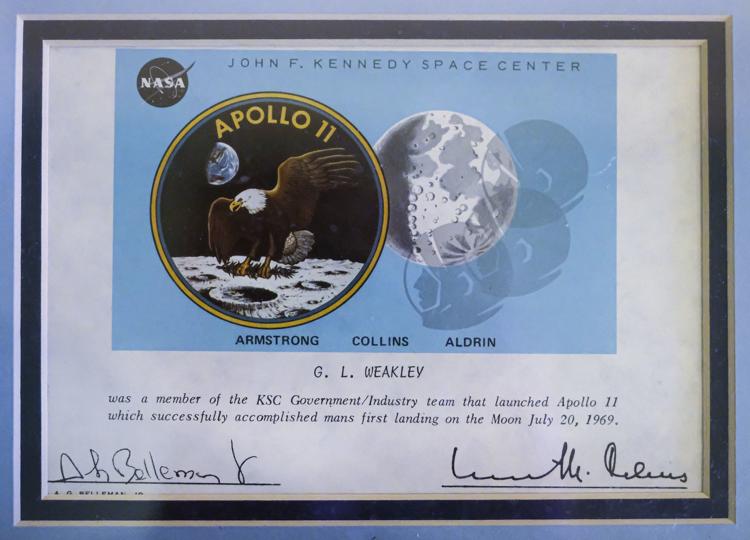 "With all this coming on TV now, it brings back some tears," she said. "It brings back memories."
The museum's regular hours are 1 to 5 p.m. Saturday and Sunday. It's open some Friday afternoons "by chance" as Brumleve describes it — and will be open during the Cobden Peach Festival on Aug. 2 and 3. It's located at 117 Appleknocker Drive in Cobden.