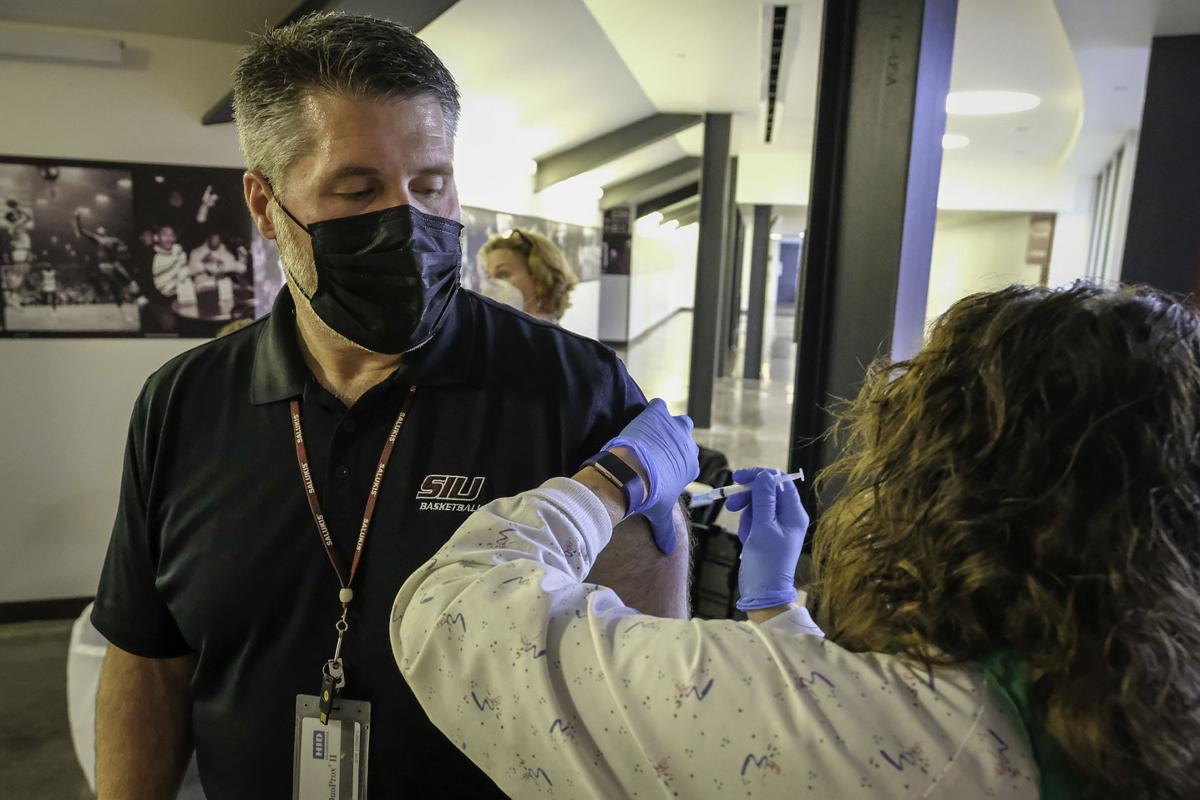 As the state of Illinois moves into Phase 1B of the COVID-19 vaccination program, health departments across Southern Illinois are registering eligible residents for the vaccine.
Phase 1B includes people 65 years of age and older along with some essential workers. Essential workers included in this phase are: first responders (firefighters, police, EMS, etc.); K-12 teachers (including support staff and daycare); food and agriculture workers; public transit workers; grocery store employees; transportation and logistics; and employees of utilities (energy, IT and communication, water, wastewater, etc.).
Food service or restaurant employees, college and university teachers and staff and people under age 65 with pre-existing conditions are not eligible for vaccinations at this time.
Franklin-Williamson Bi-County Health Department had its second Phase 1B vaccination clinic on Tuesday. The vaccine was administered to more than 750 people during the clinic, according to Carrie Eldrige, director of health education.
"The vaccines (we are giving) are for people living and working in Franklin or Williamson county," Eldridge said.
Those who qualify and wish to take the vaccine can register online at covidvaccination.dph.illinois.gov. Those who do not have internet access or a computer can register at a vaccination clinic site. Eldridge stressed that those registering in person will receive the vaccine on a different day, not the day they register.
Southern Seven Health Department announce their move into Phase 1B on Tuesday. Clinics are being scheduled throughout their region, which covers Alexander, Hardin, Johnson, Massac, Pope, Pulaski and Union counties.
"We are hop-scotching through the counties, hitting different spots to make sure everyone has access to vaccinations," Nathan Ryder, contact tracing outreach coordinator, said.
Southern Seven vaccine registration is available online at southern7.org. Those who do not have internet access can register by phone. He also suggested that more computer-savvy friends and family members help older family members and friends register for the vaccine.
"Please be patient. We're still receiving a very limited supply of vaccine shipment. Now that we've moved into Phase 1B, it's a large group," Ryder said.
He stressed that those who have already registered do not need to call for an appointment.
"You won't be forgotten if you have put your information in. People won't be left behind or forgotten," Ryder said.
He expects to be in Phase 1B for the next month or so.
Williamson County Commissioner Brent Gentry has volunteered some of his time to help register people for vaccines. He estimated he signed up 50 in the past two days.
"As long as they qualify, I'll help them," Gentry said.
Gentry explained that he hates politics. He ran for County Board to help people, and this is one more way he can help. "It's hard to manage. It's a state site," he said.
Among those he has helped are people in their 90s who don't have a computer, as well as people who have had trouble on the site.
Gentry also suggests that everyone print the vaccine form from the health department website, fill it out and take it to their vaccination appointment. He said it will decrease the wait time.
"This vaccine offers a sense of hope. This is a sense of hope of getting back to normal," Gentry said.
Need to register for a vaccine?
Here's how to sign up in Southern Illinois.
Hamilton County Health Department: Visit hchdil.com. Hamilton County is currently vaccinating those who fall into Phase 1A. They expect to move into phase 1B soon.
Jackson County Health Department: Visit jchdonline.org. Currently all JCHD vaccination appointments are booked through the end of February. If you are eligible for Phase 1A or 1B, call 684-3143 between 8 a.m. and 4 p.m, Monday through Friday to receive notification of additional clinics. Visit the JCHD online appointment portal to check for any cancellations or additional clinics.
Perry County Health Department: Individuals 65 and older can call 618-357-5371 between 8 a.m. and 4 p.m. Monday through Thursday to be placed on a waiting list. The health department has received list from frontline essential workers.