Jim Earleywine was quite the sight for runners' tired eyes at Saturday's 32nd annual River to River Relay race. He greeted runners at an exchange point about half way through the course wearing a fat-baby costume with a large diaper and matching bib and hat adorned with colorful bears.
Earleywine, himself a longtime runner, teased, taunted and applauded participants as they made a final push up a long hill on Tunnel Hill Road before handing off their batons to teammates just before the Interstate 24 ramp. 
"Whoop whoop," Earleywine yelled into a microphone as a few runners approached and "The Way I Are" by rapper Timbaland blared over a loudspeaker.
"Alright, this is dad. Nice run dad," he yelled at one runner. "He won't even look at me," he joked into the microphone, drawing laughs from the small crowd around him.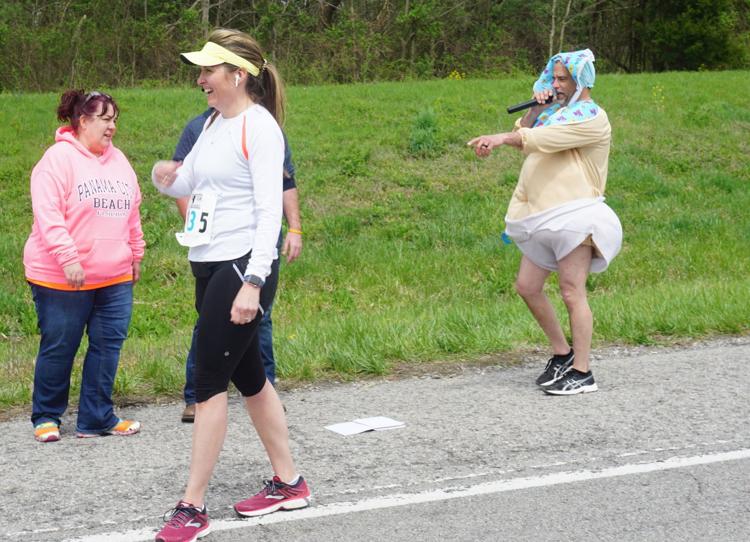 "Is this Pam? Are you Pam," he said to another. "I'm so glad you got here Pam."
Roughly 250 teams consisting of 2,000 runners participated in Saturday's River to River Relay run, a journey that takes them on a winding, hilly 80-mile trek across scenic Southern Illinois that stretches from the Mississippi River to the Ohio River. Each member of the relay team runs three legs. 
Behind every great race are dozens of volunteers like Earleywine.
"It takes a great team of people to put the relay on," said Race Director Brad Dillard.
Upwards of 300 people donated a portion of their Saturday to make it happen, Dillard said.
This year marked Earleywine's 18th year of volunteering the race. Before he became an annual volunteer, he was a regular participant.
"It took me 10 years to run all eight legs. After I got done running, I said, 'I am going to volunteer.'"
The reason, he said, is easy: "I love the race."
"It's like, one of the most awesome races I've ever run. It's a great day. The people are awesome. The runners are always awesome."
And the baby suit? It has a purpose, too: "I wear it in honor of all the people that are running and whining about the hills. No whining."
Lee Swayze, the River to River Relay volunteer coordinator, said she's grateful for all the people who give their time to pull off the wildly popular event that filled up within 11 minutes after signup went live online in the fall.
"If it weren't for the volunteers, we couldn't do it," Swayze said. "They are crucial. Have been, are and always will be. It's the volunteers who make the relay."
Over the past three decades, volunteers from across Southern Illinois, as well as from nearly a dozen other states, have given their time to help it run smoothly, Swayze said. One person, Sandra DeNoon, has helped with every single race since it began, with the exception of this year's, and that was only because she got sick just before the race and had to cancel, Swayze said. DeNoon and her husband, a former Saluki track coach, live in Utah, but they spent many years in Carbondale.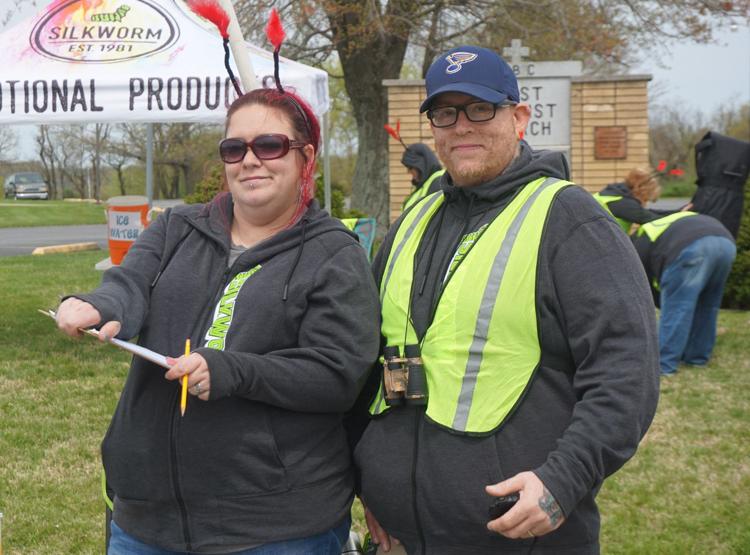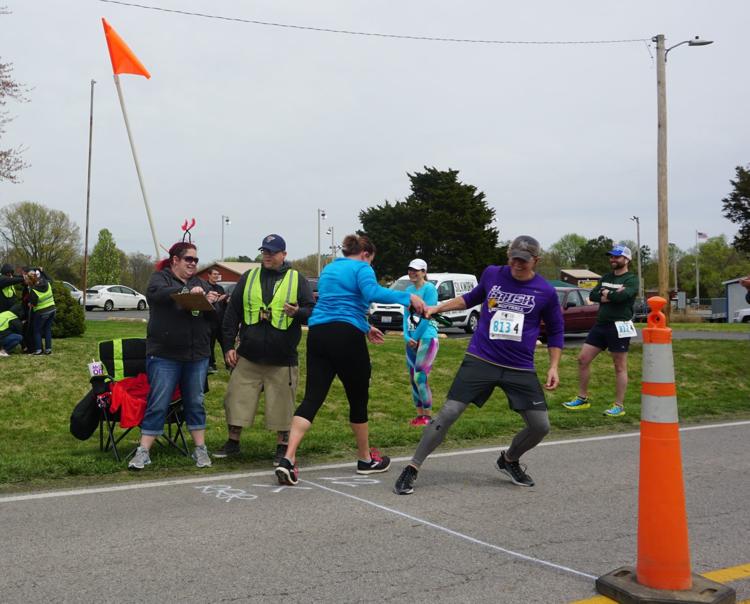 Other individuals and service groups have participated for 25 years or more, she said. And the race is always adding new volunteers to its roster. At the exchange points, volunteers like Tara and Billy Meyer recorded the runners' bib numbers and the times they crossed on Saturday.
Billy Meyer said that volunteering is always a good time, and he leaves feeling good about the day. "A lot of runners are very, very appreciative of the volunteers. They always say 'thank you' when they come by. This year, the team "Unknown Rash" even handed out beer koozies to all of the volunteers as a little token of appreciation, he said.
Cassandra Edwards was new to volunteering this year. She stood on the side of the road at the same checkpoint in Goreville and helped flag runners and vehicles. The checkpoint was manned by employees of Silkworm, Inc., in Murphysboro.
"I love supporting the community," Edwards said. Edwards said she also enjoyed seeing the runners work. "It's really good to know there's this many people in Southern Illinois pushing themselves so hard."
Other volunteers helped direct runners and traffic and provide ham radio services to ensure that there is communication across the entire route, especially in remote areas where cell phone service is spotty. "I like using the hobby to benefit the community and shed ham radio in a positive light," said James Campanella, of Carterville, one of the day's many volunteers.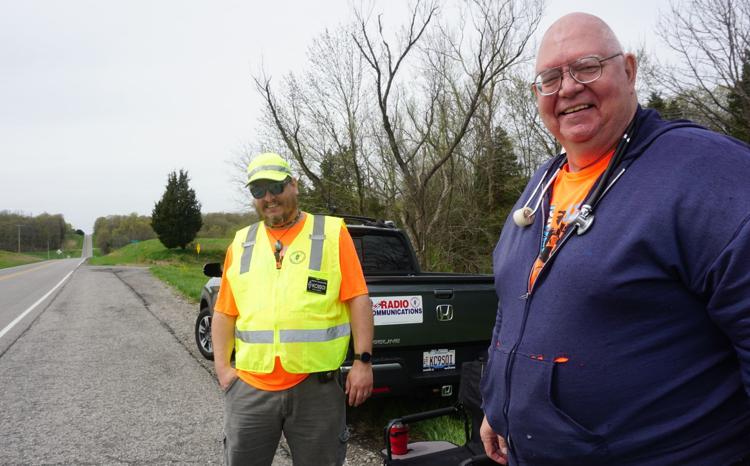 Volunteer emergency medical technicians were also stationed along the route, including Bob Pennock, of Marion. Pennock said the race is a great way to show off the region. The race draws people from across the country. Dillard, the race director, said that in most years, all 50 states are represented. Those folks may return to Southern Illinois for future visits after seeing what the region has to offer, Pennock said.
"If we can, in a positive manner, show off the attributes of Southern Illinois like this, and the beauty of the off-beaten path, that's great," he said.