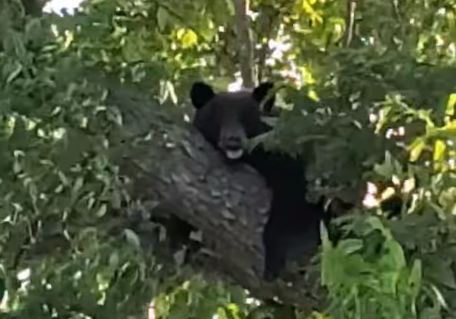 Following 16 months of a pandemic, people joked about what could possibly happen next.
For Southern Illinois, that was a visit to Rend Lake by a black bear.
Illinois Department of Natural Resources, Conservation Police and local law enforcement began tracking a black bear on June 10 when it was spotted near Old Baum Church Road at Waterloo in Monroe County.
A bear was seen again June 12 off Illinois 177 near Mascoutah in Clinton County. On June 15, a bear was again seen near Dubois in Washington County.
The bear was first seen in our region by drivers near the southwest portion of Rend Lake on Thursday.
On Friday, the bear was spotted on Rend lake spillway parking lot at east end of the main dam, according to Kyle Bacon, chief deputy of Franklin County Sheriff's Office.
"It's a Friday; the lake's busy. I think we put out the Nixle (emergency) alert," Bacon said. "We don't want harm to come to the bear."
Conservation police say it is likely the same young, male black bear traveling through the area.
Bear sightings have become more frequent as the bear population grew in Arkansas and migrated into Missouri. Several bear sightings were reported in May in the St. Louis area, for example. 
Last month, Missouri conservation agents tracked down a bear in Richmond Heights in St. Louis County and tranquilized it. The bear was taken to a less populated area and released back into the wild.
Also in May, Kirkwood Police Department posted photos of a black bear on Facebook, while another black bear was spotted in Brentwood.
Then, last weekend, a bear was reportedly spotted in the St. Genevieve area in Missouri.
Bacon spoke with Illinois Department of Natural Resources officials on Thursday and said they have a large carnivore policy. They say there are no known breeding populations of large predators in Illinois, but IDNR will not stop natural migration of the animals.
Illinois Conservation Police Officer Don Schachner told the Belleville News Democrat that as the bear population in Missouri grows, they're going to continue expanding into Illinois.
"Who's to say, five years from now, a female or two may make it over here. Or it might be another 10-15 years. It's hard to say; it's a little bit of a roll of the dice," he said.
According to IDNR's website, Senate Bill 3049, which took effect Jan. 1, 2015, amended the Illinois Wildlife Code by adding black bears, cougars and wolves to the list of protected species in Illinois.
As a result, black bears may not be hunted, killed or harassed unless there is an imminent threat to person or property.
If you feel you or your property are being threatened by black bear, contact IDNR to learn about options to address potential threats.
Bacon said IDNR wants to let the bear be as it passes through the area. There are no plans to tranquilize and remove the bear, as long as keeps moving and doesn't hurt anyone. Those who see the bear should not approach or feed it. 
"It's important that the bear is afraid of us," he said. "You don't want a bear to be comfortable around people."
Schachner said bears are nothing to worry about. Bear attacks are rare and usually something precipitates an attack. He suggests keeping an eye on younger children if a bear in the area, and don't let pets roam.
Here are additional tips if anyone encounters the bear:
Do not feed it.
Do not approach.
Do not shoot it.
Do not leave dog or cat food outside.
Do not push trash cans out until the day of pickup.
Isaac Smith and The Belleville News Democrat contributed to this story.