CARBONDALE — When the Varsity's iconic tower lights up, it signals life in Carbondale's downtown. The arts center's leadership is asking for help to make sure that they can keep flipping on that switch.
Bill Robbins, board president for the Varsity Center for the Arts, said earlier this year things were looking OK for the 80-year-old theater, but the impact COVID-19 and its rapid spread had on the not-for-profit has been staggering. He said in the months since face-to-face entertainment came to a halt, the theater has used nearly all its rainy-day fund.
Varsity leadership said not being able to hold in-person events, including its 80th birthday celebration, cut the venue's revenue significantly, and they say without fundraising, The Varsity could go dark, at least for a while.
"We really need help," Cara Recine, The Varsity's executive director, said.
"If we do not fundraise accordingly, by November our organization will cease to exist," board member Nathan Colombo said. Colombo said the board would still function and that they would do all they could to get things going again, but all maintenance on the aging building would stop, as would the production of any new events.
In the past three years, The Varsity's leadership has made a pointed effort to revitalize the center as a place where art happens regularly. The Varsity hosts concerts, community theater productions, comedy specials, art openings, movies and other community events.
"We wanted to be in a position to help businesses along the Strip downtown do better in their business, as well," Recine said.
Carbondale's economic director, Steven Mitchell, said it's done just that.
"There's a lot of spillover to other businesses … That's the kind of thing that The Varsity brings to the table," Mitchell said.
He added that The Varsity's vision of creating a more vibrant downtown for Carbondale matches the city's own vision. He said that vision comes to life when a concert draws hundreds gathered under the warm glow of the marquee to enter the venue. He said those people then go out after events for dinner or drinks — to other businesses on the Strip.
But, Colombo said the Varsity is more than just an economic driver for local businesses.
"The value of The Varsity Center to Carbondale is its identity and its value to place-making and memories," he said.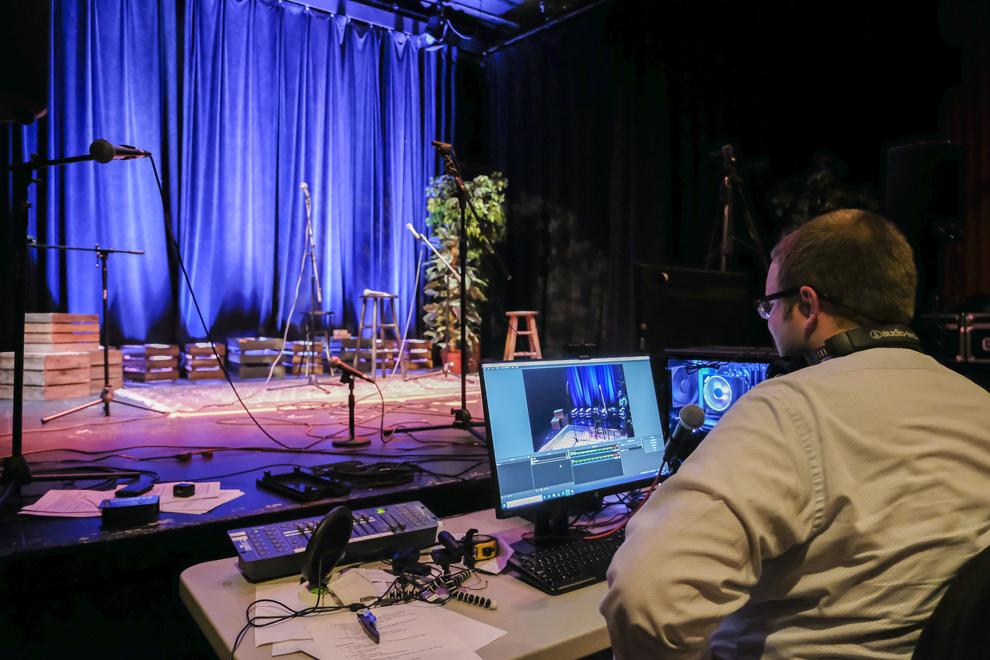 This came to light during the 80th anniversary telethon Colombo helped host in June. He said he spent nearly 45 minutes reading memories submitted by patrons into the camera. In its time as a movie theater, Colombo said, it was many people's first date spot, and some of those dates turned into marriages. He said The Varsity has a huge role to play in Carbondale's identity — not just for the city, but also for its residents. And, he said, that's worth saving.
"If we cease to be, we would be robbing people of their tangible ability to connect with their memories, but also rob people of the ability to make tangible future memories," Colombo said.
Colombo, like Recine and Robbins, said the situation is serious — The Varsity needs between $3,000 and $4,000 a month just to keep the lights on and keep the antique building healthy.
"Caring for an 80-year-old building is not low cost," Robbins said. But, as much as it costs, it is still cheaper than the alternative.
"If we were to mothball, the recovery from that is more expensive than … caring for the building," Robbins said.
For now, The Varsity has been able to host regular online events through its YouTube channel, and there are some donations coming from that. Recine said every little bit helps. She recalled one donor apologizing that they could only donate $100 or $200. But, Recine told them that they paid the water bill, which is significant.
Colombo said fundraising events are helpful, but he knows it'll take more. He said phone calls to all past and present donors will be made to ask for pledged dollars or to ask for new donations. The viability of The Varsity Center is month to month after November — Colombo said the fundraising efforts will be ongoing until the region gets to the other side of COVID-19.
Some may ask why The Varsity doesn't apply for grants. The answer is, it does — but it doesn't qualify for much. As a nonprofit, The Varsity doesn't qualify for some of the COVID-related business grants, and Recine said many of the grants aimed at nonprofits are going to human and social services, which she said is absolutely understandable.
The Varsity's money woes have been a problem Recine and her team have seen coming these last few months.
"I was having trouble sleeping," Recine said. This made her take a cut to her own salary in an effort to stretch out the money The Varsity had.
In their conversations with The Southern, there was a determination in Colombo, Recine and Robbins to make things work — they all said it is a must.
"We just have to find a way to keep going," Recine said.
Those interested in donating can do so through The Varsity's website, thevarsitycenter.org, or by contacting the center to make a payment through cash or check.
618-351-5823
On Twitter: @ismithreports