CARBONDALE — Some Southern Illinois restaurant owners said they're happy to be able to again welcome customers into their dining rooms, but many are scrambling to get ready.
Southern Illinois on Monday moved out of tiered virus resurgence mitigation levels, and businesses are now allowed to operate under Phase 4 of the state's Restore Illinois plan. Indoor dining and bar service is allowed again at limited capacity under Phase 4 guidelines, and barbershops, salons, spas, health and fitness clubs and theaters can open with capacity limits and IDPH-approved safety guidance.
The three-tier mitigation scale is used to control the spread of COVID-19. The tiered mitigation restrictions are imposed in addition to the restrictions of a region's Restore Illinois phase. Southern Illinois is not currently under any tiered mitigation measures, but is under guidelines from the state according to Phase 4.
In October, Gov. J.B. Pritkzer announced a ban on indoor dining and bar service in Southern Illinois, as well as limits on social gathering sizes, among other mitigation measures, after Region 5's rolling positivity rate triggered state action. The entire state was put under Tier 3 mitigation measures in November.
For a region to move from Tier 1 back to regular Phase 4, test positivity rates must remain below 6.5% for three consecutive days, staffed hospital and ICU beds must reach 20% or higher for three consecutive days and there must be a sustained decline in COVID-19 patients in the hospital for 7 out of 10 days.
Southern Illinois' Region 5 on Monday moved back to COVID-19 guidelines outlined under Phase 4 of the Restore Illinois plan, the third time since Friday that mitigation measures have been loosened in Southern Illinois.
Business owners have experienced a lot of whiplash as state health officials have tried to contain and quash COVID-19 in Illinois. Bouncing from being closed to open, to carryout-only, to limited indoor seating has been a lot to handle. As the week started, many restaurants were trying to figure out just how indoor dining would work.
"Every week it's something new," Josh Klarer, owner of the Underground Public House in Carbondale, said Tuesday. He and his staff were trying to figure out how they would do indoor dining. But, he said, he hoped to have it opened up this weekend.
"We had no clue this was coming down the pipeline," he said.
Klarer said the heated outdoor dining options he offered customers was a lifeline, as was as a good carry-out business. But, he said, in the process of hosting customers outside, the restaurant's tables were ruined because of the weather. So, before Klarer can seat guests inside, he and his staff will have to build new tables.
Marilynn Martin, co-owner of Carbondale staple Mary Lou's, said the diner enjoyed its first day open for more than just carryout in two weeks. Martin has been among the vocal opponents to strict rules on restaurants, and was ticketed by the city for offering indoor dining while the region was under tiered mitigation restrictions. But, she said, it was a matter of staying open or maybe closing for good.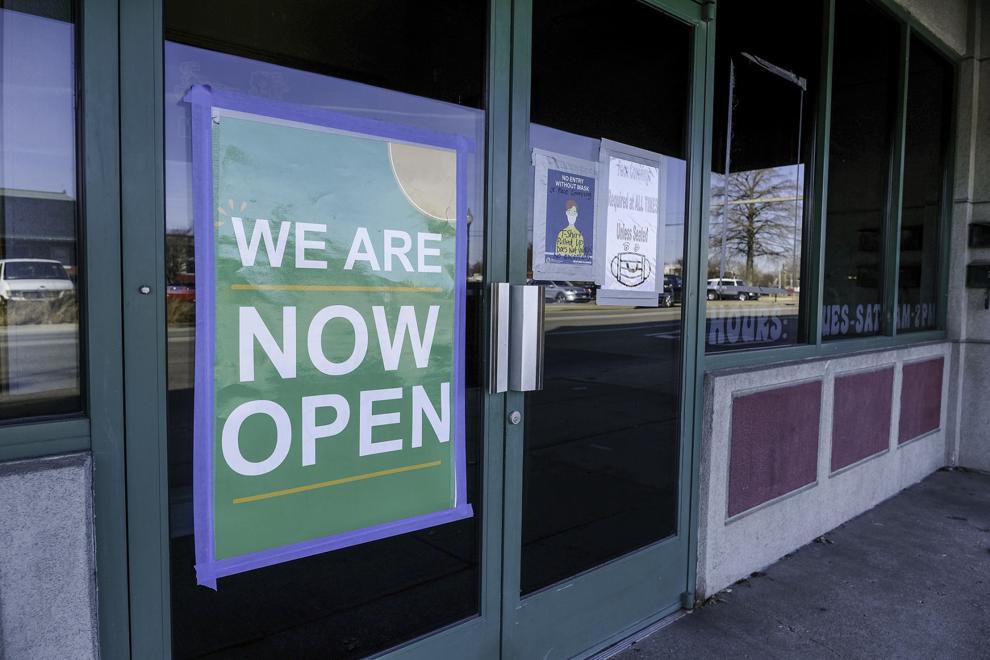 But business Tuesday was good, she said.
"The carry-out alone is not enough at all, but with it being open inside, we'll be able to maintain it, hopefully," Martin said.
Katy Cannell has had a wild first year owning her own restaurant. She purchased Cummares in Murphysboro early in 2020. On Tuesday, she and her staff were readying for their first dine-in service in weeks. Cannell was still running carryout orders to cars during her lunch rush.
"Our carryout has been pretty steady," she said. "We've been pretty lucky." Cannell said the restaurant isn't making money, but the bills are being paid.
Cannell reflected on the lessons COVID-19 has taught her as a fledgling restaurant owner.
"I think it's shown me, though, that I can be pretty adaptable," Cannell said.
But she and Klarer both had one practical question about reopening — where are they going to store all the to-go boxes they have ordered? Both said they'd grown accustomed to using their dining rooms for storage.
When asked if reopening makes her nervous, Cannell said she was of two minds. She said she felt totally safe working in her restaurant, cooking, serving customers and engaging with staff. But when she takes the apron off, it's a different story.
"I'm not really comfortable going to a restaurant eating inside," she said.
Looking ahead, Martin wasn't sure how much more back and forth, open and closed, inside and outside, she can endure. If another shutdown comes, she's not sure what she would do, she said.
"It's pretty iffy. It could be the end," she said.
Jackson County Health Department Administrator Bart Hagston said he and his staff have not run into issues as restaurants again welcome customers inside. But he wanted to remind everyone the fight isn't over yet.
"We would just caution people to not take all of the information coming to them at the moment as meaning the pandemic is over. We continue to see moderately high case numbers throughout the region and our contact tracers remain very busy," Hagston said in a written message to The Southern. He added that those venturing out to eat or to engage in other social activities should still remain vigilant, wear a mask, wash their hands, and maintain physical distance from others.
"With vaccination programs underway we are getting closer to the finish line but we need to stay determined awhile longer," Hagston wrote.
— Capitol News Illinois contributed.
618-351-5823
On Twitter: @ismithreports