CARBONDALE — On Sunday, Janet McCready will deliver two Ecuadorian treasures to her fellow worshipers at the Church of the Good Shepherd, in Carbondale.
One is a wall ornament showing the traditional foods of the Andes Mountains, like quinoa, lentils and choclo — a large-kerneled corn that is native to South America — on a background of thatched palm leaves.
The other is a tapestry showing three little houses, one big, snowy mountain and a bright yellow sun shining on the word Ecuador, woven at the top.
They are thank-you gifts, McCready explained, from a recently built daycare center in the mountains north of Quito, to a church whose support made the project possible.
For 20 years, a network of about 80 United Church of Christ congregations in Southern Illinois, including the Carbondale church, have sent aid and missionaries to Ecuador.
They help build homes for needy families, fund a community center for women who face domestic violence, and support scholarships for young women interested in college.
Recently, the aid has been concentrated with an organization called FEDICE ("faith says," in Spanish) that brings together even more churches from throughout the U.S., to build day cares, support fair trade farming, and give loans to aspiring entrepreneurs among Ecuador's poorest rural residents.
"They might provide a cow, a llama or a pair of sheep or goats to a family," McCready explained, "and then they teach them how to care for them, how to maximize yields, and how to sell the milk or meat at market, allowing poor people to better their lives and the lives of their families."
The Southern Illinois support is modest: a few thousand dollars a year, collected from Southern Illinois parishioners, including at the Carbondale church.
"The average payback on a FEDICE loan is $5 to $10 a month, and all the money paid back goes into FEDICE's local credit unions, which grow and give more loans, to help more people support themselves," said McCready, the treasurer of the Ecuador Partnership Committee for the Southern Illinois churches.
McCready visited the country in early February, and toured the work they've supported.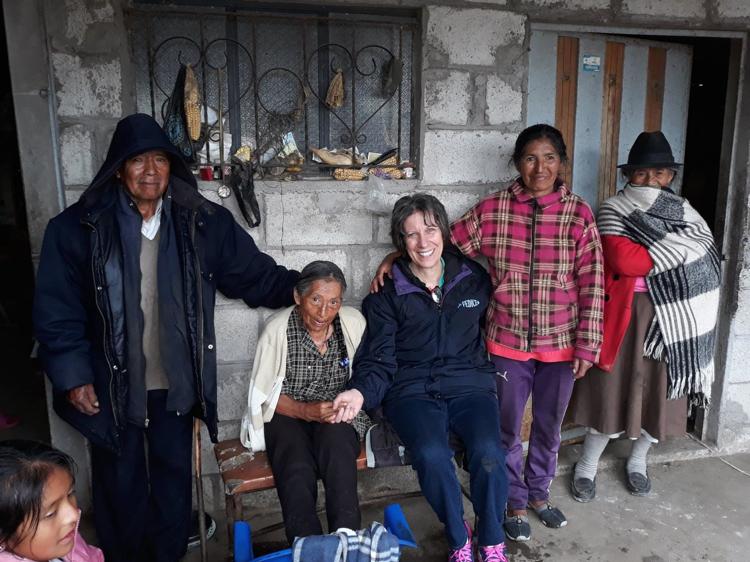 "I had no idea how big a project this was until I went down there; FEDICE has had an impact on hundreds if not thousands of people," McCready said. "Our congregation has no idea how much the people of Ecuador have the Church of the Good Shepherd in their hearts."
The Carbondale church has a long history of outreach to Latin America.
Beginning in 1984, the Church of the Good Shepherd partnered with Ebenezer Baptist Church, in Cuba, to deliver educational supplies and medicine to the island, despite the long-standing embargo that prohibited trade, as punishment for Fidel Castro's seizure of American owned oil refineries and other businesses.
The Carbondale-Cuba partnership remains, said the Rev. Kim Magwire, pastor at the Church of the Good Shepherd, and has allowed the Carbondale church to advocate for compassionate treatment of HIV victims and LGBTQ people on the island.
Meanwhile, in Ecuador, the church's FEDICE efforts are targeting rural indigenous Quichua people, whose ancestors were enslaved by the Spanish in the 16th through early 19th centuries, and who bear the brunt of Ecuador's extreme poverty.
"Close to 88 percent of indigenous households live below the poverty line, a grim fact reflected in high maternal and infant mortality rates," the United Nations reported in 2006. Many families depend on child labor to bring in extra income.
As a member of the United Church of Christ, the Carbondale Protestant church takes a careful approach to foreign aid to vulnerable people. They do not make their support contingent on conversions.
"We're not in charge of making people believe a certain way," Magwire said. "We value them for who they are and seek to show them Christ through our actions, not force them to convert."
Many Quichua indigenous people hold a mix of Roman Catholic beliefs, acquired from the Spanish, and traditional beliefs, such as the veneration of Mother Earth, or Pachamama, believed to be the mother of all living beings.
Beyond the impact of the aid, McCready is particularly excited about the possibilities for the church's young people to build bonds with Ecuador.
"We want to make our kids more aware of what's going on in other countries. These people are just like we are, and they need our help," McCready said. "All of our mission work teaches us to care about the world, get outside of ourselves, and recognize our neighbors."
Eventually, McCready hopes the church's kids will go to Ecuador, on mission trips of their own.
It's another chance to live out one of her favorite modern hymns, she said: "They will know we are Christians by our love."
McCready will present the Southern Illinois churches' work in Ecuador at 11 a.m. Sunday, March 10, at Church of the Good Shepherd, 515 S. Orchard Drive in Carbondale.