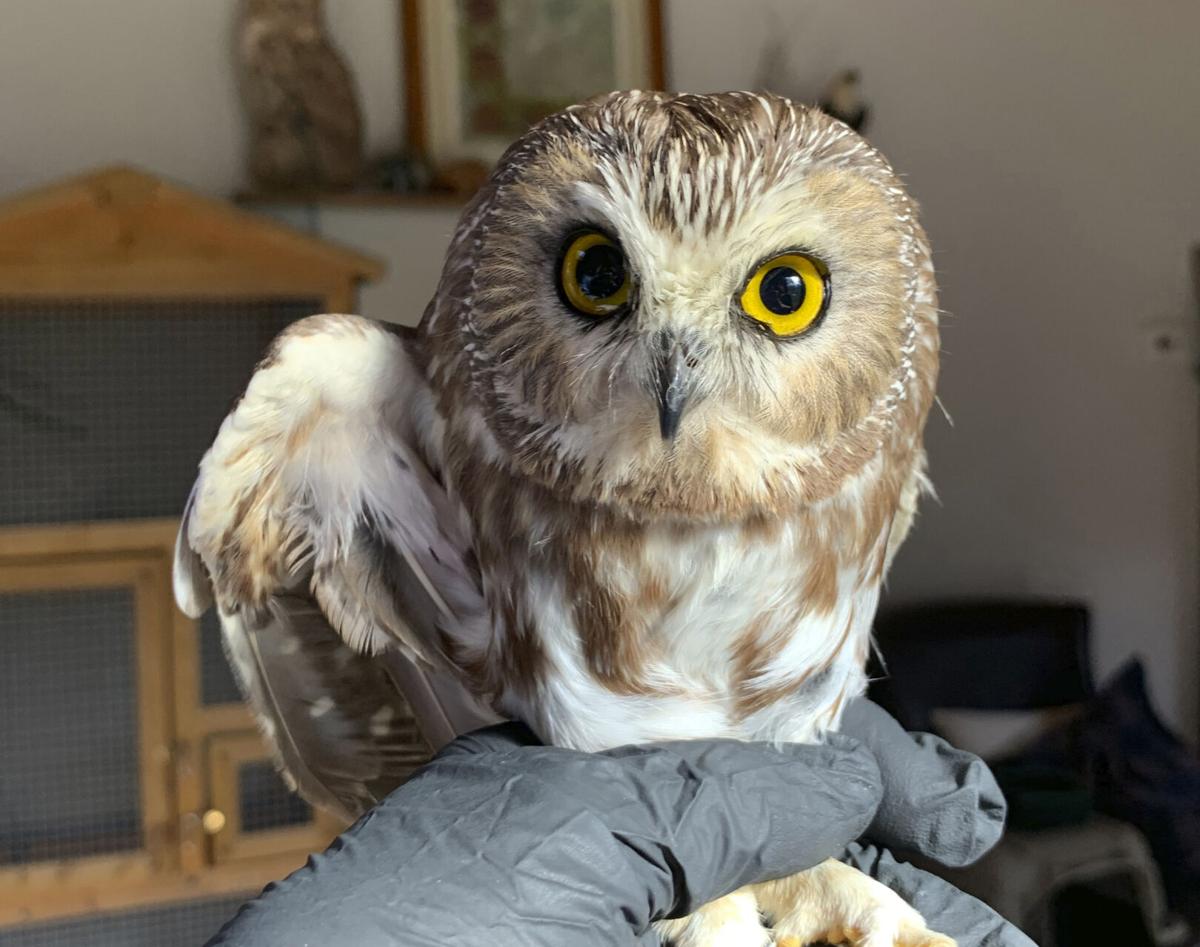 NEW YORK (AP) — It wasn't quite a partridge in a pear tree, but a worker helping set up the Rockefeller Center Christmas tree found a holiday surprise — a tiny owl among the massive branches.
The little bird, now named what else but Rockefeller, was discovered on Monday, dehydrated and hungry, but otherwise unharmed, said Ellen Kalish, director and founder of the Ravensbeard Wildlife Center in Saugerties, New York, where the bird was taken.
Kalish said the bird is an adult male Saw-whet owl, one of the tiniest owls. It was taken to a veterinarian on Wednesday and got a clean bill of health.
"He's had a buffet of all-you-can-eat mice, so he's ready to go," she said.
She said the plan was to release the owl back to the wild this weekend.
The tree, a 75-foot (23-meter) Norway spruce, had been brought to Manhattan on Saturday from Oneonta, New York, in the central part of the state. The tree is put in place and then decorated over some weeks before being lit for the public in early December.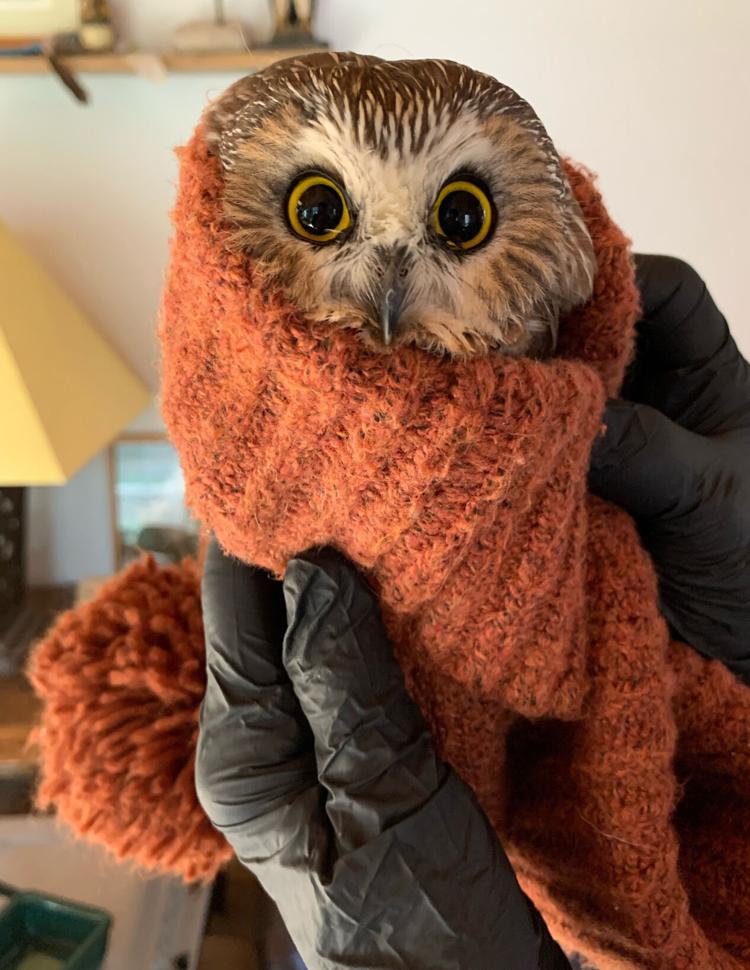 ---
Last week's weird news
Russian city to demolish derided 'Robot' building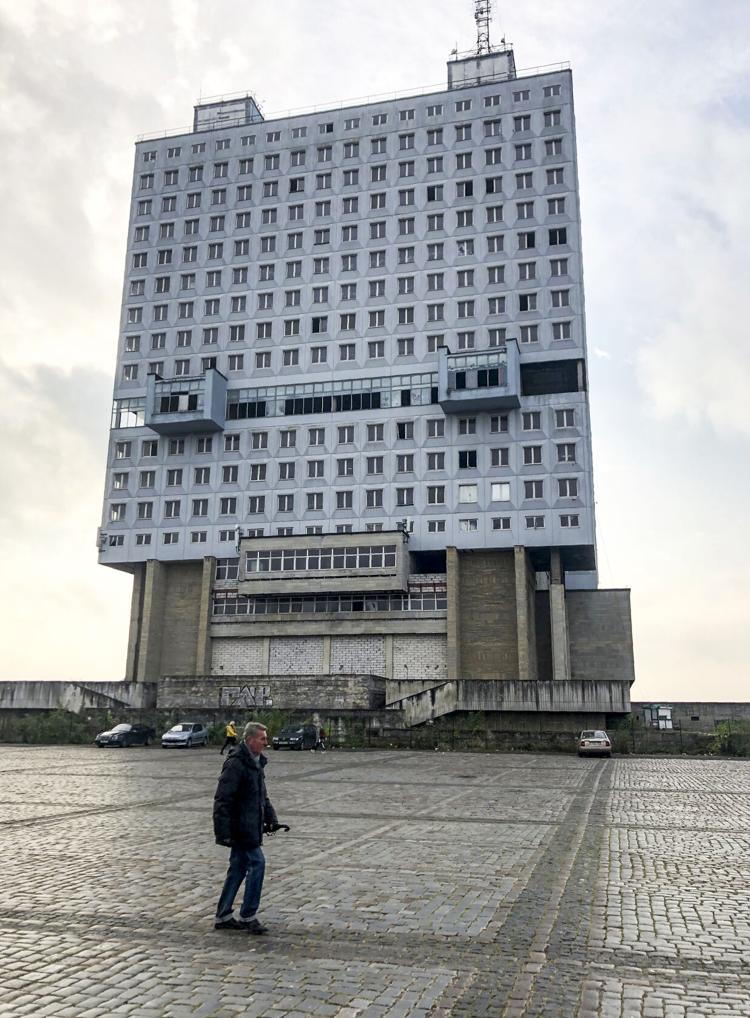 MOSCOW (AP) — A hulking, never-occupied building sardonically likened to a robot's head that has loomed over the Russian city of Kaliningrad for decades is to be demolished next year, the region's governor says.
The 21-story House of Soviets was left unfinished when funding ran out in 1985 amid the Soviet Union's economic struggles. The building, which later was assessed to be structurally unsound, and became one of the city's most widely known emblems, particularly when the fan zone for the 2018 World Cup matches in Kaliningrad was set up in a vast square next to it.
The Brutalist building's protruding covered balconies resembling two eyes and a mouth led to it being nicknamed "The Buried Robot."
Regional governor Anton Alikhanov said demolition is expected to begin early next year and that officials are discussing the possibility of making fragments of it available as souvenirs, the Komsomolskaya Pravda newspaper reported Wednesday.
Kaliningrad is the administrative center of the Russian exclave of the same name, which is located between Poland, Lithuania and the Baltic Sea.
A love for Disney and sheltering in place gave birth to a roller coaster in a California backyard
Many people have adopted new hobbies to help cope with spending more time at home during the pandemic, but few have taken it to the level of a California family, who built a 400-foot roller coaster in their parents' backyard.
Since their favorite theme park was closed due to Covid-19, Sean LaRochelle, a graduate student pursuing his master's in architecture at Clemson University, decided to bring a little bit of Disneyland right into their backyard.
LaRochelle, his wife and their three children were quarantining with his parents and his siblings at their home in California's Napa Valley when he decided on a whim to try and build a coaster.
"I went up to my dad and I was like, I think we're going to build a roller coaster in the backyard. And he's like, "Oh yeah, that's fine. No worries." I don't think he realized how big it was going to be, but he was super supportive," LaRochelle told CNN.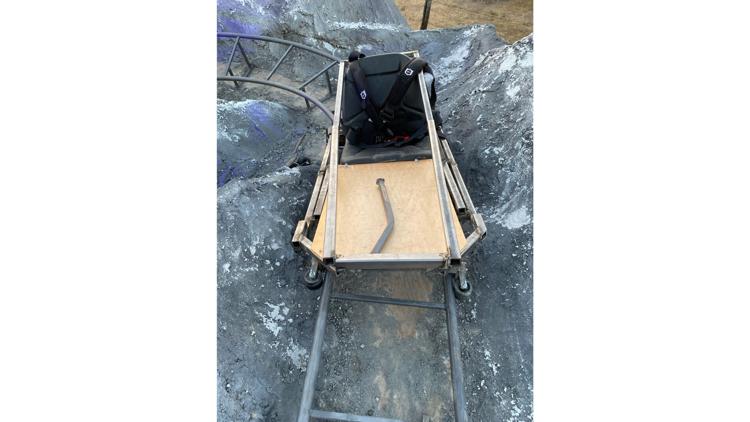 30 friends helped bring the vision to life
The coaster ended up being approximately 400 feet in length. Only one rider goes at a time, but it takes 50 seconds to ride from start to finish.
LaRochelle utilized the talents of 30 friends to not only create the roller coaster itself, but to bring it to life. It is based on the Matterhorn, a roller coaster at Disneyland in Anaheim.
The Matterhorn simulates an Alpine sled hurtling down a mountain while trying to avoid a yeti trying to capture the sled. The ride is named after the 14,692-foot peak in the Alps near the border of Italy and Switzerland.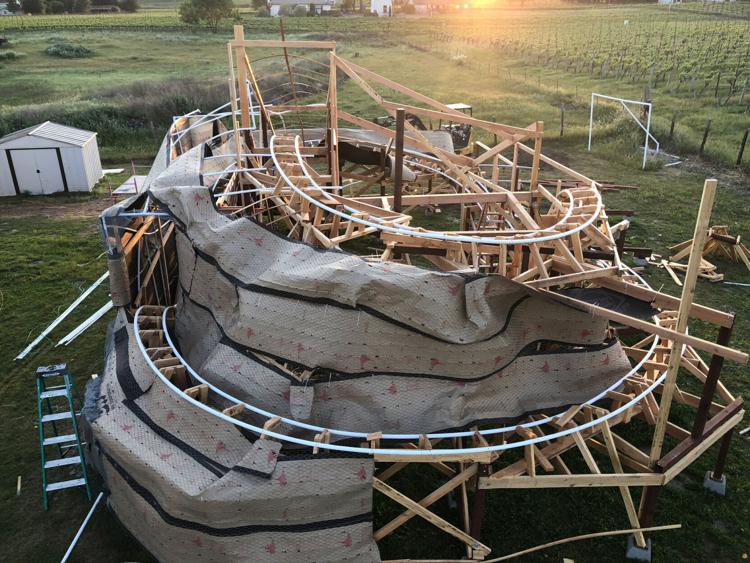 "We've got, you know, rock formations and waterfalls and an animatronic yeti. And you do a couple of loops around the mountain and try to escape its clutches," he said.
LaRochelle has fond memories of the iconic ride and trips to the park with his family, so the attention to detail was key for him.
"I wanted to do it really well. I wanted to be very detailed. I was like, imagine that I was an Imagineer and that I was trying to put the same care and quality into the product. And so for me, that was the most important thing," he said.
He started construction on it in March and finished in July. LaRochelle said it was basically a full-time job for he and his brother Michael on top of the full-time jobs they already had.
"Basically, it was after work every day, we'd work until it got dark. And then we'd wake up early in the morning, we'd work until we had to go to work. And then on the weekends, it was 24/7 pretty much," he said.
"We're not, you know, mechanical engineers. We're not, you know, artisans, we're just people. And you know, I think it goes to show that anyone can do this stuff."
LaRochelle said he and his brother used a lot of resources they found on the internet in addition to including their friends and family. In the end, all of the work paid off.
He didn't have an estimate for how much it cost to build. "The joke was, it was the Trump stimulus check coaster. We ended up spending a little bit more than that," LaRochelle said.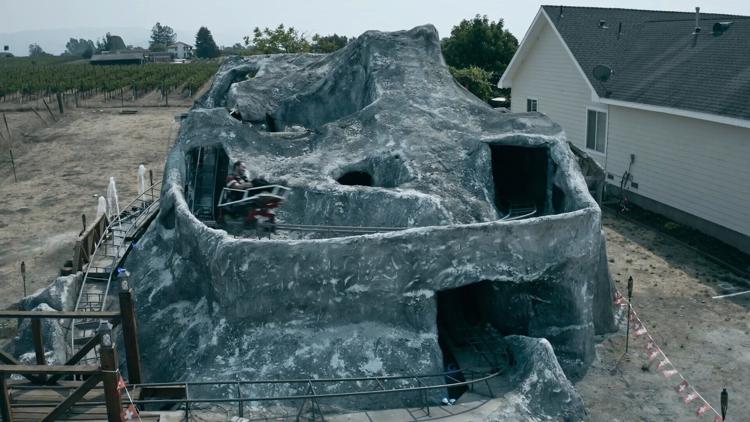 A lot of hard work to spread a little bit of joy
"Really, it's only been positive feedback. And I think, you know, we live in such a tumultuous time right now and having somebody, or just even seeing a collaborative group of people putting together something that is creative, that's trying to bring some joy to people, I think that that really only helps, especially because of everything that's going on," he said.
Though the ride will survive for a while longer, LaRochelle said it is only meant to be temporary and they will eventually knock it down, but for now, the intent is to continue to spread just a little bit of joy.
"I hope that the future of the ride is that people look at it as something that inspired other people, you know, and maybe we'll make another ride, who knows," he said.
Whole Foods will 'insure' your Thanksgiving meal
The most complicated part of the Thanksgiving meal is undoubtedly the tricky turkey. This year, Whole Foods is offering insurance just in case the cooking goes haywire.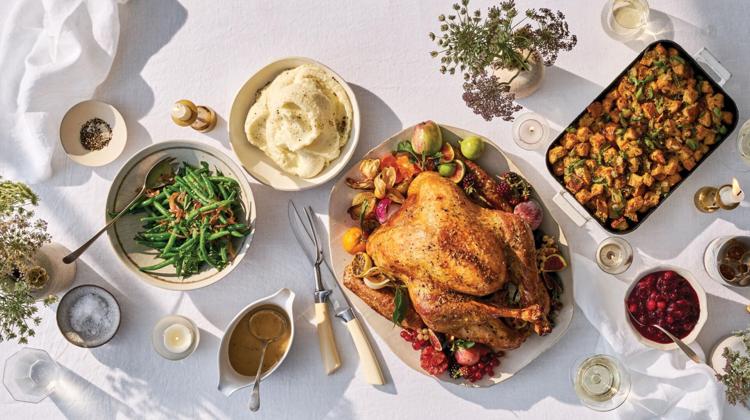 Together with Progressive, the market chain is offering "insurance" in the form of a free $35 Whole Foods gift card to customers who "commit a turkey cooking fail." The idea was prompted by coronavirus restrictions forcing households to host smaller gatherings and, in some cases, having inexperienced cooks prepare the stressful, multi-course meal.
"As we anticipate more smaller Thanksgiving gatherings and first-time cooks tackling turkey preparation this year," Theo Weening, vice president of meat and poultry at Whole Foods, said in a statement, "the Thanksgiving Turkey Protection Plan allows customers the freedom of culinary exploration, knowing all is not lost should their cooking go astray."
To be eligible, customers must purchase a Whole Foods-branded turkey from the store between November 11 and 22. If the final product winds up overcooked, undercooked, burnt or dry, failed chefs can submit a claim with a receipt, brief explanation and picture to a special website.
The promotion is limited to 1,000 customers and entries must be submitted beginning on Thanksgiving day through the next day at 3 am ET. Awarding the gift cards is at Whole Foods' "sole discretion."
As in previous years, the Amazon-owned grocer is offering deals on uncooked turkeys. Prices start at $2.49 per pound for non-organic birds, with Amazon prime members able save up to 50 cents per pound. Organic turkeys are slightly more expensive.
Around 40 million turkeys are eaten over the Thanksgiving holiday annually, according to the National Turkey Federation, an industry trade group. The group does not expect that figure to change much this year, but the sizes and types of turkeys will, Beth Breeding, spokesperson for the National Turkey Federation, previously told CNN Business.
Turkmenistan's authoritarian leader unveils huge golden dog statue in the capital
Depicted standing proudly on a plinth, the gold-coated canine is an Alabai, a Turkmen-bred variety of the Central Asian shepherd dog and a symbol of national pride in the reclusive, authoritarian nation.
State TV Watan Habarlary showed President Gurbanguly Berdymukhamedov waving to clapping onlookers as he unveiled the statue this week, in a ceremony replete with traditional dancers, a child holding a real Alabai puppy, and a balloon release. A video screen wrapped around the statue continuously plays footage of the local breed running through grass or the desert and playing with children.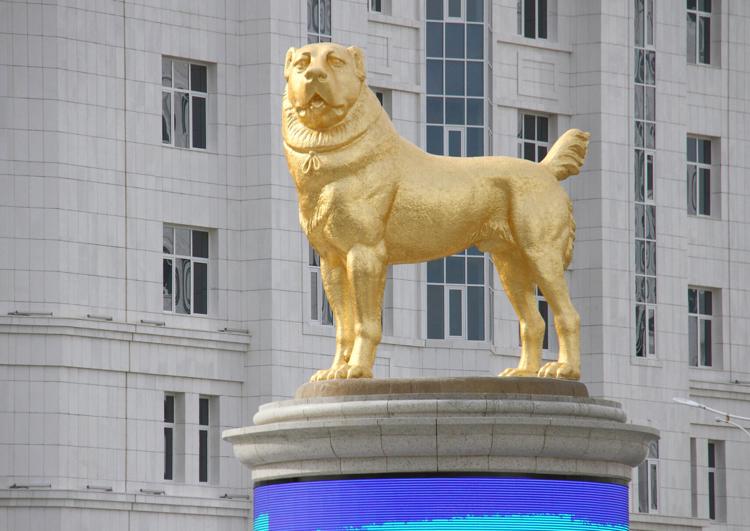 Along with horses, dogs are considered part of the country's national heritage and are widely used by the many traditional herders among the population of six million. Berdymukhamedov, 63, has written a book and a poem about the Alabai dog and in 2017 gifted Russian President Vladimir Putin with a puppy for his birthday.
The large, stocky breed is known as "wolf crusher" for its prowess in guarding sheep and goats and is also used to guard homes.
The golden statue is the latest addition to Ashgabat's growing collection of monuments, joining a gold-coated statue of President Berdymukhamedov himself seated on a horse mounted on a white marble cliff, built at another major junction in 2015.
Berdymukhamedov has held tight control of the country since the 2006 death of his equally authoritarian predecessor Saparmurat Niyazov.
Other projects include a $2.3 billion airport shaped like a bird and a $5 billion so-called "Olympic village" for the 2017 Asian Indoor and Martial Arts Games, according to British think tank, The Foreign Policy Centre.
Despite the glitzy capital and billions of dollars spent on architectural curiosities, Turkmenistan's population faces hyper inflation and food shortages.
A 2019 report by The Foreign Policy Centre, suggests Turkmenistan's economy -- which relies on the country's vast reserves of gas -- is in the grip of its worst economic crisis and on the "brink of collapse," driven in part by low gas prices and falling natural gas exports.
The government's inaction to respond to the economic fallout from the coronavirus pandemic has also exacerbated the country's already dire food crisis, which has been compounded by poor harvests and shortages of subsidized food, according to a September report from Human Rights Watch and the Turkmenistan Initiative for Human Rights.
Local people interviewed by the rights group reported waiting for hours in lines for subsidized food, of which up to 70 to 80% of their income goes toward, as prices skyrocket. Adding to their economic woes is that the pandemic has put many Turkmen out of work and slashed foreign remittance money to families, according to HRW. Authorities have never released unemployment figures but the FPC estimates that up to 60 to 70% of the eligible workforce is either unemployed or underemployed.
But HRW said the Turkmenistan government denies the existence of poverty in the country and has failed to provide relief to communities struggling economically.
"Turkmenistan's government has prioritized the country's image over people's well-being," said Rachel Denber, deputy Europe and Central Asia director at Human Rights Watch, in a statement. "With no effort to identify and assist the people most in need at this critical moment, Turkmenistan is callously neglecting the most basic norms of human rights, which include the right to food."
Previously, the Turkmen Foreign Ministry did not respond to CNN requests for comment regarding allegations that the government is responsible for human rights abuses. CNN has reached out to the Turkmen Foreign Ministry for further comment.
Turkmenistan has officially reported no cases of Covid-19 -- one of very few countries in the world not to.
The US Embassy in Turkmenistan, however, said on its website the country "may be disinclined to do so if cases were confirmed" and that it has received reports "of local citizens with symptoms consistent with Covid-19 undergoing Covid-19 testing and being placed in quarantine in infectious diseases hospitals."
Information coming out of the former Soviet republic -- labeled by HRW as one of the world's most repressive -- is strictly controlled. There is no independent media and most foreign websites are blocked, according to the independent watchdog group Freedom House.
Human rights abuses are commonplace, activists often disappear, and forced labor is a concern, according to HRW. Foreign media outlets have little access to Turkmenistan; religious and political expression are "brutally punished" by the government; torture is rife in the country's prisons, and no independent monitoring groups are allowed in the country, HRW said.
CNN's Thomas Page and Julie Zaugg contributed reporting.
Stolen Bigfoot statue found along road in California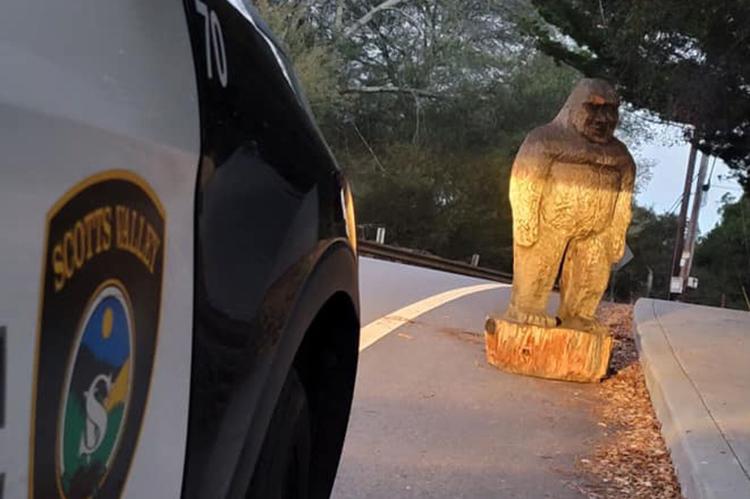 SCOTTS VALLEY, Calif. (AP) — Police officers in the mountains north of Santa Cruz responded to a suspicious figure in a roadway early Thursday and found Bigfoot.
"He was a little banged up but will be returned to his rightful place at the Bigfoot Discovery Museum," the Scotts Valley Police Department said in a Facebook post.
The Santa Cruz County Sheriff's Office had urged people to keep their eyes peeled for the 4-foot-tall wooden statue after it was stolen from outside the tiny museum in nearby Felton on Monday.
The museum dedicated to the mythical forest creature is outside Henry Cowell Redwoods State Park. It is temporarily closed due to COVID-19.