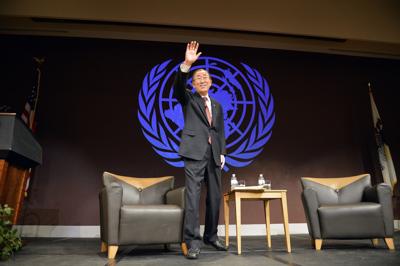 Outgoing United Nations Secretary-General Ban Ki-moon, in his final public address as U.N. chief, asked the hundreds packed into SIUC's student center ballrooms Wednesday to act as global citizens, and to encourage leaders to keep the promises made at the Paris climate conference earlier this year, which aims to control global climate change.
Carbondale may seem a strange place for Ban's final address at the head of the U.N. Why would Ban come here? To our university, to our town?
Deep in the heart of flyover country, where the Midwest meets Appalachia and coal miners are local heroes, this is the part of the country that denounced globalization when it went for Donald Trump. Sure, all of Illinois' electors cast their ballots for Hillary Clinton on Monday, but this part of the state, the part that's home to SIU, voted for nationalism and coal when it voted for Trump — Ban stressed global community-building and the importance of fighting climate change in his talk.
Trump picked Scott Pruitt, Oklahoma's attorney general, to lead the Environmental Protection Agency. According to The Associated Press, Pruitt "sued the EPA over plans to limit carbon emissions from coal-powered power plants."
In a town called Carbondale, a name that makes the importance of coal to the region's economy plain, Ban stressed the importance of sustainable energy on our path into the future.
"Climate change is very real," he said, adding it is caused by human behavior.
Unless we de-carbonize operations, we have no hope, he said.
Mayors from many Southern Illinois towns, along with several state representatives, occupied the first few rows in Ban's audience. He addressed them directly, asking them to promise to lead by example and invest in sustainable energy to fight climate change.
Southern Illinois representatives have to be pro-coal. Many of the people Ban addressed have blamed regulations like the one Pruitt sued the EPA over for stifling the coal industry and killing jobs.
Trump vowed to renegotiate or terminate NAFTA, a trade deal that he blames for the loss of U.S. jobs, and has said the U.S. would withdraw from the Trans-Pacific Partnership under his leadership. Trump ran on an anti-immigrant platform, promising to build a large border wall between the U.S. and Mexico and pledging to ban foreign Muslims from entering the country.
Ban pointed out in his speech that SIUC is home to students from more than 100 countries. Looking around me in the ballroom, I saw Chinese characters on the smartphones of students sitting in front of me, and a woman in a hijab a couple of rows up.
"Global citizenship is part of SIU's identity," Ban said, just after Interim Chancellor Brad Colwell had announced that SIUC joined the U.N.'s Academic Impact, which connects higher learning institutions to one another and to the U.N. to work together in pursuit of the U.N.'s sustainable development goals.
"National boundaries do not have meaning in this transformative global age," Ban said. "We are living in a very small, small world. We are family members of one small world."
Modern technology has indeed made the world small. And it's too late to undo the world's virtual shrinking. It's easier than ever to physically travel the globe. The internet has brought the entire world into our homes, offices and phones. It's too late now to simply retreat into our own borders and slam the doors.
The backlash against economic globalization realized in Trump's election is understandable. But there's more to the world community than economic deals. 
"Forget where you are coming from, and think about that you are a member of a family, a family member of this world, one world," Ban said.
Addressing students in particular, Ban asked, "will you reach out your helping hand?"
ALEE QUICK is digital editor of The Southern. She can be reached at alee.quick@thesouthern.com or 618-351-5807. Follow her on Twitter: @the_quickness