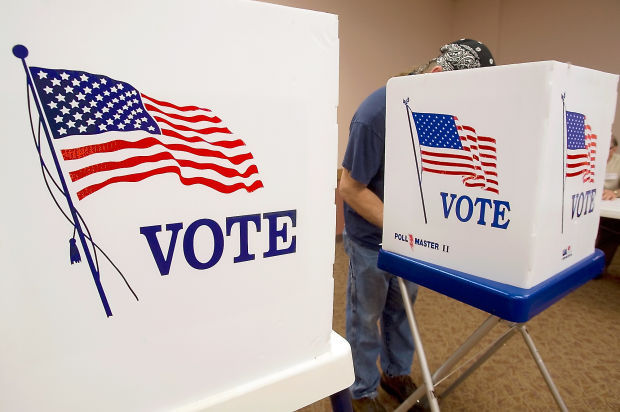 Shall a retailer's occupation tax and service occupation tax (commonly referred to as a "sales tax") be imposed in Jackson County at a rate of 1 percent to be used exclusively for school facility purposes?
If you're voting in Jackson County, the above is a question you'll see on your ballot come Nov. 8.
And, we know what you're thinking: "Another tax?" We understand that seeing the word "tax" on a ballot is a pretty intimidating thing.
Add the fact that Carbondale recently increased taxes on prepared food and beverage sales by 2 percent, that's a lot of tax dollars.
On the other hand, there are a lot of schools in need of repair — and maybe replaced — in Jackson County. And, we all know the state isn't going to provide the adequate funding that the schools need.
That's why this tax is important, and that's why we believe residents should vote "yes" on the 1 percent tax.
Jackson County is losing residents. Over the past five years, according to Murphysboro School District 186 Superintendent Chris Grode, the county has lost 1.5 percent of its census count. In the same time, Williamson County has gained 1.7 percent.
Grode believes there's a reason for that.
"When I ask people, 'Why are you moving to Carterville?' They tell me it's the facilities," he said. "They will always tell me it's the facilities."
Most of the districts in Jackson County have schools that are in dire need of repairs, and they're not the run-of-mill quick fixes.
For example, Unity Point School in Carbondale needs a new roof.
And Trico School District 176 needs new HVAC units at the elementary school and the junior high.
And De Soto needs repair and replacement of its roofing system.
And Elverado needs an addition to the junior high school to house pre-K through fifth-grade students.
And Giant City also needs to replace aging HVAC systems.
And most of the schools in the county need to build new classrooms because class sizes are growing.
That's just a sampling of what needs to be done.
These school districts don't want to have to cut programming — think art and music — in order to maintain their facilities. If superintendents do that, the exodus of people leaving Jackson County will continue.
The positives are too many to ignore with this tax.
First, it will help Jackson County schools become more inviting for those who want to live here.
Second, it will bring much-needed work to the county for local companies. After all, somebody has to make the improvements at these schools.
Third, it will enable superintendents to abate taxes, if school boards agree to do so.
And, most importantly, it will improve the quality of education in Jackson County.
Look, most of the counties that surround Jackson County — including Randolph, Perry, Franklin and Williamson — have the school facilities sale tax. Only Union County does not.
Plus, in Southern Illinois, Hamilton, White, Saline and Hardin counties all have the tax.
In 2007, the state passed a bill that allowed counties to put this question on ballots. Williamson County was the first in the state to do so. Look what it's done there.
"Looking at economic development in Williamson County, it's hard to argue that it doesn't help a county," Grode said. "This is a sales tax that will stop your property taxes from spiraling out of control."
We get that for Carbondale residents, voting for this could be tough. The new city tax brings taxes on prepared food and beverage items to 10.75 percent, and if this school sales tax is approved, it would mean a total 11.75 percent tax on these items. Taxes on all other items purchased in Carbondale would be 9.75 percent, matching the sales tax inside Du Quoin's business district as the highest sales taxes in Southern Illinois.
But, Jackson County schools need the money. After all, the state isn't going to help.
"Over the last five years, in the eight school districts in this county, they've been docked $11 million," said longtime Jackson County resident and community leader Sam Goldman. "Where are we gonna get that?
"We need to change the value structure around here. What do we cherish? What do we value? Even guys like me, who are well beyond those schools, would value education. You want to build population here? Here's how we do it."
It's time to do something about it. Vote "yes" on the 1 percent tax.
Catch the latest in Opinion
Get opinion pieces, letters and editorials sent directly to your inbox weekly!