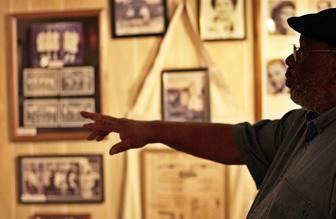 MOUNDS - Preserving a rich heritage is the mission of Mounds African American Museum founders Willie and Josie Eason.
The museum opened June 15 in a Mounds building owned by Josie's brother, Franklin D. Williams, and has received more than 100 visitors.
"It's important to preserve the history, to pass it down to the younger generations and keep it going," Josie Eason said. "Otherwise, it disappears with the people."
The museum features a variety of items representing the history of African Americans, including artwork, music, antiques, tools and memorabilia.
One corner of the building is devoted to the proud but painful past of Mounds Douglass High School.
The all-black high school was one of the last segregated schools in the state, Willie Eason said. The school closed in 1964.
Josie Eason was among about 35 graduates in the MDHS class of 1963.
"It was a wonderful school, with wonderful people," she said as she looked at the old school photos, including a photograph of herself as a high school cheerleader.
Other local highlights in the museum include photographs and drawings of Mounds in its heyday, including photos of the old Roxy theater, department and grocery stores and the YMCA.
"I remember all these buildings," Josie Eason said. "Seeing them makes me remember why I will always love Mounds."
The museum is open weekends and by appointment. While no entry fee is charged, donations for upkeep and expenses are accepted.
Mounds African American Museum
Where: 216 N. Front St., Mounds
When: 2 to 5 p.m., Saturdays and Sundays or by appointment
Info: 745-6183 or 967-3107