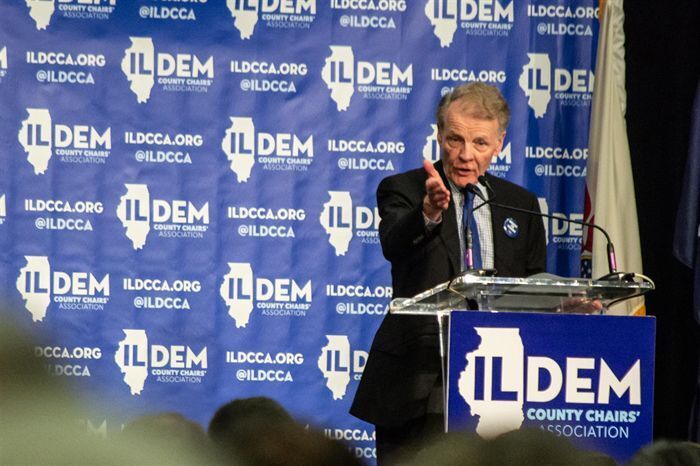 Lawyers for plaintiff Jason Gonzales were in court to argue the 7th U.S. Circuit Court of Appeals should overturn a prior district court ruling which tossed out allegations of election fraud by Madigan's powerful 13th Ward political operation.
But the lead attorney for Gonzales, Anthony Peraica, used the ongoing criminal investigation to try to make his point, even though the alleged misconduct in the case before the panel took place years before the federal criminal probe came to light. The ongoing investigation is illustrative of how Madigan exercises control over the state's politics to his own personal gain, Peraica argued.
The ballot scheme Madigan and his operatives used to suppress votes when Gonzales ran against Madigan in 2016, Peraica said, involved "the same state actors" who are now embroiled into the federal investigation.
"All of the branches and agencies of government have been permeated by Michael Madigan in the respective positions that he holds to try to advance those that he wants to advance on his behalf," Peraica said.
Peraica started to talk about one of Madigan's former top lieutenants, Shaw Decremer, being named in a grand jury subpoena, but was promptly cut off by Judge Frank Easterbrook.
"I cannot see any conceivable relevance of this to your argument," the clearly irritated Easterbrook said. "We do not engage in argument by smear."
Decremer did not respond to Tribune messages seeking comment.
Peraica ended by saying that it was Madigan's power that made it possible to commit the ballot fraud alleged in Gonzales' case.
"That was the design. That was the plan. They executed the plan, and they succeeded in diluting the vote in a district that is 75% Hispanic."
Many of the questions asked by the judges on Tuesday appeared to be skeptical of the plaintiffs' arguments, indicating that they have an uphill battle in convincing the panel to revive the election fraud case.
Gonzales was soundly defeated by Madigan in his primary bid, which was bankrolled by allies of then-Republican Gov. Bruce Rauner, the speaker's political nemesis.
Gonzales contended in his lawsuit that the speaker's team stacked the ballot with phony candidates with Latino-sounding last names to confuse voters and undermine his legitimate bid for office. He argued that violates federal civil rights voting protections sought as much as $2 million in damages.
In his original ruling last year, U.S. District Judge Matthew Kennelly called it "undisputed" that some members of Madigan's political organization worked to put the two additional candidates on the ballot and wrote that the "evidence supports a reasonable inference that Madigan authorized or at least was aware of the recruitment effort."
But Kennelly noted that Gonzales made the allegations of Madigan's "deceptive tactics a central issue in his campaign" and news outlets publicized them. Kennelly said the publicity "placed the alleged misconduct squarely within the political realm, enabling voters to rebuke Madigan by electing his challenger" and, citing case law, dismissed the suit.
Much of the argument on Tuesday centered on what constitutes a sham candidate under the law and whether the additional names on the ballot in Gonzales' case had any real effect on the electorate.
Plaintiff's attorney Stephen Boulton argued Madigan's camp "clearly calculated" that adding Hispanic names to the ballot would siphon votes from Gonzales.
"Hispanic voters were presented with three Hispanic candidates and one white Irish candidate in the form of the speaker," Boulton said. "That was fully intended."
But attorney Michael Scodro, who represents Madigan's campaign, said courts have clearly steered away from the "untoward position" of trying to determine a sham candidate from a legitimate one.
Either way, Scodro said, the allegations of fraud were put before the voters, who clearly chose Madigan anyway. "The public knew the truth here," he said.
In the criminal investigation, federal prosecutors have alleged an elaborate bribery scheme by Commonwealth Edison aimed at influencing legislation in Springfield by making payments to Madigan associates and approved lobbyists, some of whom did little or no actual work for the company.
ComEd was charged with bribery in July and has entered into a deferred prosecution agreement with the government, agreeing to pay a record $200 million fine and cooperate with investigators in exchange for the charges being dropped in three years.
Fidel Marquez, the company's former chief in-house lobbyist, pleaded guilty in September to bribery conspiracy and is cooperating with investigators.
Madigan, the nation's longest-serving speaker and Illinois Democratic Party chairman, has denied any wrongdoing and has not been charged.
---
Can you answer these real 'Jeopardy!' clues about TV shows?
Get Government & Politics updates in your inbox!
Stay up-to-date on the latest in local and national government and political topics with our newsletter.