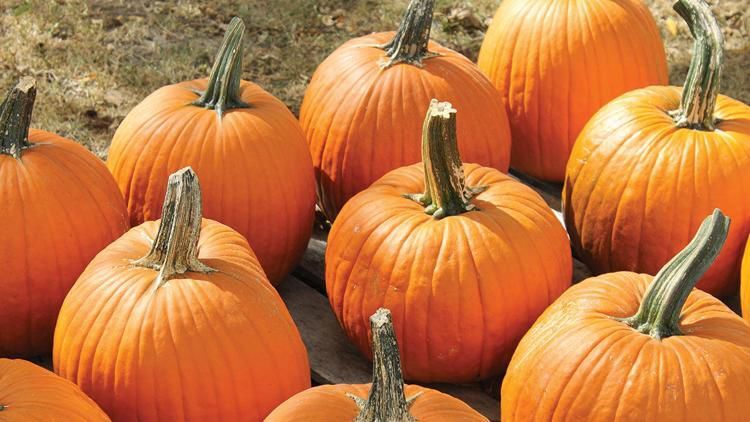 Peter Peter Pumpkin Eater had the right idea.
"Pumpkin is a super food," said Mary Liz Wright, a University of Illinois Extension specialist.
Illinois is the nation's No. 1 producer of pumpkins. More pumpkins are grown in the state than in the five other leading states, according to the USDA.
It is one of the few fruits that is known as much for its appearance as its culinary characteristics. Jack-o'-lanterns grace the front porches and yards of homes and businesses. The meat from those can be used in recipes, but Wright doesn't heartily recommend it.
"You will be a little disappointed," she said. "And if you're using a Jack-o'-lantern that you've cut a face into and set a candle in and it's set out a few days, you're talking about a food safety issue."
Varieties grown for decoration are bred for structure, size and color, not flavor or consistency.
"It's like the difference between your garden tomato and how wonderful that tastes, and that cardboard-reddish ball you buy at the grocery store," Wright said.
"There's quite a bit of difference," said Nathan Johanning, an Extension educator who specializes in small farms and food systems. "Jack-o'-lanterns are orange. Processing ones are tan or buckskin in color. They're more elongated. When you cut one open, though they don't look showy on the outside, inside they're very bright orange. That's why canned pumpkin has such bright color."
Botanically, Jack-o'-lanterns are of the species cucurbita pepo, while those grown for processing are cucurbita moschata.
"It's more in the butternut squash family," Johanning said. "The flesh is more smooth, not as stringy. It has a richer flavor. I've known some people who cook up jack-o'-lantern-type pumpkin. But the others have higher flesh quality."
The Illinois crop has been good, but not great this year. As always, growers were forced to deal with troubles that follow pumpkin planting.
"The crop overall has been good to average," Johanning said. "There have been some disease issues with all the rain. It put a pretty good hurt on some of the pumpkins. You had to be on top in management."
The agritourism element has been very good, something Johanning attributes to the summer cabin fever many people have suffered during restrictions related to the COVID-19 pandemic.
He heard of one farm that had as many as 5,000 people passing through on a single weekend.
Wright has fallen in love with an heirloom variety that was introduced to her by a grower who frequents a local farmers market near her home in Paris, Illinois.
"Winter Luxury is, hands down, the best-tasting pumpkin I've ever had," she said. "Once you've tasted this variety you won't go back to the canned. They're fabulous."
Consumers who want to save the flesh from those delicious fruits should focus only on freezing. USDA does not recommend canning pumpkin, even pressure canning, because there is not enough confidence that the center of the dense flesh will heat up enough to prevent the growth of botulism.
Instead, Wright recommends that it be cooked first, then frozen.
"I freeze it in freezer bags in amounts I use for recipes," she said.