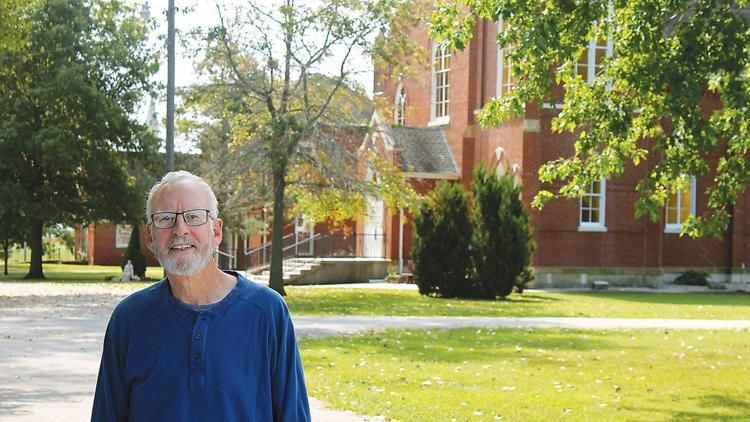 KASKASKIA — This town not only doesn't have a stoplight, it doesn't even have a stop sign.
Kaskaskia may be the smallest incorporated city in Illinois, with only 14 residents. Valley City, in Pike County, had 13 residents according to the 2010 census, but results of the 2020 census will determine which community will hold that distinction now.
But what Kaskaskia lacks in population, it makes up for in history.
This tiny burg played a big role in the Revolutionary War, when George Rogers Clark captured the fort from the British, securing a large swath of Illinois country south of St. Louis. When Illinois attained statehood in 1818, Kaskaskia became the first capital.
Now there isn't even a retail business here.
"It's probably six or seven miles to a gas station," said Joe Vani, among the handful of residents who make this community their full-time home.
It is also a geographical anomaly. Besides being one of the tiniest towns in Illinois, it is also the only one that lies west of the Mississippi River. That is because years ago the river cut a new channel eastward, making Kaskaskia Island an enclave surrounded by land belonging to the state of Missouri.
A part of Randolph County, it was named for a Native American tribe that inhabited the region before European explorers made their way here.
Vani, a Chicago native, moved here in 2014 after purchasing a home on the island. His late wife, Claudia, was born and raised here. After he retired, Vani moved here to be halfway between his two daughters.
"It was just going to be a weekend place," he said of the home. "I bought it as a sentimental thing and I thought it's a nice place in between my daughters and their families. And it was a bargain. There are some real bargains here."
Real estate values fell following two major floods that nearly wiped out the town. The first, in 1973, drove many residents away, and 20 years later the Great Flood of 1993 chased more people out of the town.
"After the '93 flood it really went down," Vani said.
There were about 76 households before the '73 flood pushed many residents away. After the major flood in 1993, the population dried up.
Vani is familiar with every resident here.
"There are five in that household over there," he said, pointing to a house a few yards from his modest wood-frame structure. "This one down here, there were four of them living there, but he sold his place."
Vani met his late wife while attending Southern Illinois University Carbondale, about an hour southeast. He later worked at nearby Farmington Correctional Center, in Missouri, where he used his teaching degree to instruct inmates.
It is about the same distance to Chester, Illinois, as it is to Ste. Genevieve, Missouri, about 20 minutes. Visitors from Illinois must cross the Mississippi River bridge at Chester, then drive about 15 miles around the perimeter of Kaskaskia Island before reaching the town.
The centerpiece of the village is the Church of Immaculate Conception. An old building owned by the church once hosted a school. Next to the church is a miniature, self-serve museum that houses the so-called Liberty Bell of the West. The bell was gifted by French King Louis XV in 1741 and was rung after Clark and his men captured the fort here from the British.
"It's really peaceful here," Vani said. "There is an influx every Saturday, when people attend Mass. Last year, when the water came up, they used this as a place to make sandbags."
Be the first to know
Get local news delivered to your inbox!