SPRINGFIELD — Gov. J.B. Pritzker on Wednesday signed what's been hailed as nation-leading climate legislation that aims to wean Illinois off dirty power sources like coal and natural gas by 2045 and towards 100% renewable electric generation by 2050. 
With the Chicago skyline — piercing the deep blue sky above and reflecting the glistening water of Lake Michigan below — as a backdrop, Pritzker put his pen to the 958-page bill surrounded by environmental advocates, labor allies and state lawmakers. 
"We can't outrun or hide from climate change – not to the north, where the Boundary Waters burn; not to the south, where Ida swallows lives and livelihoods in the blink of an eye," Pritzker said. "There is no time to lose. Thanks to the Climate and Equitable Jobs Act, Illinois is taking action in the fight to stop and even reverse the damage that's been done to our climate."
While welcomed as a step forward in the fight against climate change, concerns remain over the impact the law's decarbonization goals will have on downstate Illinois. Some say the region is being left behind, though others insist it got the best deal it could hope for. 
"Downstate Illinois was completely forgotten and ignored, as is often the case here in Springfield," said state Sen. Terri Bryant, R-Murphysboro, speaking just before the legislation passed the Illinois Senate on Monday. 
Familiar divisions rekindled 
The Chicago-downstate divide is a frequently invoked theme in Illinois politics, reflective of the larger urban-rural divide across the country.
Though overused with a tendency to generalize, there's perhaps no place more appropriate to invoke the theme than in energy policy with the state literally divided into two different energy markets. 
Northern Illinois, the area serviced by Commonwealth Edison, is within the PJM Interconnection and downstate Illinois, Ameren service territory, is within the Midcontinent Independent System Operator.
There is a vast divide between the Illinois' two regions as five of Exelon's six nuclear power plants are in PJM territory, giving Northern Illinois a vast source of carbon-free baseload power, a luxury coal- and natural gas-heavy central and southern Illinois do not have.
MISO Region 4, which encompasses Ameren's Illinois territory, is already a net-importer of energy from other states. As the region transitions away from carbon-based energy to renewables like wind and solar, grid reliability has become a source of concern. 
"It's definitely different in the Ameren territory than ComEd because all the coal plants could shut down in Northern Illinois tomorrow and we'd be fine," acknowledged Jen Walling, executive director of the Illinois Environmental Council.  
However, Walling said that central and southern Illinois stand to benefit from the buildout of renewable resources meant to replace coal and natural gas, with the "vast majority of utility-scale solar and wind" to be built in the region. 
The law includes about $350 million in increased subsidies for renewable energy projects, funded by an increase in monthly utility bills. 
The goal is to get the state from renewables making 11% of its energy portfolio to 40% by 2030, 50% by 2040 and ultimately 100% by 2050.
The law also contains provisions encouraging the development of both small-scale and utility-scale solar projects. Included is a coal-to-solar initiative that dedicates renewable energy credits to bidders who develop coal plants and mines into solar fields. 
Though the legislation calls for the shuttering of all privately-owned coal-fired plants by 2030, the vast majority have already closed, with more slated to close no later than 2027. 
"Coal is on its way out," Walling said. "And I think the benefit of this legislation, particularly to downstate, is that it helps those communities where coal plants are closing have resources to sustain themselves."
Among the resources is up to $40 million in grants for communities with closing or closed power plants or mines, which would address economic and social impacts of the energy transition, including replacement property taxes.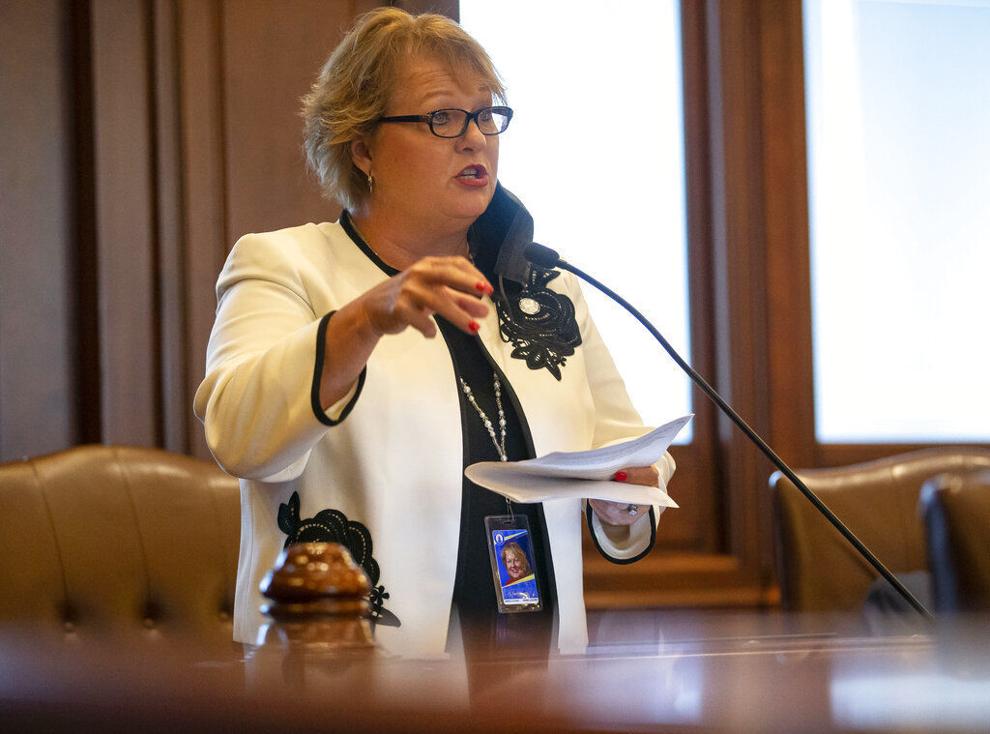 There is also a displaced energy worker "bill of rights" that would give workers advanced notice of a plant or mine's closure and direct them to available resources.
'We'll push back as necessary ...'
But even with the economic, environmental and social promise of wind and solar, many are still concerned about reliability of the grid, noting that the renewable sources are intermittent, meaning they are not available all the time. 
Eric Hobbie, CEO of Prairie Power Inc., a wholesale electricity provider to 10 cooperatives in Central Illinois, said he is taking a wait-and-see approach.
"We'll push back as necessary to make sure we maintain the level of reliability and affordability that our members and really American society expects from the electric grid," Hobbie said.
Hobbie said that with more renewables on the grid, "units like Prairie State and other gas turbines obviously won't be needed as much, but they may be critically needed during these other times" when renewables alone cannot meet peak demand. 
To ease some of these concerns, the Illinois Commerce Commission, the Illinois Power Agency and the Illinois Environmental Protection Agency will conduct a study every five years on the development of renewable energy to ensure grid reliability.
"I think it's very legitimate, and so we built that into the bill," said state Rep. Jay Hoffman, D-Swansea, speaking on reliability concerns in the MISO region. "There are reliability checkpoints every five years. That was very important to all of us because we want the lights to go on, we want the heating and air conditioning to work."
Downstate lawmakers conceded that the law is not perfect, but is much better for the region than some initial proposals. 
One of the key holdups in negotiations was the status of the Prairie State Energy Campus, a 1,600-megawatt coal-fired power plant about 40 miles southeast of St. Louis that supplies electricity to several cities and co-ops across the state. 
Earlier proposals called for Prairie State and the coal-fired plant operated by Springfield's City Water, Light and Power to be closed by 2035 if they couldn't achieve 90% carbon capture by 2035.
In the version lawmakers approved, plants would also have to meet an interim reduction goal of 45% by 2035. If they do not achieve that, they would have three years or else would have to take one of their units offline.
The publicly-owned coal plants will have to shutter unless they can meet 100% carbon reduction by 2045, which is not currently feasible. 
But illustrating how far negotiations advanced, Prairie State and CWLP went neutral on the final bill, freeing up several lawmakers to vote for the package and ensuring its passage. 
"In the spirit of compromise, we have taken a neutral stance on this legislation, not because it is exactly what we want but because we are dedicated to achieving the highest degree of certainty for the people this legislation most impacts — our member communities and our workforce," said Alyssa Harre, spokeswoman for Prairie State. 
"Of all the proposals that were considered in the House in those final days, this final legislation ... gave us the most flexibility of any of the alternate proposals," she continued. 
Harre said Prairie State would continue to explore carbon capture technology in an attempt to remain one. 
Electric vehicle factor 
The legislation also sets the goal of 1 million electric vehicles in the state by 2030, offering a $4,000 rebate to those who purchase them.
Though the legislation currently only calls for Chicago area residents to have access as they pay into the fund that will be used for the program, Pritzker said the rebate will be made available to everyone in the state. 
Between all the bill's provisions, proponents estimate that ratepayers will be on the hook for additional $4 to $5 on their monthly bill. The American Association of Retired People, which opposes the bill, puts it at $15 per month. An analysis from Crain's Chicago Business puts it somewhere in between.
"With any major legislation in Springfield, there are tradeoffs, and Governor Pritzker's new state energy law is no different," said Richard Mark, chairman and president of Ameren Illinois, in a statement. "It will enable continued investments in modernizing Illinois' energy grid – the poles, wires, and technology that deliver the reliable energy needed to power homes and businesses; and it contains provisions to increase production of affordable renewable energy in Downstate Illinois – including construction of additional large scale solar facilities."
Mark said there will be some programs "likely to benefit some customers, but will be paid for by everyone."
"Energy bills will increase to pay for these new programs as Ameren Illinois will be required to pass new mandated costs on to our residential and business customers," he said. 
---