MCCLURE -- A few weeks ago, Keith Benefield and some of his friends were riding their ATVs on Horse Creek Trail in the Shawnee National Forest.
They were stopped by a forest ranger, and his two friends were ticketed and their ATVs impounded.
Benefield now wants to push the issue of allowing ATV use on some trails in the national forest, noting that it is a recreational pursuit for some people and can lead the state to a great burst in revenue.
"We ride, and there is no place for us to ride (in national forests) in the state of Illinois," Benefield said. "No place, really, legally."
Currently, the use of all-terrain vehicles (ATVs) in Shawnee National Forest is only available through a disability permit program, spokeswoman Amanda Patrick said.
Benefield and some of his friends took their concern to U.S. Rep. Mike Bost, R-Murphysboro, when he made a stop in Cairo a few weeks ago. A spokesman for Bost said the representative is beginning to look into the issue.
Environmentalists, such as Barbara McKasson of the Sierra Club Shawnee Group, are opposed to any thought of allowing ATV use in the national forest.
While Benefield and his friends might be responsible people, not everyone who uses an ATV is, McKasson said.
"Not all ATVers are responsible, and if you look at other areas where ATVs are allowed, they denude the greenery, they just make a mud hole out of places that they use," she said.
What if the ATVers had a special area, away from horseback riders, bicyclists and other pedestrians just out to enjoy a bit of nature?
"Why should we have to sacrifice an area in Illinois for the ATVers coming down here?" she asked.
Even though Benefield proposes that the national forest could make money by allowing recreational ATV use, McKasson said the Forest Service is ill-equipped to patrol and police the area.
You have free articles remaining.
Keep reading for FREE!
Enjoy more articles by signing up or logging in. No credit card required.
She points to an incident in which she and other others were on a Sierra Club-hosted outing and found themselves harassed by two men on ATVs in the forest. As a man in her group attempted to photograph the two ATV riders, one of them tried to remove the man's camera from his neck, she said. The two men were charged with assault, but they were not found guilty in a subsequent trial, she said.
"Illinois is about No. 48 or 49, way low down on the list, on the amount of public land that we have in this state, and we really need to protect what little that we have," McKasson said. "There is less than 2 percent that is protected (land)."
Unmanaged use of recreational activities, such as ATV use, is one of four cited threats to the national forests, according to the USDA Forest Service.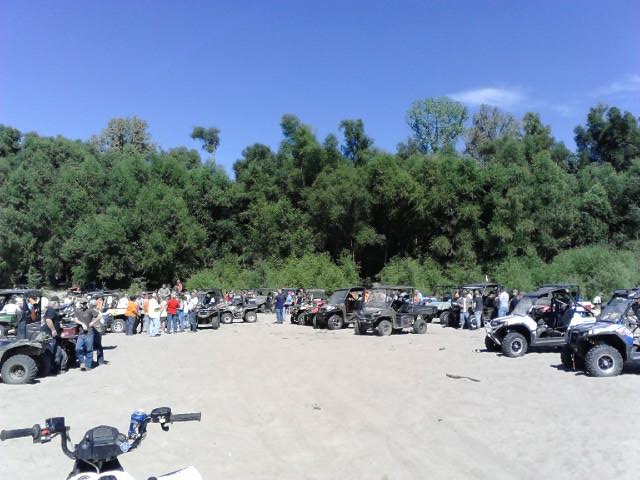 National forests can have such varying laws regarding ATV/OHV use because they have different types of land and soil, said Ken Arbogast, public information officer for Michigan's Huron-Manistee National Forests. That forest has set aside 450 miles of trail for ATV use.  
Benefield points to some national figures to support his point, noting that national forests in surrounding states have trails for ATV and OHV use.
For instance, Kentucky's Land Between the Lakes, a 17,280-acre national recreation area also managed by the Forest Service, allows ATV use on the 100-mile Turkey Bay Trail.
Tennessee's 650,000-acre Cherokee National Forest relegates ATV use to the 12-mile stretch of its Buffalo Mountain Trail No. 29.
He points to what other neighboring states do: Michigan's three national forests all allow OHV use on selected trains. Indiana's Hoosier National Forest does not allow OHV recreational use on its trails.
Another area he has driven on is West Virginia's Hatfield-McCoy Trail, home of the annual Hatfield-McCoy National TrailFest. A report completed this past July indicated that the trail generated more than $22 million income for the state.
"People will come to places like that and spend their money for the weekend or week of vacation and ride and just have fun with their families and friends," Benefield said.