Gordon McKenzie has graciously opened the door to his home. Guests get there in about 28 steps, following him along a narrow, meandering trail of crushed weeds, pushing past overhanging young tree limbs and stepping over brush, brambles and briers, to arrive at a small clearing in the wooded area.
Home. There it sits, a red and gray camping tent nestled under a thick canopy of sassafras and sweetgum trees. A decompressed air mattress and what looks to be a discarded comforter, soaked and muddied by the recent rains, is the entranceway to his tent. He lifts the tent door to show his beige twin-size air mattress. He holds up his "grill," a small handheld item that he uses to heat foods, and points out his "shower," a portable shower, a silver backpack-looking item hanging from a tree.
McKenzie is among the population of people who are homeless and who live outside, in the elements, in wooded areas, parks and elsewhere in Southern Illinois. It is hard to get a true accounting of the size of this population, but the BCMW Community Services in Centralia documented 346 homeless people in January, 30 of whom were "unsheltered."
"Unsheltered" is a term used to describe people who do not use shelters and are typically found on the streets, in abandoned buildings or "in other places not meant for human habitation," according to sources at the U.S. Department of Housing and Urban Development.
McKenzie lived in his tent for about seven months, since shortly after he moved to Illinois to stay with a relative; that situation proved unstable for McKenzie and he left, first sleeping outside on a street. He decided to not live near or with other mini-communities of homeless people who also live outside. He showed off his home, but the day after checked himself into a local shelter, because he was concerned about long-running pain in his legs and knees.
"I hate it," McKenzie said about his living situation, his hair, dark at the roots, fading into dyed red-blonde ends. "I mean I'm just laying there with nothing but mosquitoes coming near me.
"I just hate listening to mosquitoes," he said. "It's more than mosquitoes, it's locusts. … Where I'm at is just so peaceful, except for the insects making all that noise."
How many homeless?
The count for the homeless was conducted on a single day this past January. The 346 people who workers counted are 21 people more than the count in January 2014.
These numbers are forwarded to the U.S. Department of Housing and Urban Development, which produces an annual report on the homeless population.
In January 2014, Illinois workers counted 13,107 people as homeless. Across the country, almost half a million people — 578,424 individuals — were counted as being homeless.
According to HUD's 2014 homelessness report, the states with the largest percentage of homeless were: California, 19.7 percent; New York, 13.9 percent; Texas, 4.9 percent; Florida, 7.1 percent; and Georgia, 2.8 percent. Illinois's 13,107 people were 2 percent of the total counted homeless.
Sue Hirsch, a spokeswoman for the Shawnee National Forest Service, said she was not aware of any homeless people staying on National Forest lands, but noted that people are free to camp in the General Forest Area for up to 14 continuous days. Much of the Shawnee National Forest is open to camping, whether it's inside or outside a developed campground, she said. There is no fee to camp in the General Forest Areas, -- in other words areas outside of campgrounds -- she noted.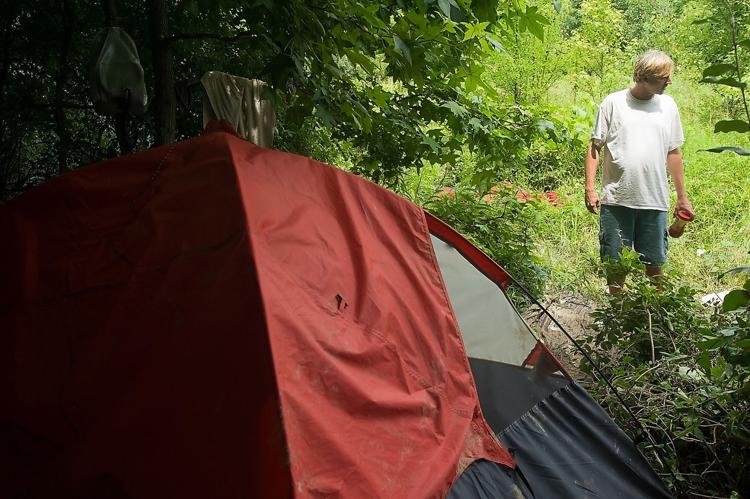 Others, such as Peggy Russell, executive director of the Williamson County Family Crisis Center, a shelter in Herrin, said she was not aware that the facility had served anyone who lived previously in any of the area's wooded areas. She noted the shelter, though, had served about four individuals in the past few years who had previously slept outside, in Carbondale-area parks or the campgrounds near Crab Orchard.
Another man, who said he sleeps outside in an 8-by-10 foot doorless shed behind his ex-wife's house, attempted to show what he said was another wooded site where homeless people live. He led the way to the site, walking along a narrow path of flattened grass in the thick underbrush. Once in a clearing, he stopped and yelled out to a higher ridge where he said some homeless live, but no one responded.
Walking to the site with him was Cathy Talbott, who has been homeless in the past. Talbott is a co-host of Occupy The Airwaves radio show on WBDX and is working with the Sparrow Coalition, a new initiative representing professionals, homeless and formerly homeless people and others who are addressing issues of poverty, especially, homelessness, in the area. She listened to McKenzie and another man share part of their stories about how they became homeless.
"I think you can see the despair," Talbott said.
Before they were homeless
Though it might be easy to consider those who are homeless as having always been homeless, that is not the case.
The man who led the way to the wooded homeless site worked for 30 years for a major company, earning awards for leading an efficient team and for using few materials to produce products, before his job was eliminated. Unable to find more work, he eventually lost his home and his vehicle, he said.
McKenzie said he came of age in the lap of virtual luxury in Yazoo City, Mississippi. His father was one of four partners in a casino business and his mother owned a pawn shop. 
He'd planned to join the U.S. Marines after high school, but those plans faltered after he did not graduate.
After his father's death in the summer of 2005, he said, his fortunes started to change — for the worse.
He wound up traveling to Kentucky, where he met people who convinced him to cash a check they were allegedly trying to hide from a friend. He agreed, receiving $2,700 for his help. But the check was a fraud, and he was charged and wound up being sentenced to prison for 18 months.
He said he has survived on the warm meals served at a local soup kitchen and on items picked up from the food pantry at a local church.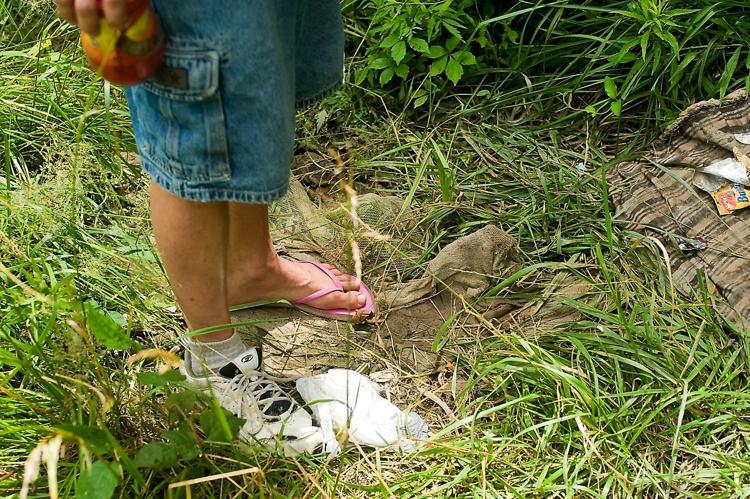 He rations the food he gets from the church's food pantry, saying it amounts to nothing more than junk food. He said he has gone to the hospital at least twice, diagnosed as suffering from malnutrition.
Another man who appeared to be in his late-20s or early 30s was listening nearby.
"They're doing what they can," he said, in defense of the local church's food pantry.
"That's what I live off of and that is what has really caused my health to go down," McKenzie said.
He expects his situation to improve and is hoping he is approved for Social Security disability benefits. He also talked about relocating south to the Gulf Coast area, where he sees himself supporting himself with fishing and other jobs.
"I guess I won't live in the woods every day," he said. "I'll get into a place and that's where I'll be."
Another man who lives outside clarified that he does not live in the wooded areas.
"Technically, I live porch-to-porch," the man, 53, explained. He points to a house nearby that appeared deserted, noting that he would sleep on the front part of houses like that, that appear abandoned or empty.
He said he's been sleeping outdoors since the boyfriend of his ex-girlfriend made him leave her truck, which is where he slept this past November and December. He said the reason she didn't allow him to sleep inside her house was because she was living in a small storage facility that her new boyfriend was allowing her to live in, he said.
He said that he used to have a home and a vehicle, but regularly helped his girlfriend, who had a drug problem, with her financial needs. He eventually lost his home and his truck.
He, too, is not in the best health.
He pulled down his shirt to show a 2-inch scar on his left breast from a surgery to install a defibrillator.
"He needs to be in a home to take care of himself," said Tina Chappell, a former homeless person and advocate who lives with a woman who befriended her.
What's next?
One micro-solution would be to extend the 30-day limit that some shelters impose, said Joshua Phillips, whose dissertation work chronicled the experiences of 10 people who were homeless. That, he said Friday morning — reiterating the main suggestion he shared in a presentation in Carbondale on Tuesday night, would allow more time for people seriously working to leave homelessness to strengthen the areas in which they need work.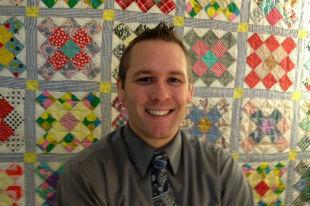 A more lasting solution, a macro-solution, entails politics, which Phillips said he tends to avoid when discussing issues of homelessness.
The two major political parties need to come together on the issue of homelessness, he said. 
Part of the macro-solution, Phillips said, is to create a homeless shelter with enough room for every person who is homeless.
"Liberals very much want to supply more and more resources," he said. "Republicans hold this position that people need to be held accountable."
"What I say is I'm going to make every resource available to you, but I'm also going to hold you accountable because you are an adult," Phillips said. "I think some people get afraid of criticizing the homeless and afraid of holding the homeless accountable, because it is a very vulnerable population and it is a terrible life that they have to live, but these are some hard decisions that we have to make."