My sabbatical is over. With the current and upcoming market action, it is time to get back in the saddle and inform investors and traders what's to come.
Since 2002, I have educated many on how Wall Street works. As the founder of my (previous business) Eye on the Market-Training Academy and associate professor emeritus of finance at John A. Logan College, my goals have been to empower investors and traders how to build financial wealth.
I am not an adviser or a broker, but an active investor/trader, financial analyst and educator. In this column, I will show what goes on behind the curtain and discuss what Wall Street does not want you to know.
So why am I back writing this column?
This year and the next decade will be pivotal for many investors and traders. What worked in previous decades may not be successful during the 2020s. In addition, with the current bull market getting long in the tooth, and a recession somewhere down the road, without proper risk management, many may be wiped out after the next bear market begins.
Those beginning or nearing retirement cannot afford to see their much-needed retirement funds go down 40 or 50% like what happened to many in 2000 and 2007. How did the one-size-fits-all, buy and hold strategy work for them?
To help put this in perspective check out the numbers. See chart for additional recovery data.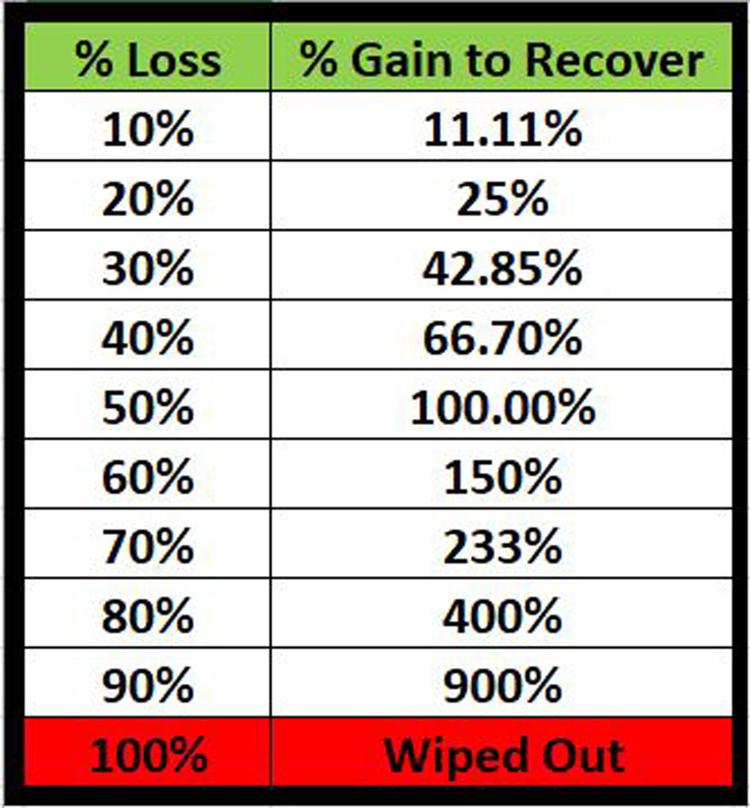 Recovering from a 40% loss requires a 66%-plus gain.
Recovering from a 50% loss requires a 100% gain.
Recovering from a 60% loss requires a 150% gain.
So, many may be asking, "David, with all the financial analysts, why follow you?"
You have free articles remaining.
Well, here are seven reasons:
First, challenging street corner brokers and so-called market gurus is no problem. In 2015, I put my career and reputation on the line and challenged CNBC's stock picker Jim Cramer and his "49 stocks to buy now." Using my proprietary "Simple Simon" system, I determined the majority of his "buy right now stocks" were not quality picks. One year after my challenge, only 14 of his 49 picks were in the green. People from coast-to-coast learned about the risk of blindly buying "stock picks" without a proven system.
Second, in early September 2008, using my system I warned there was a financial storm coming, and it was time to take profits. Two weeks later, on Sept. 29, the Dow dropped 770 points, 7%, in one day. Those advisers and brokers who made fun of my call were not laughing after the huge drop — nor were many of their customers.
Third and more recently, in early October 2018, using my proprietary systems, I saw market conditions similar to previous market corrections. On Oct. 10, 2018, I once again put my reputation on the line and distributed the following to the media: "I will go on record and state, we are in a prime position for a ten percent correction in the upcoming weeks," and included seven reasons why. The Southern ran the story Oct. 12, 2018. From Oct. 10, 2018, to Dec. 26, 2018, the Dow Industrial dropped over 4,720 points, more than 17%. My followers that knew what to watch for and acted, prospered during this downturn.
Fourth, I am not a licensed broker or financial planner and do not plan to be one. Please do not waste your time contacting me to be yours. I do not sell annuities, mutual funds or any other securities. Therefore, high commissions, management or revenue sharing fees does not bias my writing and is not a factor.
Fifth, I develop proven trading and investing systems and will provide them, free of charge, here in my column.
Sixth, as discussed previously, there will be many risks and opportunites this year and ahead. My goal is to help to educate you so you will not be in the camp with the rest of the herd saying, "I wish I had known!"
Last, Wall Street has been extremely successful making investing intimidating. I want to show you how investing can be simplified and fun.
Making money without a proven system is tough. According to Bob Pisani CNBC.com on March 15, 2019, 92% of high-fee, actively managed large-cap funds did not outperform (last 15 years) the market. This also goes for many do-it-yourselfers chasing the next hot stock tip along with those unable to conquer fear and greed.
In the weeks ahead, I will be answering your questions and discussing popular topics like identifying signals during the previous market tops then comparing them to now, plus much much more.
So, where do we begin? Next week, I will introduce new terms and analyze a Wall Street mantra: "Don't worry, the market always comes back." This is a very popular mantra with many brokers to convince customers that "buy and hold" is the only way to go.