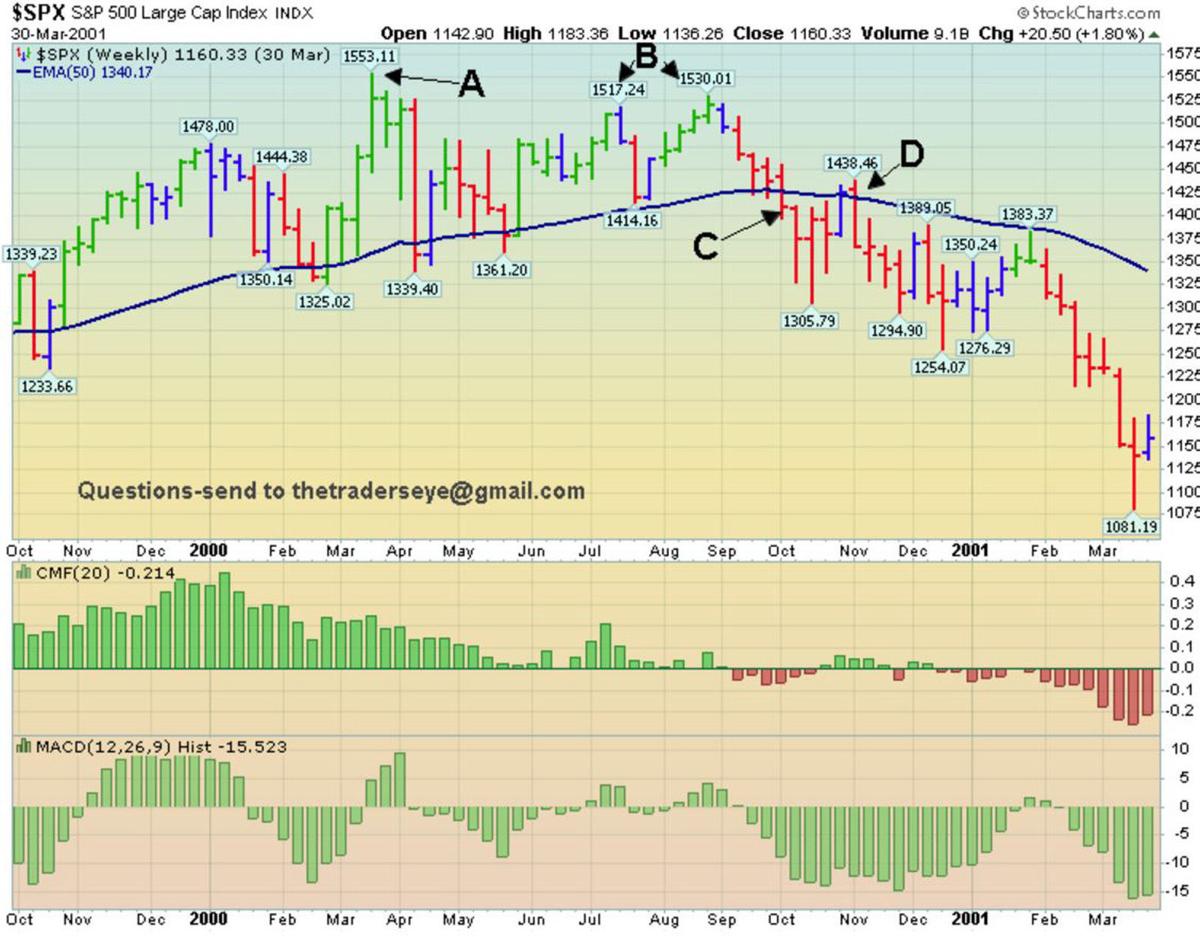 "Give me six hours to chop down a tree and I will spend the first four hours sharpening the axe." — Abraham Lincoln
Today, I'm going to begin a new series.
To answer a question: Were there signs or tools during previous market tops signaling it was time to lock in profits and move into safe haven investments?
I will examine two most recent market tops, 2000 and 2007, plus the 2015 correction, then apply it to where the market is now. I designed a chart using four items, the value of the SPX (Standard & Poor's 500), my buy/sell signal line, money flow and a momentum indicator. There's no need to make it complicated.
Many analysts design charts, but then change indicators to prove their points. I am not in that camp and will use the same indicators in each analysis. If these indicators do not work, it will be apparent and I will identify as such.
For some, this is an introduction to charting and will be saying the same thing that I did before I began — "What the heck is this?" All I ask is to follow along with the minimal goal of picking up one point per column. Stick with it. After a few columns, it will begin to make sense — and hopefully dollars and cents.
First, let's learn the players. The charting system I use is the Elder Impulse System, which is from the highly respected Dr. Alexander Elder. The value/price is represented by three colors: green, blue and red. They are called impulse bars. I read green bars as buying, blue as neutral, and red as selling.
Next, learn the importance of watching money flow in and out of a security. While many indicators try to hit this goal, I use the Chaikin Money Flow, developed by Marc Chaikin. I read green bars above zero as money moving in and red bars as money moving out.
Finally, always use another indicator for confirmation. In the bottom box, I feature the MACD Oscillator developed by Dr. Gerald Appel. I use it similar to the money flow, with bars above the zero line as money moving in and below the zero line as money moving out.
Per my chart, in mid-March 2000, the SPX made a new high (point A) at 1553, then profit taking hit until making another run (point B) and failed to make a new high with both attempts.
In September 2000, the SPX broke down through my blue signal line, the 50 period exponential moving average (point C). At the same time, the money flow was negative, along with the MACD. With all three hitting, this gave an official sell signal with my system.
After an official sell signal, the SPX continued to sell off until mid-October, then buying came in and the SPX closed above the blue signal line. So, was this time to buy back in? No, because although there were green money flow bars the important confirmation indicator (MACD) remained negative.
After the failed rally attempt, the SPX continued and eventually dropped 50% from the March 2000 (point A) high.
So here are the action Points:
First, are you aware of the different tools available to signal market tops?
Second, are you tracking your holdings to see if they are topping?
Wall Street, including the majority of brokers and financial planners, make money with clients being in the market no matter which direction the market or portfolios are going. Smart investors make money with what they own and when they own it. Which group are you in?
After 10-plus years of the current bull market, eventually it will top and sell off — it cannot run forever. The problem? No one knows exactly when or even why. In addition, if we have an exogenous event, meaning something tragic from outside the market leading to large-scale prolonged panic selling, then you can throw this set-up out the window. 
Next week, I will use these same indicators and system to see if it works to signal the market top in 2007. That will leave you better prepared for when it happens again.
DAVID O. ENGLAND is an investor/trader, financial analyst/educator/lecturer and associate professor emeritus of finance. This column is for educational purposes only and not intended as financial advice. Past performance does not dictate future returns. Questions? Send them to thetraderseye@gmail.com.
Catch the latest in Opinion
Get opinion pieces, letters and editorials sent directly to your inbox weekly!