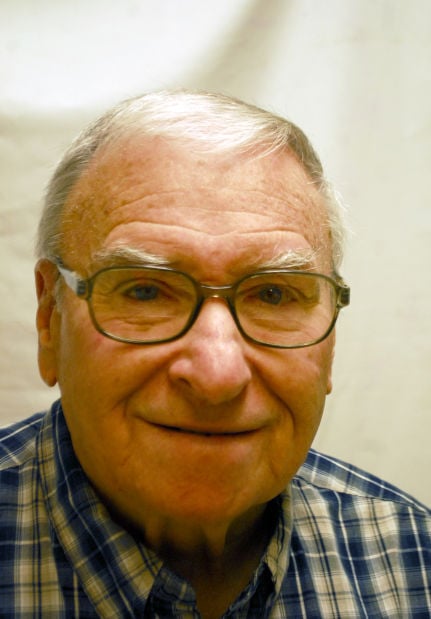 Surely, the Republicans' vote to take away Liz Cheney's position as the chamber's No. 3 GOP leader for speaking on the side of truth is almost unbelievable.
This talk came about when she refused to say Trump lost the election because it was stolen from him, and scolded him for instigating the Jan. 6 Capitol attack. It has been proven that nothing was stolen from Trump many times over and was on film when he said, "I'll walk with you," along with other strong statements he made just before the Capitol attack.
Can you believe that these squirrels in the cult party are still pushing their dictator's lies, as he did when in office. He acted out the small child syndrome — "Do as I say, or I'll take my marbles and go home" — for four years, and now his cult followers are doing the same, when they dictate to Liz Cheney, what to say or not say.
Desperation can appear in many ways, and with this picture, it appears that to demote Liz is showing a drastic side of desperation. This is not only ridiculous but the reasoning is quite disturbing. Liz Cheney is doing what we constituents want all our politicians to do: Tell the truth. It is frightening to think that lying is being promoted by these vultures, and they are in a position to spread such nonsense. I was always taught that lying was a sin, and still firmly believe it.
A Republican made this statement: "It will take four years to undo all the wrong that the Democrats are now doing."
I'm not sure what he was talking about, for he was not specific in his statement, but enough was said that leads me to believe he was talking about the stimulus package, U.S. and Mexican border policies, and foreign policy.
I believe most Americans was for the stimulus package, and the change in the border and foreign policies. Showing humane feelings, and showing them by action is good. A humanitarian act is what the Democrat's stimulus package and U.S. and Mexican border changes is all about.
Trump suffers from narcissism, an excessive admiration of oneself. He also believes that he is always right and all others are wrong. His thinking puts him in a state of mentality, to where he wouldn't listen to any of his advisers.
Trump is no longer president. We shouldn't be talking about a has-been, but here we are, still mentioning his name. I believe he will be recorded in the history books as a lair and will show little accomplishments.
His lack of concern for the pandemic was an example of his interest for our country. My judgment on his performance, he failed. It is apparent his cult followers believe differently. God help us.
Liz Cheney is to be congratulated and admired, on her upholding of the truth against huge pressure that she no doubt has been put through. She will shine above all, for the truth speaks for its self. Her father was vice president and a top politician in our government for many years and was never politically blemished with a bad reputation. She follows in his footsteps.
What a shameful position for our country, that many Republicans in office are still worshiping, and being lead by such a man that lost the last election. It might have been close, but he lost. Many elections in our country have been close, but the loser has always taken it in hand and moved on. Not Trump, he would rather continue his lies, that the election was stolen from him. The dangerous part of this charade is we are still being lead by a man we voted out of office because we didn't like his performance and leadership wrapped in lies. But his strong dictation to the cult party, and their worship for him, puts every American under the gun, like it or not, his false and phony statements, coming from his mouth, will still have an effect on us as long as his cult continues spreading and obeying his wishes. It's also frightening, to think that Trump still has many voters backing him.
Remember Jamestown, what are they thinking?
Charles F. Burdick is a lifelong resident of Grand Tower. After graduating from high school, he joined the U.S. Navy and then went on to a 42-year Maritime career including 35 years as Master Pilot. He has been retired for 27 years and enjoys local history and writing poetry.