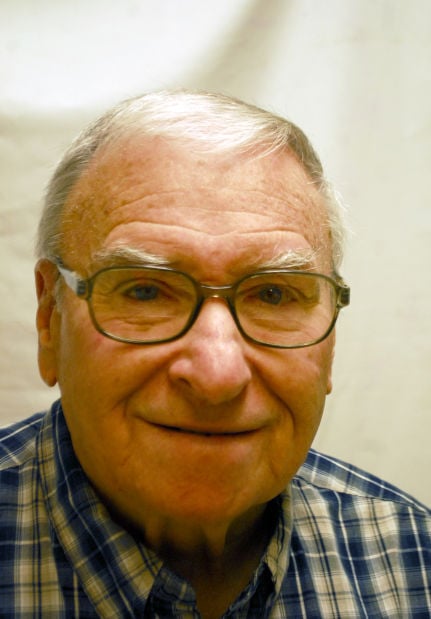 The Big Hill's south end lies about one mile north of Grand Tower and is surrounded by the Mississippi River on its west side and Route 3 on the east side. The town of Gorham is about one mile west of it.
Jackson County history tells us that Big Hill, at one time, was a township of its own and was platted as such in 1806. Because of its formation, Big Hill has attracted wide spread attention from geologist. Its great size merits, more than a passing notice. Its length is about five miles and its average width is over a mile.
The north end of this remarkable formation consists of a solid wall of rock, varying from one hundred and fifty to two hundred and fifty feet in height. This end of Big Hill is referred to as Fountain Bluff. Several springs are found on Big Hill, one of the most noticeable and popular is the old Boon Spring now kept beautified by its present owner, on Route 3, a short distance south of Happy Hollow Road. Jackson County history also tells us that it is the opinion of geologists that the Mississippi River once poured its mighty volume of water along a channel east of Big Hill, the side that Route 3 is on.
Rare plants have been found on Big Hill, not found any place else in the area. There are four cemeteries on Big Hill, the Goodbread, Boon, Henson, and Hudson — the Boon and Henson being the oldest. The Big Hill school was located at the corner of Turkey Bayou Road and Route three.
The Aborigine, the ancient dwellers that inhabited the Big Hill, left their mark with pictographs on the rock bluffs of Big Hill. They are a member of the earliest-known group of people to inhabit any country. The term comes from the Latin, ab origine and means, from the beginning. It refers to all first inhabitants, such as the Indians of the Western Hemisphere.
Such were the people who occupied this area and the whole of Southern Illinois. The history of Jackson County tells us: Never did a race inspire more romantic contemplation, or suffer more speedily and completely a disastrous fate. They perished when they came into contact with our civilization. Before they could be studied as men or as a nation, as families, or as tribes, either by their traditions and literature, by their customs and affinities, they had disappeared.
Their origin is a mystery. Their history is a myth. Their manners and customs are chiefly romance. Their language is mostly unknown, and their literature is a blank. A few mounds, some beads, a small variety of earth-made ware, stone hammers, implements for dressing skins, and now and then one of their own idols of religious worship, together with a few personal articles of luxury or dissipation, or ornament, are all of their domestic or public life left to us.
Jackson County history questions: Were they the lost Tribes of Israel, as some have argued? Were they Aztecs, akin to those who settled Mexico and perhaps Peru? Were they Mongolians, who crossed the Behring's Straits? Each theory has had ardent advocates; but no ingenuity has thus far obtained any key to this riddle.
The Mississippi Valley has supported human life for thousands of years. Around 500 A.D., when the Roman Empire was crumbling to bits, the Mississippi culture was springing up in Central North America. These people inhabited both sides of the river near Tower Rock. They developed a rather complex society. They are often called the Mound Builders because they erected mounds, large and small, for many purposes. Some were home sites, others were temples and holy places, lookouts, granaries, and cemeteries.
These Indians must have been acquainted with Tower Rock; such a feature could not have failed to attract their attention, for many Indian legends speak of it.
The Big Hill is a fascinating and beautiful place.  I was born on this hill in a log house, and had the opportunity to move about, over most of its eight square miles as a boy. Happy Hollow Road leads to the top of it, and one can see several miles up the Mississippi River from that area. On the west and south side of the Big Hill, one will find some dangerous cliffs. Prehistoric man must have loved it.
Charles F. Burdick is a lifelong resident of Grand Tower. After graduating from high school, he joined the U.S. Navy and then went on to a 42-year Maritime career including 35 years as Master Pilot. He has been retired for 27 years and enjoys local history and writing poetry.