After Southern Illinois University Carbondale and the rest of the region were blindsided last month by a $5 million reallocation threat to campus and the associated $39 million threat to the region, the SIUC community has been wondering, "How did we get here?"
Budget-related documents acquired through the Freedom of Information Act show that SIU President Randy Dunn actively concealed from SIUC Chancellor Carlo Montemagno his plan to transfer $5.125 million from the Carbondale to Edwardsville campus. He sought to use the fictitious 60/40 split formula to — in Dunn's words in an email exchange with Vice President Duane Stucky, SIUE Chancellor Randy Pembrook and SIUE Budget Director William Winter — "shut up the bitchers from Carbondale."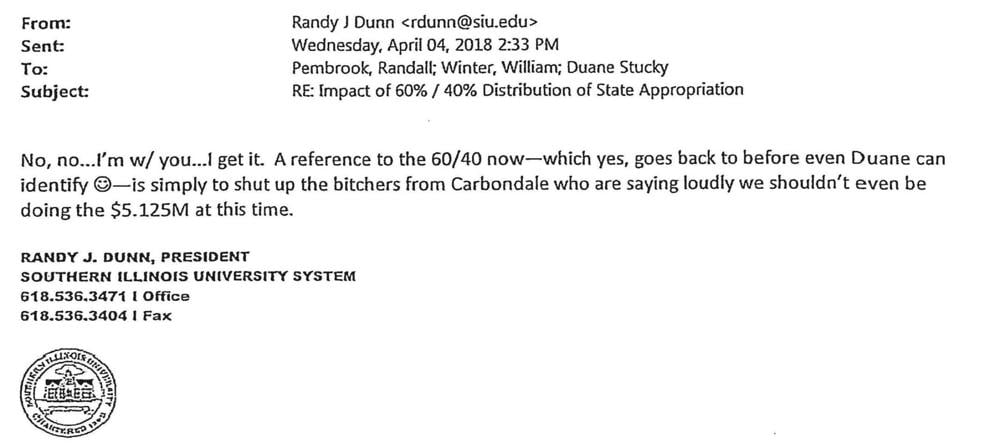 Randy Dunn's email reveals his contempt for the Carbondale campus and community, as he denigrates us for questioning the rationale, process and timing of the proposed reallocation move.
In emails and meeting notes, it is apparent that Dunn charged SIUE officials to come up with justification for a manufactured dollar amount — and Board of Trustees Chair Amy Sholar was in on the plan.
The proposed $5 million transfer
According to a document acquired through the FOIA, there was a March 19 meeting between Dunn, Stucky, Pembrook, Winter and Vice President Brad Colwell. Notes written about the meeting tell us a lot. Among them:
• "Dunn opined that the amount of transfer shouldn't be so large as to be easily rejected yet so little as to have no meaning," the notes read. "Ultimately, he suggested a number around $5 million."
• "He [Dunn] said Chair Sholar was in favor of proceeding as a first phase of shifting funds," the notes read.
• "He [Dunn] indicated it was important to move before the board vote may shift unfavorably for SIUE," the notes read.
• It was also noted that "Dunn also said this will somehow put the 'Carbondale trustees' in a spot since voting against it will be used as ammunition by the group that is developing SIUE separation legislation."
This tells us the $5 million was an arbitrary amount -- not based on any data, legitimate funding models, or management principles. Dunn fabricated the number for tactical purposes and to lay the groundwork for the system separation legislation — which was announced by the Edwardsville Chancellor immediately following the April Board of Trustees meeting.
In March, the SIU Board of Trustees discussed reallocation of funds to SIUE, and they voted to engage an independent consultant to examine the system's budget allocation formula. Had Dunn and Sholar acted in accordance with this decision, a consultant would have been identified, and there would have been an action item at the April meeting to approve the hiring of that consultant and outline the procedures for the review — not a reallocation proposal.
The myth of the 60/40 split
The 60/40 split is an illusion — a lie told so many times, it sounds like truth. How do I know this?
During the April 11 board meeting, when questioned by a board member in open session, Dunn admitted there was no documentation that supported the claim of a long-standing 60/40 budget model.
Further, FOIA documents released by SIUE show they and Dunn knew, dating back to 1973, there was never a time the allocation split between the two campuses was ever 60/40.
Dunn's Good Friday budget ambush
FOIA documents provide evidence that Dunn purposefully kept Montemagno in the dark about the reallocation proposal.
At the end of a March 28 email to Pembrook, Winter and Stucky, Dunn writes, "PS RP: I have yet to get Carlo briefed on what will be happening…I will be walking him through it all by Friday, before the agenda comes out, but heads' up that I won't be going there with our CEO call tomorrow."
Montemagno was never briefed on the reallocation proposal, becoming aware of it with the general public when the April Board of Trustees agenda was posted online on March 30.
In the meantime, Edwardsville leaders, legislators and the local media were all clued in to at least some aspects of the scheme before the Carbondale chancellor. SIUE FOIA documents show email correspondence about the reallocation proposal with the Belleville News-Democrat on March 29.
While he publicly projects a neutral stance, these FOIA documents reveal that Dunn directed the reallocation ambush and has at least been privy to the separation efforts. He is therefore responsible for key content and strategy aimed at dismantling the SIU system — the organization that he was hired to promote and build.
As a system, SIU is stronger, has a greater voice, further reach, and a more comprehensive mission. President Dunn and Chairperson Sholar know this, yet they have abused the public's trust and undermined the system to serve their own interests.
SIU and Southern Illinois should not abide such betrayal.
Kathleen Chwalisz, Ph.D., is co-chair of the SIUC Faculty Senate Budget Committee. She is a 25-year professor at SIUC, and former faculty senate president.