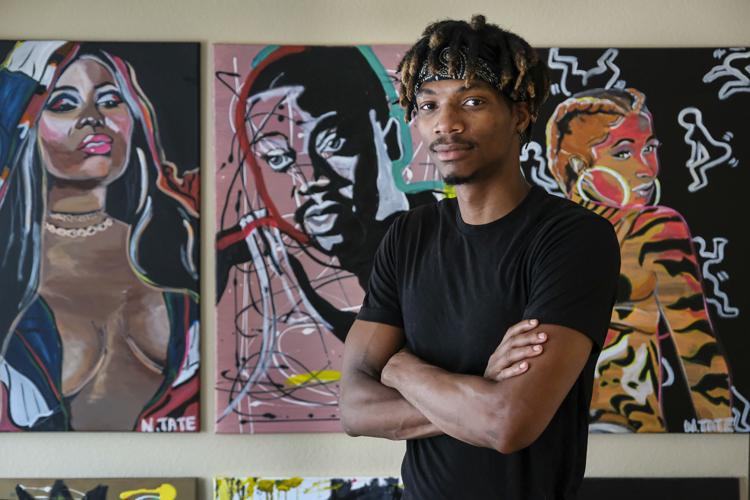 My name is Nicholas Tate. I'm 27, and I live in Du Quoin. Some may know of me now from the recent article on my art business, "Instagram is his gallery."
Since the article, things have moved pretty quickly for me. Reporters have reached out for interviews, galleries have booked me to display my work, and hundreds of people from all over the Southern Illinois region have added me on social media with dozens inquiring and purchasing work. Cloud 9 at its finest!
I have frequently been asked my view on the Confederate Railroad banning.
I thought back to a very recent incident and realized my story has a connection.
About a month and a half ago, I picked up a part-time job at the Du Quoin Fairgrounds as a campground host.
I check in campers for customers who come from all over the country to attend events such as horse rodeos, Street Machines, and the upcoming State Fair.
A few weeks ago, I had an incident with a drunk customer who called me a "boy" and told me they didn't want any problems when I simply asked if another customer paid for their camping spot.
In another incident just two weeks later, I asked a customer to move to another spot and was called a "f------ n-----."
My superiors are supportive, but I chose not to escalate the situation. I didn't want anyone kicked out. I just wanted to go home early.
And it really made me want to quit, something I'm still debating.
After the first incident, I went home pissed ranting about racial issues on social media, and my mom and I got in a conversation about Confederate Railroad.
Afterwards, we agreed everyone is making it a racial issue and much bigger than what is actually is.
As a local, the boycott makes no sense to me. Why is the fair being boycotted when cancelling Confederate Railroad is clearly a matter above the Fair? It was the fair who booked Confederate Railroad in the first place!
You have free articles remaining.
In my work at the fairgrounds, the majority of our visitors say this year has been much more organized and enjoyable than past years. Staff is doing a great job, yet they're being called out by name and threatened over a state decision.
Some of those very staff people wanted to attend the Confederate Railroad concert.
Hell, I have friends here who wanted to attend.
As an African American male, I could care less if they performed. I personally wouldn't attend because of the history the confederate flag symbolizes. I know you have your people who say it's Southern heritage, and having grown up in Texas, I can understand that from a lineage perspective.
The problem is, you can't separate the history the Confederacy and the flag represents: 13 states that withdrew from the Union in 1860-1861 in a stand against the end of slavery.
Honestly, when I see the flag it raises red flags for me, because I understand what the person carrying it may stand for.
But then I see a pickup truck here in town with a Confederate flag and an American flag on the back of it and realize everybody may not know the true history, since the two flags don't really go hand in hand from a historical standpoint!
At the end of the day though, I am an artist just like Confederate Railroad, and can understand where the state is coming from as well.
In our field we offer our crafts to the public for open criticism. Sometimes what we do is glorified. Other times, what we feel so deeply about is rejected. That's the business WE decided to enter.
And just like galleries tell me my work has to be approved before being displayed, venues can approve or reject musicians. That's not censorship, it's their choice.
But that doesn't mean you have to change your content or what you believe in.
I attended college in Dubuque, Iowa, at a predominantly white university in a predominantly white city and state.
My senior year, I painted a series on police brutality against African Americans. The week of the show, half of my work was taken down by the university. I was pissed, and so were my friends and supporters, so I understand how the band's supporters feel.
I got past it and still had one of the largest gallery showings that year.
I have no doubt in my mind that Confederate Railroad will use this to their advantage and continue to do what they love.
So I ask people to remember that the fair is simply meant to bring people together from all over for rides, good food, a place for kids to hang out, and a moment for adults to relax and take a load off from THESE types of issues that already plague our country and cause division everyday!