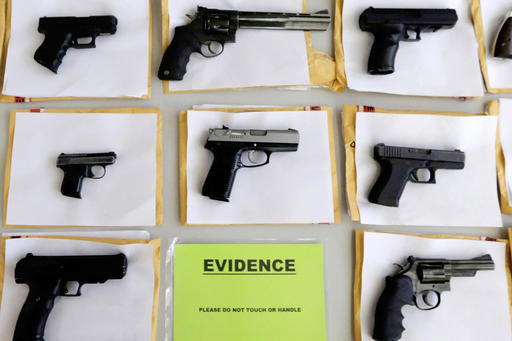 The headlines tell the sad, bloody and deadly story — quiet, rural Southern Illinois is awash in gun violence.
These headlines were gleaned from the pages of this newspaper, just since Jan. 1:
"Mount Vernon man charged with first degree murder" — Jan. 31
"Carbondale arrests two after report of gunshots" — Feb. 6
"Two dead in murder-suicide in Herrin" — Feb. 26
"18-year-old charged with attempted murder in Harrisburg shooting" — April 29
"One dead in Harrisburg shooting; police seeking two suspects" — June 16.
And that's just a sampling of the headlines — there have been more.
These aren't isolated instances. Shootings are happening with nauseating regularity throughout the region. One local Twitter account actually tracks the number of days without a shooting in Carbondale.
There are no simple solutions to this violent trend. Some of the incidents are drug-related. Some are tied to domestic violence. And, some appear to be the result of the coarsening of our society. All are senseless.
It is tempting to blame the carnage on the ready availability of firearms. That is certainly part of the problem.
The National Rifle Association has told us "the only thing that stops a bad guy with a gun is a good guy with a gun." Obviously, that bumper sticker solution falls short of the mark.
In real life, the Lone Ranger doesn't exist. Granted, there are isolated instances in which an armed bystander intervenes and prevents a tragedy. The headlines quoted above indicate this magical thinking falls well short of adequate societal protection.
And, no rational human being wants to live in a society in which we are reliant on vigilantes for our personal safety.
We have also been told that gun control doesn't work. Statistics suggest otherwise. Places that have strict gun control regulations such as the United Kingdom, Japan and Australia have extremely low rates of gun violence.
Gun proponents will argue that outlawing guns won't end violence. They're absolutely correct. The Judeo-Christian tradition tells us that Moses walked down Mount Sinai with tablets bearing the words "Thou shalt not kill."
Obviously, even a Godly edict can't stop all violence.
We've also heard the argument that cars kill more people than guns — an argument that ignores the difference between accidents and willful intent. When people start running down thousands of victims that argument will be valid.
The current level of violence, locally and nationally, is unacceptable. More stringent gun laws will help, but won't eliminate the bloodshed. The scourge of violence runs deeper.
Other societal issues need to be addressed. One is the casual acceptance of violence in our society. A violent reaction to a social slight, real or perceived, is unacceptable. The ability to reason, to devise amicable solutions to disputes, is what sets us apart from other creatures.
Today, it seems our first reaction is to reach for a weapon. And, when guns are involved, it just takes an instant for a life to be lost. Once that trigger is squeezed there are no do-overs.
We, all of us, need to impress on our children and young people that violence is unacceptable, whether on the streets and in our homes. Domestic violence is a major component of this deadly issue.
We, all of us, need to eliminate the underground drug trade that fosters entirely too much violence. It seems the country has been fighting this issue for decades. It's time to look at drug abuse as an illness, rather than a criminal enterprise. It's time to address drug abuse realistically through educational and social programs.
Again, there is no pretense that such programs will eliminate drug abuse and its attendant violence.
Finally, all of us need to keep our eyes open.
"If you see something, say something." Those are words we can all live by. And, if we take those words to heart, and take other bold steps to address the issue of violence, more of us will live.
Catch the latest in Opinion
Get opinion pieces, letters and editorials sent directly to your inbox weekly!