When Matt O'Hara, the Illinois Department of Natural Resources' Asian carp project leader, learned invasive black carp were being caught in Alexander County's Horseshoe Lake, he mobilized a multi-faceted reconnaissance and intervention force.
IDNR fisheries biologists, members of the U.S. Fish and Wildlife Service and commercial fishermen descended on Alexander County last week in an effort to capture the invaders. They literally netted several of the black carp and are currently studying the fish to determine where they came from and how long they've inhabited Horseshoe Lake.
"During the spring and the last couple months we've had some reports of black carp being caught in Horseshoe Lake," O'Hara said. "Last month the Fish and Wildlife Service went in there and did some sampling and caught a couple black carp. We decided we needed to look into this. It was kind of a fact-finding mission to see how many black carp are in Horseshoe Lake.
"We went after it hard for the whole week. We learned a lot. We gained a lot of good information. We actually caught 14 black carp through the week. We take all those fish and analyze them for a lot of different things. We can tell if those fish are diploid or triploid (fish that cannot spawn)."
It will take several months to collect and process data from the captured fish.
"We took the aging structures out of those fish to see how old they are," O'Hara said. "We can also find out some biological history … how long they've been in the lake, where they originated from. All the fish that had been previously caught were triploid fish. So, our question was 'Where are they coming from?'
"The whole event was to ask those basic questions. Can we find out the source of those fish, whether they came from another state's fish farm, or maybe someone accidentally stocked them into the lake. That takes a while. That is probably going to take a couple, three months anyway. I would say by the fall we'll have a good idea."
Black carp are one of four species of invasive Asian carp, along with bighead carp, silver carp and grass carp. Like their cousins, black carp grow to massive size and can live up to 40 years. A black carp caught near Cape Girardeau this winter tipped the scales at about 115 pounds.
The black carp is similar in appearance to the grass carp.
"The fins, the pectoral and pelvic fins are a little longer," O'Hara said. "They are very dark. The entire fish is generally very dark. When you are looking from above, you can't see the lower lip at all. The black carp does have some grinding teeth in the back. The black carp eat snails and mussels, which is extremely disheartening because most of our snails and mussels are in peril anyway."
The State of Illinois actually has a $100 bounty on black carp. The vast majority of black carp captured in Illinois are taken by commercial fishermen.
"If a bow fisherman or other snaggers catch them, if they think they have a black carp they can call it in, and if they handle the fish carefully by keeping it on ice and our biologists can get to those fish in a reasonable amount of time, we can give that fishermen a $100 bounty," O'Hara said. "Ninety-nine percent of collections have been by commercial fisherman."
The Horseshoe Lake operation also netted a couple of surprises, including an alligator gar and a paddlefish. The DNR recently began stocking alligator gar in some regions.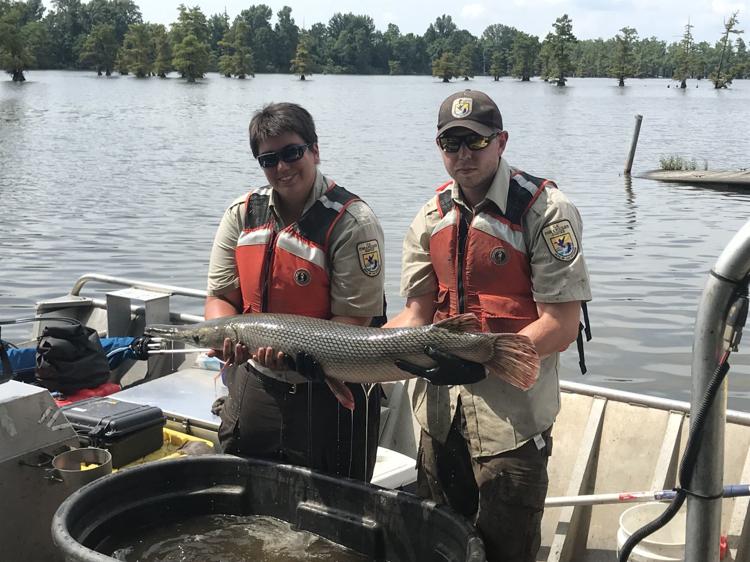 "There was no tag (on the alligator gar)," O'Hara said. "It was naturally reproduced or it could have been a Kentucky stocking. Missouri, all the fish they release, they generally put tags in them. This was a pretty good sized fish, in the 20-25-pound range. We did see one other alligator gar. It was caught in the net for a moment, but it ended up getting away."