HARRISBURG — Logan Hunt, 19, of Harrisburg wasn't planning to hunt the morning of Nov. 18.
He had gotten ill the night before and was planning to sleep in. Then, fate intervened.
Hunt and his father, Shannon, were hunting at the farm of Chris Hyers, near Eichorn in Pope County. Shannon Hunt and Hyers had already filled their tags and were sitting at the breakfast table when Hyers spotted a huge buck in the field.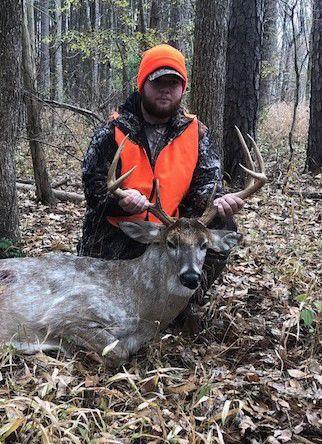 It turned out to be more than a big buck, it was a piebald buck. Piebaldism is a genetic abnormality that causes deer to have patches of white fur. Piebaldism occurs in about 2 percent of deer.
"I get up and look out the window and this buck is with a doe and he's not going to leave her," Shannon said. "This doe laid down in the middle of the field and he laid down right beside her. I said, 'I'm going to get Logan up and see if we can do a spot and stalk on this deer.'"
The news of the sizable buck was enough to make Logan feel better.
"I threw my orange on," Logan said. "We grabbed the gun. We ended up taking his (Shannon's) gun because it's better for longer-range shots. We knew we weren't going to be able to get as close as what I was comfortable with with my gun.
"There are two hay fields next to the house and a fence row that separates the two. We ended up going behind the fence row to keep it between us and the deer. We ended up army-crawling down through this hill and up the other side about 150 yards, creeping up to that fence row in order to get a shot on this deer."
Their plan was short-circuited when the buck noticed them. They stayed still for 5 to 10 minutes before the buck finally looked away. When the deer diverted his attention to the doe, Logan was able to set up for the shot.
"I was between a small cedar tree and an autumn olive bush, trying to stay concealed," Logan said. "I was just getting ready to put my gun on the strand of barbed wire when he looked over. I was sitting there for 2 or 3 minutes, holding my gun in the air, trying not to move. Finally, he turns and looks back over the deer and was able to get my gun up."
But, the deer was still bedded down with the doe.
"I had my rangefinder with me," Shannon said. "I went ahead, since I could see his head, to try to get a good range on him. At that point, he was 108 yards. I told Logan, 'He's within range, but there's no shot, so we'll just have to wait until he makes his move.'"
Eventually, the two deer got up and began walking toward the hunting party. It was cooperative enough to step into a mowed area to provide a clear shot. Logan shot the deer in the shoulder, but it didn't drop immediately.
After the deer ran, the Hunts and Hyers walked back to the house to get their truck. After several minutes they began tracking the deer. They found a blood trail and eventually located the deer about 150 to 175 yards from where it was shot.
It was only then they saw it was a piebald deer — a deer two friends had told them about. They immediately called Paul Rasch, of Harrisburg, who had several photos of the piebald deer on his trail cam.
"It looked like he was just kind of patchy from fighting other bucks and being run down from the rut," Logan said. "It never even crossed my mind until we found him and we found out it was him. We wanted definite confirmation from him (Rasch) because he had so many pictures."
The buck turned out to be an 8-pointer. The Hunts said they believe the deer is between 5-6 years of age. They are planning to get a full-body mount and expect the buck to be displayed at next year's Southern Illinois Celebration of National Hunting and Fishing Days.